FROM VIETNAM TO AMERICA | A MUSICAL ODYSSEY Recommended
Wednesday, October 7 at 7:30 p.m.
Bowker Auditorium
Two acclaimed Japanese women performers join forces to offer an evening filled with humor, charm and elegance. Award-winning storyteller Motoko shares hilarious and poignant tales from Rakugo, a storytelling tradition that originated in the 17
th
century. With accompaniment by shamisen virtuoso Masayo Ishigure, a featured recording artist with Yitzhak Perlman and Yo-Yo Ma on the Grammy Award-winning movie soundtrack for "Memoirs of a Geisha," you'll be transported to the enchanting world of popular entertainment in Old Japan.

Audience members are invited to a pre-concert talk on the Japanese storytelling tradition at 6:30 p.m. in Bowker Auditorium.
---
Monday, March 7 at 7:30 p.m.
Bowker Auditorium
Join us in a new and unique concert-going experience – unparalleled in the classical music world. Acclaimed cellist Matt Haimovitz offers a brilliant musical variation on the concept of A Moveable Feast
.
Bach's Suites for Unaccompanied Cello are some of the most moving and spiritual compositions for a solo instrument. This concert, however, travels from one end of Rt. 9 to the other. On Sunday, he'll begin the feast by performing three Bach suites in three separate locations around Hampshire County. Each suite will be accompanied by overtures, recently commissioned by Haimovitz. The feast culminates on Monday in Bowker Auditorium with a concert of the balance of the suites including overtures by Vijay Iyer, Mohammed Fairouz & Luna Pearl Woolf.
 
Sunday, March 6
12 p.m., Smith College Art Museum, Northampton, Free
            Overture by Philip Glass, Bach Suite I in G Major
2 p.m., National Yiddish Book Center, Amherst, Free
            Overture by Du Yun, Bach Suite II in d Minor
4 p.m., Esselon Café, Hadley, Free, but please purchase a beverage
            Overture by Roberto Sierra, Bach Suite IV in E-flat Major
---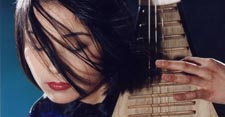 Tuesday, March 29 at 7:30 p.m.
Fine Arts Center Concert Hall, Chamber Seating
Wu Man and the Shanghai Quartet explore the great music of the East and West. The quartet will perform Mozart's K. 499, as well as a new multimedia work by the eminent Chinese composer Zhao Jiping in collaboration with his son, Zhao Lin, performing some of some of his most famous scores of internationally celebrated films –
Raise the Red Lantern
,
To Live
and
Farewell My Concubine
, among others. The program also includes a suite of traditional Chinese folk songs arranged by violinist Yi-Wen Jiang, with pipa solos by Wu Man. Looking back to their roots, but with a contemporary vision, these artists meld western string quartet and pipa in an unforgettable evening of music.  
Audience members are invited to stay for post-performance discussion with the musicians following the concert.