PINK MARTINI
Saturday, September 20, 8 p.m., Fine Arts Center Concert Hall, Chamber Seating
$55, $50, $25; Five College, GCC and 17 & under $20, $15, $10

Eclectic, romantic and worldly, Pink Martini has become an international phenomenon performing its retro-hip, multilingual repertoire throughout Europe, Asia and the Americas. Featuring a dozen musicians, the 'little orchestra' from Portland, Oregon, finds inspiration in virtually every musical genre, from Baroque to disco. 
 
"Classy, charming, sexy, elegant, sophisticated – take your pick to describe the globe-trotting eclectic mix that is Pink Martini." – The Sun. Buy your tickets early, this concert will sell out! 

Join us as we celebrate the new season @ the FAC! Enjoy a pre-show dessert party on the plaza with free desserts, live entertainment, and a cash bar featuring the signature drink, a pink martini of course. Tent opens at 6:30 p.m.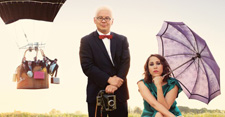 CONNECT
Website
Facebook
Twitter
Instagram