Under40TIX provides access to discounted tickets and networking opportunities to audience members between 22 and 40 years of age. It's a $5 donation to join and affords you access to deeply discounted tickets to great seats at FAC presented shows, plus great parties. 
 
Tickets are available on a first-come, first served basis. There is a limit to one pair of tickets per performance, but you may purchase as many performances as you can as they become available! Plus, you'll receive a dining discount card good for discounts off dining in the Amherst area and one pair of drink tickets when you sign up, good for concessions at FAC shows.  
Plus, we'll hold exclusive Under40TIX events such as pre or post-show parties each season, packed with complimentary drinks and food.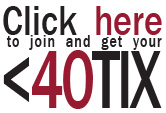 ---
Upcoming Under40TIX Events!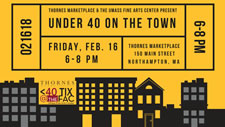 Under 40 On the Town!
Friday, February 16 from 6 to 8 pm
Thornes Marketplace, Northampton
Thornes Marketplace and the Fine Arts Center are teaming up to offer an exclusive night on the town in Northampton's shopping epicenter with food, drink, special discounts, and live entertainment for members of Under40TIX @ the FAC as well as local young alumni and young professionals.
Under40TIX members will receive a complimentary drink at check-in!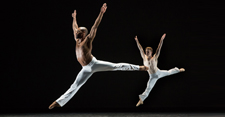 BalletX Cast Party!
Thursday, March 29 after the performance
FAC Lobby
Join fellow Under40TIX members and Fine Arts Center staff for an exclusive after party with members of Philly's BalletX! More details TBD.
---
More Information about Under40TIX:
You have to be 22-40 to join. We'll ask for your year of birth when you sign up!
There is a one-time $5 Membership Fee which counts as a donation to the Angel Ticket Program. This program provides complimentary tickets to local residents whose financial and/or social situation would otherwise prohibit them from experiencing live performances.

You do not need to renew your membership each year—we automatically do it for you!

All seats are in Section Four in the Concert Hall and in Rows M-P in Bowker Auditorium

Tickets are available on a first-come, first served basis. The FAC generally reserves 30-50 seats at each performance for Under40TIX members so buy your tickets early!

To purchase the discounted Under40TIX, watch your email for the on sale announcement then log into your account. If you'd rather order over the phone after tickets go on sale that is okay too!

Tickets are $25 each, sometimes less depending on the show. There are no handling fees in person or online. There is a $2 handling fee if ordered by phone.
There is a limit to one pair of tickets per performance, but you may purchase as many performances as you can as the performances become available.
Your guest can be any age, but you have to pick up the tickets on the night of the performance by showing your ID.
Your membership benefits are tied to your customer account. If you already have an online account with us, please do not create a second. If you create a second account, you will not have access to the special ticket rates. If you need to confirm your login credentials, please call the Box Office at 413-545-2511 during business hours or follow the prompts on the account login page.

Your membership is valid until December 31st of the year you turn 41. After that, we invite you to check out our flexible subscription packages and save 15%.
Your Dining Discount card and drink tickets will be mailed in a welcome packet shortly after you join.
There are no refunds or exchanges on purchases. You can however exchange with other Under40TIX members via the Facebook group.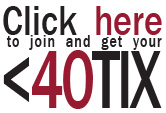 ---
Under40TIX Network

Keep the party going on Facebook , Twitter , and Instagram with the #Under40TIX  hashtag !

Questions about Under40TIX? Contact Melissa Breor at mbreor@umass.edu.