Building Bridges
September 12 – December 9, 2018 
Opening Reception: Fri, Sep 21, 5p.m.
–
7p.m.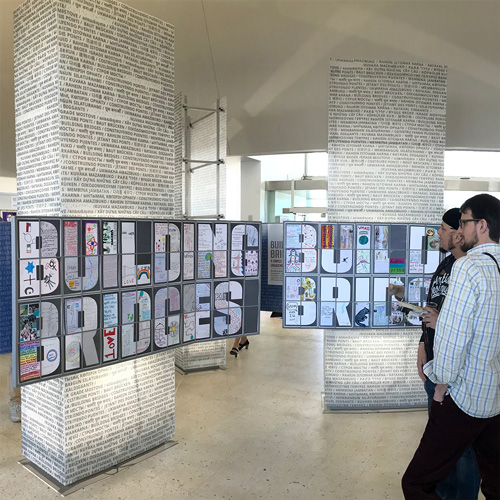 An interactive sculpture installation by UMass architect/activist Joseph Krupczynski
Guest curated by Joseph Krupczynski

At the start of 2017, longstanding political and social rifts in the United States created a sense of fear and anxiety on many campuses across the US. Our sense of a collective public purpose and our desire for an engaged democracy — so important to the public mission of UMass Amherst — were challenged in many ways. The "Building Bridges" project grew out of this key moment. As the phrase "build bridges, not walls" became a popular response to the rhetoric of fear and exclusion that has dominated our headlines, our project focuses on the very real and positive possibilities when people come together across race, religion, class, immigration status, gender, sexual orientation, age, ability, nationality, and more.

The first component of this project was the installation of two large-scale banners in the Fine Arts Center Plaza in May 2017. It was our hope that these visual/artistic prompts — the spelling out of the project's name formed with many of the languages spoken on campus — would be a catalytic public art project that launches our efforts.

As the project evolved, we aimed to reach a wide range of people on campus — students, workers, faculty — and created a context for people to respond to the prompt, "what and how can we bridge and/or connect across difference," on a small card. People created a variety of visual and written responses, and those were collected and then assembled as a mosaic that spells-out "Building Bridges" on three 10-foot high illuminated towers that make up the installation.

For the UMCA XTCA exhibition, the Building Bridges project will engage both on and off-campus communities who will be viewing/visiting the exhibition's site-specific installations. Exhibition goers will have the opportunity to create their own "building bridges" responses on how they might connect across differences. The project will be enhanced through intentional programming and events that create a dialogic context for continued reflection and conversation that explores the project's goals and aims — which is to draw on the power of solidarity and creative expression to bring people together and create a bridge across difference.