40 Years / 40 Artists
January 22 – March 8, 2015,  Opening | January 21, 5:00–7:00 p.m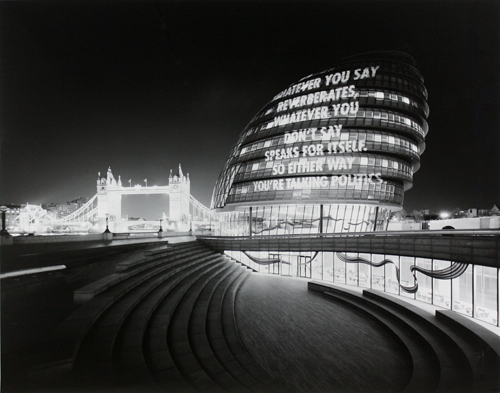 Jenny Holzer, Talking Politics, 2008, Pigment print, ed 1/5, 60 x 75 in., Given by the artist, UM 2014.32


40 Years/40 Artists is an exhibition of work by renowned local, national, and international artists who, at crucial moments in their careers, had exhibitions at our museum which had great impact in opening up important dialogue on ideas relevant to contemporary art and society. In recognition of our 40th anniversary, artists participating in this exhibition have generously donated their works of art to the UMCA's permanent collection, to serve as a legacy and to help us continue our role as an inspirational teaching resource.
In 1975 the University Museum of Contemporary Art (formerly the University Gallery) was created as a unique organization at UMass Amherst centered on the fundamental vision of bringing the most important contemporary national and international art to our community. During these past 40 years, renowned and emerging artists have come to the UMCA to participate in our exhibition and education programs from countries such as the UK, France, Holland, Belgium, Spain, Finland, Poland, Russia, Mexico, South Africa, Morocco, Nigeria, Lebanon, Korea, and from across the US. Our exhibitions have provided a forum for the exchange of ideas and perspectives that reflect the world we live in – with the belief that contemporary art can impact our lives and that we all gain by bringing people together around the critical work of artists.

The UMCA gratefully acknowledges the support of Grumbacher.
Participating artists include:
Eve Aschheim
Alice Aycock
Radcliffe Bailey
Miroslaw Balka
Dawoud Bey
Daniel Buren
Lynne Cohen
Donna Dennis
Brendan Fernandes
LaToya Ruby Frazier
Tom Friedman
Frank Gohlke
David Goldblatt
Matthew Higgs
Jenny Holzer
Robert Irwin
Kimsooja
Julie Mehretu
Ann Messner
Stephen Petegorsky
Ellen Phelan
Jefferson Pinder
Avery Preesman
Scott Prior
John Riddy
Tim Rollins & K.O.S.
Sheron Rupp
Katy Schimert
Anna Schuleit
Frederic Schwartz
Joel Shapiro
Joel Sternfeld
Elizabeth Stone
Beat Streuli
David Teeple
Mickalene Thomas
Francesc Torres
George Trakas
Billie Tsien/Tod Williams
Andy Warhol
Carolyn Webb
Carrie Mae Weems
William Wegman
James Welling
Allan Wexler 
Peter Wuethrich





 
Archive of their past exhibitions: 
CLICK HERE
Contact
Open
Tuesday-Friday:
11am to 4:30pm
Saturday & Sunday:
2pm to 5pm
Open until 8 PM every first Thursday of the month
Closed
Mondays
Academic Breaks
State Holidays  
Contact Us
Main Number
(413) 545 3672
 
Connect