Selections from the Permanent Collection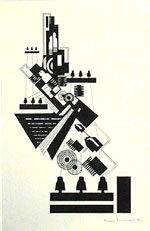 Louis Lozowick (American 1892-1973),
Telephone, 1925-1927, ink on paper,
17 3/4 x 11 11/16 inches
Saturday, September 16 - Saturday, October 28, 2000
Abstract Notions: Selections from the Permanent Collection features work which depicts an abstracted view of reality or which presents shapes and forms that exist within the world of pure abstraction. Included in the exhibition are prints by John Cage, Christo, Lee Krasner, Louis Lozowick, Bruce Nauman, and Theresa Oulton; drawings by Lydia Dona, Carol Hepper, Anish Kapoor, David Row, Alan Sonfist, Theodoros Stamos, and George Trakas; photographs by Sol LeWitt, Ani Rivera da Cueva, Aaron Siskind, and Ralph Steiner; and sculptural work by Willard Boepple, Sam Gilliam, Richard Stankiewicz and David Von Schlegell.
The broad premise of the exhibition allows for some fortuitous comparisons despite the difference in mediums. Both an untitled drawing from 1987-88 by David Row and the aluminum construction, Flight Plan (1964), by David Von Schlegell, allude to a state of motion. In the case of the drawing, a sense of movement is created by the artist's dynamic gesture while the sculpture is reminiscent of the thrust and glide of an airplane's wing. Ralph Steiner's photographic series of cropped views of palmetto leaves and a nearby gouache drawing by Theodoros Stamos respectively describe the lush patterns of growth and hint at its underground germination. Topographic views are offered by both Alan Sonfist in his charcoal rubbing of a small section of urban ground titled Earth Mapping of New York City (1965), and Sol LeWitt in his Rip Drawing R734 (1977), an aerial photograph of Manhattan. In the exhibition's second gallery, Lydia Dona's Untitled #45 (1997), a colorful acrylic drawing of some structure gone awry, is placed close to Louis Lozowick's precisely rendered Telephone (1925-27). Within the same gallery, Totentanz #20 (1980-1990), a photograph by Ani Rivera da Cueva, depicts ghostly architectural fragments nearly floating on the surface while The Museum of Modern Art Wrapped (project for the MOMA, New York, June 1968 )(1969), shows the appearance of the Museum of Modern Art in wrapped guise as imagined by Christ.  
Contact
Open
Tuesday-Friday:
11am to 4:30pm
Saturday & Sunday:
2pm to 5pm
Open until 8 PM every first Thursday of the month
Closed
Mondays
Academic Breaks
State Holidays  
Contact Us
Main Number
(413) 545 3672
 
Connect