Arthur Segal: Woodcuts
Tuesday, April 2 - Friday, May 17, 2002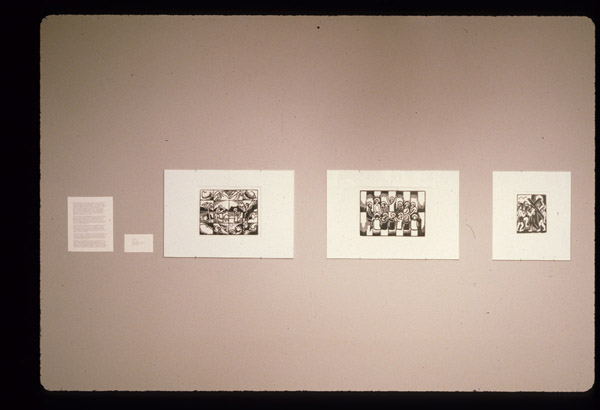 Arthur Segal (1875-1944), Cobbler,
c. 1916-19, woodcut, 2 5/8 x 3 1/8 inches,
collection University Museum of Contemporary Art, University of
Massachusetts at Amherst


Arthur Segal was born in 1875 in Jassy, Rumania. Artistic studies led him to Munich, Paris and Italy, and by 1904 Segal had emigrated to Berlin where he exhibited with members of the two leading German Expressionist groups; Die Brucke and Der Blaue Reiter. With the outbreak of World War I in 1914, Segal's life and art took a radical turn. To avoid returning to Rumania to fight, Segal moved with his family to neutral Switzerland where he remained until 1919, exhibiting with Arp and the Dada circle in Zurich's infamous Cabaret Voltaire. Segal returned to Berlin in 1920 and subsequently became director of the Novembergruppe with whom he exhibited until 1932. Because of his Jewish heritage and his "degenerate" artistic sensibilities, the artist was prevented from exhibiting in Germany and left in 1933, emigrating first to Spain, then settling in London where he died in 1944.

Primarily a painter, Segal began experimenting with the woodcut medium in 1910. The woodcuts in this exhibition were produced between 1912 and 1919 and span a range of subjects and styles. The prints incorporate anti-war, landscape, figure, and religious themes and stylistic variation is apparent within each theme. Segal's earliest prints are expressionistic, but they are calmer than the term tends to imply. The early works in the Figure and Landscape groups reflect the Expressionist's concern with black and white contrast. For Segal, the balance of light and dark is of primary importance.
| | |
| --- | --- |
|   | |
|   | Arthur Segal (1875-1944), Cobbler, c. 1916-19, woodcut, 2 5/8 x 3 1/8 inches, collection University Museum of Contemporary Art, University of Massachusetts at Amherst   |
The series of anti-war woodcuts produced in 1915 are Segal's most expressionistic, dramatizing the violence of hand-to-hand combat. In one of these works, a horse rears as its rider fires a pistol into a crowd of onrushing infantry. The rider's terror is suggested in his mask-like face by a gaping mouth and single wide eye. His enemies attack him without emotion; their bayonets are extensions of their bodies. Segal achieves his powerful statement by utilizing an aggressive line and stark contrasts of black against white.
| | |
| --- | --- |
| |   |
| Arthur Segal (1875-1944), Cobbler, c. 1916-19, woodcut, 2 5/8 x 3 1/8 inches, collection University Museum of Contemporary Art, University of Massachusetts at Amherst |   |
A major stylistic shift in Segal's work in 1916 reflects his greatest contribution to modern art. Termed by the artist "equi-balance," each area of the picture space is given equal pictorial value. Segal achieves "equi-balance" in his woodcuts is by using a non-hierarchical grid format containing images of equal visual importance. Segal's desire for harmony and balance came from the belief that "in nature everything is of equal importance and interest."
The woodcuts in the exhibition are from a set of 70 donated to the University Museum of Contemporary Art in 1979 by William Dorman of Syosset, New York. They were reprinted from the original blocks obtained from the artist's family. The publisher is Richard Nathanson of London, William Carter of Cambridge printed the woodcuts using handmade paper in an edition of 80. Each sheet carries the watermark of the artist's signature.
Funded by: the Umass Arts Council, Student Affairs Cultural Enrichment Fund, Alumni Association, Student Government Association, Commuter Area Government and the Fine Arts Center.
Contact
Open
Tuesday-Friday:
11am to 4:30pm
Saturday & Sunday:
2pm to 5pm
Open until 8 PM every first Thursday of the month
Closed
Mondays
Academic Breaks
State Holidays  
Contact Us
Main Number
(413) 545 3672
 
Connect