Contemporary Artists' Books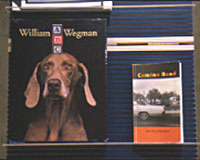 Installation view,
photography: Creative Services, University of Massachusetts
Saturday, November 6 - Friday, December 17, 1999
Artist/Author: Contemporary Artists' Books, a traveling exhibition organized by the American Federation of Arts, was co-curated by Cornelia Lauf and Clive Phillpot. The exhibition offers a unique, hands-on experience which encourages viewers to browse or peruse an eclectic selection of contemporary works by an international group of artists including John Baldessari, Nan Goldin, Jenny Holzer, Sol LeWitt, Rosemarie Trockel, and William Wegman among many others.
 
Installation view, photography: Creative Services, University of Massachusetts
Artist/Author shows how the definition of the artist's book has expanded in the last 15 years to incorporate any book with which an artist is involved -- from commissioned magazine projects to text-based works. The selection of books in the exhibition ranges from assemblies, exhibition catalogues, visual poetry, sketchbooks, documentation, and illustrated books to collaborations between artists and the commercial world, such as fashion design catalogues. In contrast to the traditional
livre d'artiste
of the 19th century, the artist's book in the 1960s became a portable alternative space -- an extension of conceptual installation-based art or performance art. The new availability of inexpensive offset printing methods increased the number of projects and ideas as artists sought easier ways to bring their ideas to a widespread audience. Just as the availability of new printing processes encouraged artists in the 1960s to employ the book as an accessible and viable art form, innovations in desktop publishing and ever-improving graphic software have resulted in an explosion of artists' involvement in publishing since the mid-1980s. "Artists' books are distinguished by the fact that they sit provocatively at the juncture where art, documentation, and literature all come together," says Mr. Phillpot. "Indeed, one of the characteristics of the field is its mongrel nature."
Contact
Open
Tuesday-Friday:
11am to 4:30pm
Saturday & Sunday:
2pm to 5pm
Open until 8 PM every first Thursday of the month
Closed
Mondays
Academic Breaks
State Holidays  
Contact Us
Main Number
(413) 545 3672
 
Connect



Related Media
Introduction

Images

Press Release