Barbara Morgan: The Instant of Combustion
September 9 - October 19, 2011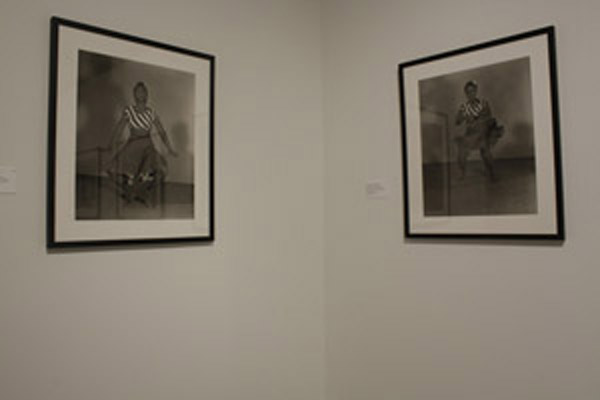 When Barbara Morgan, protégé of Edward Weston, moved to New York City in 1930 she soon became the premier photographer who documented the fervent years of American modern dance. Her focus was the fusion of reality, art, and time when she photographed the dance works of Martha Graham and many modernists of the period – Pearl Primus at the 92nd Street Y; Doris Humphrey, or Charles Weidman. In arrested motion the photographs validate the power of the dancing spirit and confirm the power of dance to inspire, heal, and create a deep sense of community – and they confirm Morgan's deep and enduring love of dance, dancers and dancing. Her photographs are portraits of energy; energy of imagination and energy of motion transfixed by light energy.

The 38 historic dance images by Barbara Morgan on view in the exhibition were donated to the UMass Dance Program by Nils Morgan, the artist's grandson, and are now part of the UMCA permanent collection. These vintage photographs are the first American archive documenting the development of modern dance and will be used in multidisciplinary education, including the prominent UMass Dance Program and a variety of departments of the Five Colleges. We are confident, said Nils Morgan, the Barbara Morgan images will be put to thoughtful creative educational uses at UMass. The donation includes storyboards from the Bennington College Dance Festival in the 1930s, a seminal event in the development of modern dance.

Part of the opening reception will be the UMCA series In Conversation with Paul Dennis, Guest Artist of the UMass Dance Program and former member of the Jose Limon Dance Company, and Norton Owen, Director of Preservation at Jacob's Pillow. Concluding the evening will be a reading with Peggy and Murray Schwartz from their new book The Dance Claimed Me: A Biography of Pearl Primus and a book signing to follow. Primus, a modern dance pioneer and African American dance icon, is a subject of Morgan's photography and was a member of the faculty of the Five Colleges during the 1980s.
Contact
Open
Tuesday-Friday:
11am to 4:30pm
Saturday & Sunday:
2pm to 5pm
Open until 8 PM every first Thursday of the month
Closed
Mondays
Academic Breaks
State Holidays  
Contact Us
Main Number
(413) 545 3672
 
Connect



In Conversation
September 9, 2011 - 7pm
UMCA East Gallery
Paul Dennis, Guest Artist with the UMass Dance Program, and Norton Owen, Director of Preservation at Jacob's Pillow discuss the work of dance photographer Barbara Morgan.
Public Lecture
October 5, 2011, 4-5:30 pm
UMCA East Gallery
Camille A. Brown is one of the most talented young dancers in the U.S. today, and has performed nationally and internationally to enthusiastic acclaim. Here she talks about the influences in her career as a dancer.