Beyond Light: Infrared Photography
April 5 – June 7, 1987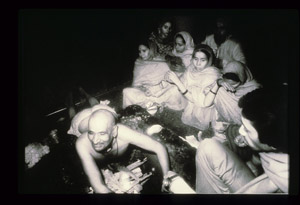 IInfrared light exists outside of human vision. On either side of the visible light spectrum lie areas of radiation, the wavelengths of which are either too short or too long for the human eye to detect. Infrared ('below the red') energy occupies a range of frequencies beginning immediately after the visible red wavelength in the electromagnetic spectrum. At the turn of this century, methods were discovered that enabled researchers to record the visual potential of this energy, providing scientists with an understanding of previously unknown characteristics of natural phenomena. In skillful and committed artistic hands, the elusive quality of photographs taken with infrared-sensitive film carries us beyond visible light, and in so doing, beyond the level of our accustomed perceptions.  
The six artists in
Beyond Light
have each explored the medium for several years and the majority use or prefer infrared film exclusively for their black and white photographic work. Their strong attraction to this film has been kindled by the fluid and trusting relationship that photographers have slowly developed between control and chance.  
Between 1965 and 1976 photographer Minor White taught at the Massachusetts Institute of Technology in Cambridge. While there, he instituted a department of photography as well as the now defunct Creative Photography Laboratory. Co-founder and editor of Aperture, White fostered the concept that the art of photography could serve as a personal symbolic statement. His influence as an artists and teacher has been widely felt in the New England area. Motivated by different intentions, Edward Steichen, Weegee, and White explore the dramatic effects of infrared film in their work of the 1940s and 1950s. The artists in
Beyond Light
imbue their subject matter with the medium's subtle qualities which can quietly alter our perception of the familiar. Represented by a group of thematically-related prints, the individual artists enhance their distinctive views of architectural, figurative or landscape subjects through their idiosyncratic handling of the medium. Jane Axelrod, Elizabeth Dupuy, Sharon Fox, and Jane Tuckerman photograph the figure within various contexts; Peter Laytin's imagery includes ancient or aged architectural structures; and Stephen Petegorsky captures patterns of botanical forms and landscape scenes.  
Contact
Open
Tuesday-Friday:
11am to 4:30pm
Saturday & Sunday:
2pm to 5pm
Open until 8 PM every first Thursday of the month
Closed
Mondays
Academic Breaks
State Holidays  
Contact Us
Main Number
(413) 545 3672
 
Connect





Beyond Light Catalog
Infrared Photography by Six New England Artists
Texts by Regina Coppola
11" x 8.5", 31 pages
Published in 1987
Price $7.50

Order Form