Caitlin Cherry: Monster Energy
March 23 – April 30, 2017
Reception for the Artist: March 29, 5 ‒7 p.m.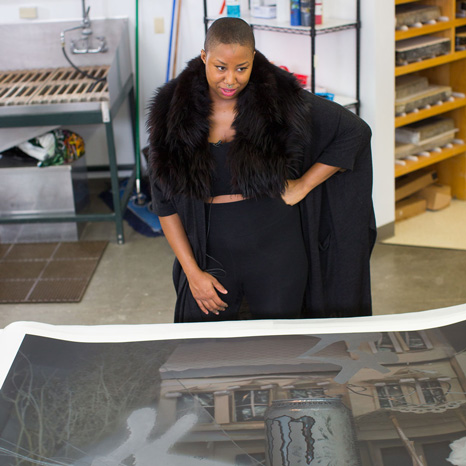 Caitlin Cherry in the UMass printmaking studio
The University Museum of Contemporary Art is pleased to present an exhibition of digital prints, lithographs, and mixed-media maquettes by the Brooklyn-based artist Caitlin Cherry, who is known for her hybrid practice of painting and sculptural installation.

Caitlin Cherry was nominated by the renowned artist Kara Walker to be the artist-in-residence for a printmaking project at UMass in January, 2017 — a collaboration between the UMCA and the Art Department's Printmaking Studio. Working with the UMass printmaking department — under the direction of Assistant Professor Juana Valdes, and with guidance from master printer Mikaël Petraccia and project assistant Lauren Bennett (M.F.A. 2016) — Cherry created a series of prints during her two-week residency. The results of this experimental project are on view in tandem with Emancipating the Past: Kara Walker's Tales of Slavery and Power.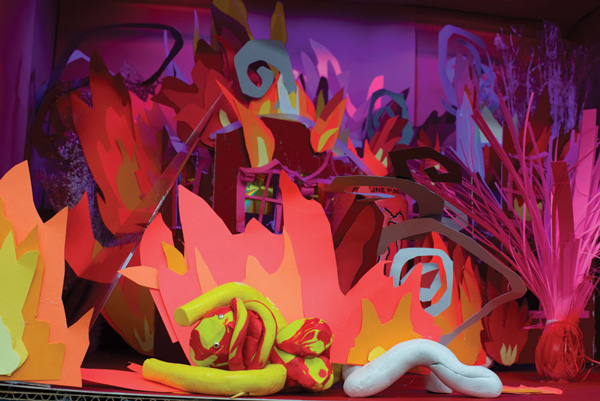 Caitlin Cherry, Fruit Molotov Cocktail, 2017. 40 x 60 in.; digital print

Cherry begins her process by creating small architectural maquettes that she populates with clay monsters called "golems" among narrative scenes constructed from paper. The exhibition's title, Monster Energy, is a visual pun between her monstrous golems and the Monster Energy® cans that vary in color, flavor, and calorie content in each maquette (and subsequent digital print). The story that forms the exhibition tracks the burning down of a quintessential New England colonial home that Cherry was inspired to create after admiring the architectural landscape during her travels through Massachusetts. The fire's energy crescendos and changes the overall tone and atmosphere in each print as the house eventually turns to ash and the golem loses its life. The narrative never reveals the acting agent that caused the house fire, but it implies arson and is a possible allegory for the institutional dismantling and critique present in much of Cherry's work.

Kara Walker has stated, "Caitlin Cherry demands more than mere painting is willing to provide. She teases the viewer with the promise of illusionistic painterly space and then she catapults her canvas into the void, forcing it to exist in real time, building little fortresses, and firing cannons in its general direction. I have a sense she will continue to break apart the rules governing painting and sculpture and tease that unsettling sweet spot that disarms viewers' expectations."

Cherry will participate as a panelist in the Questioning Aesthetics Symposium: Black Aesthetics, hosted at Hampshire College, March 31 – April 1, 2017.
 
About Caitlin Cherry
Caitlin Cherry was born in Chicago in 1987; she now lives and works in Brooklyn. In a practice that combines painting, sculpture, and installation with reference to history and present-day politics, she connects diverse categories and methods. Cherry received her MFA from Columbia University in 2012 and graduated with a BFA from the School of the Art Institute of Chicago in 2010. She had her debut solo exhibition, titled Hero Safe, in 2013 at the Brooklyn Museum. She has participated in group exhibitions, including Fore, 2012, Studio Museum in Harlem; This is What Sculpture Looks Like, 2014, Postmasters Gallery, New York; Banksy's Dismaland Bemusement Park, 2015, in the UK; and Object[ed]: Shaping Sculpture in Contemporary Art, 2016, UMOCA in Salt Lake City, Utah. In 2016 she completed a residency at The Robert Rauchenberg Foundation in Captiva, Florida.
http://arts.columbia.edu/caitlin-cherry-12-brooklyn-museum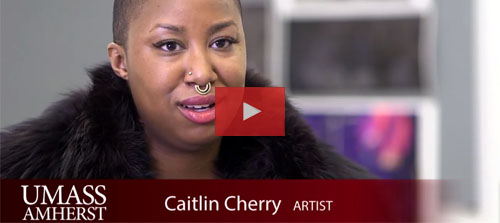 In the Media
Daily Hampshire Gazette -- 4/13/2017
 
The UMCA gratefully acknowledges the Jordan Schnitzer Family Foundation; Class of 1961 Artist Residency Program; Five College Credit Union; the UMass Art Department; and the Fine Arts Center Friends Residency Fund for their support.