Catherine D'Ignazio: The Border Crossed Us
April 20 - May 1, 2011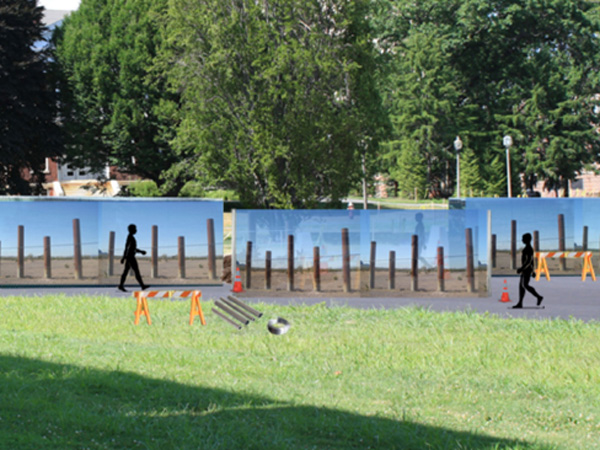 The Border Crossed Us transplants the US-Mexico border fence in southern Arizona to the UMass Amherst campus. Please go to http://www.thebordercrossed.us for an interactive site about this project.

From April 20 to May 1st, the UMass Amherst campus will be divided along its North-South boundary by a to-scale photographic replica of the vehicle fence that runs along the international boundary in southern Arizona. The particular stretch of fence being represented was erected in 2007 by Homeland Security and now divides the Tohono O'odham Nation – the second largest Native American reservation in the country - into two parts.

What happens when we divide a territory that the community imagines as contiguous? How does the international border in Arizona, seemingly remote from a college campus in northern New England, touch all of our lives here?

The fence will run between the parking garage and the Campus Center. Over the course of two weeks it will serve as a provocation, a touchstone for conversation, and a site for talks and performances. Along with the fence's insertion into daily life on campus, the project will invite a delegation of Tohono O'odham, including a tribal elder and several youth to speak about their experience. In addition, the Native American Studies Certificate Program in the Anthropology Department will hold a panel discussion on Borders & Indigenous Sovereignty as part of the campus' annual Native American Powwow. Border issues affect several other tribes, including the Mohawk and Abenaki. The delegation of O'odham will speak along with others about these issues during the conference and participate in the powwow.

The University Museum of Contemporary Art is honored to be working with the Institute for Infinitely Small Things, an artists collective whose work is widely admired but under-supported due to existing mostly outside of traditional gallery and public art structures.

About the Institute for Infinitely Small Things: The Institute for Infinitely Small Things, under the leadership of artist Catherine D'Ignazio, conducts creative, participatory research that aims to temporarily transform public spaces and instigate dialogue about democracy and justice. The Institute's projects use performance, conversation and unexpected interventions to investigate social and political "tiny things". Based mostly in Boston, the group's membership is varied and interdisciplinary.

With deepest gratitude to Catherine D'Ignazio of the Institute for Infinitely Small Things for conceptualizing and creating this Project for Umass Amherst.
Contact
Open
Tuesday-Friday:
11am to 4:30pm
Saturday & Sunday:
2pm to 5pm
Open until 8 PM every first Thursday of the month
Closed
Mondays
Academic Breaks
State Holidays  
Contact Us
Main Number
(413) 545 3672
 
Connect



Exhibition Events
In Conversation
February 18, 2012 - 7pm
UMCA Main Gallery

Panel Discussion
April 18, 2012 - 7:30 pm
UMCA Main Gallery



The Border Crossed Us Catalog
Catalogue of an exhibition featuring bodies of work of 7 contemporary photographers which correlates landscape and portraiture. 9.75 x 7 inches. 96 pages, 23 full color images, perfect bound. Edition of 200 Published in August 2009 Available for web order here.