Critical Perspectives In American Art
1976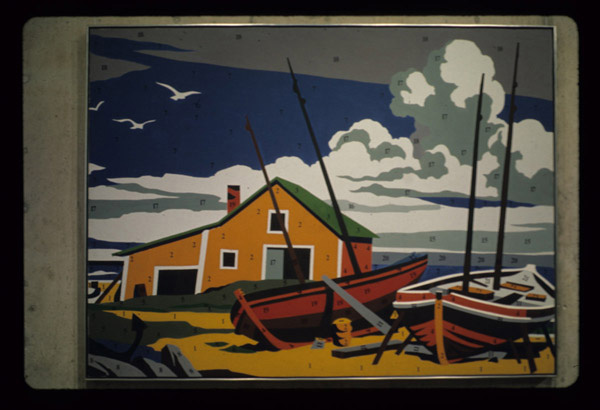 In the thirty years since the emergence of Abstract Expressionism the American art world has experienced an unparalleled phenomenon of growth. The proliferation of artists, commercial galleries, local museums, art publications and public interest has been accompanied by a rapid succession of art movements. Since the nineteenth century exhibitions of contemporary art have played a significant role in the definition of art movements. The current pace of American art has both increased the importance of exhibitions in defining movements and complicated that task.
 
The ambitious conception of our exhibition was to provide a critical overview of the contemporary American art scene. With this goal in mind, three prominent professionals in the art world were invited to serve as critics to assemble the exhibition. These three guest curators represent a variety of perspectives. Sam Hunter, Professor and Curator of Modern Art at Princeton University, is a former museum director, and author who has published widely on modern art. Rosalind Krauss presently teaches Modern Art at Hunter College and has been a leading critic of contemporary art for more than ten years as an editor of such publications as Art forum and October magazines. Marcia Tucker, in her capacity as Curator of Contemporary Art at the Whitney Museum of American Art, has organized many one-artist shows in addition to her role in the selection of the Whitney's Biennial Exhibitions - an endeavor which in some ways parallels our own intention of providing a survey or overview of contemporary American art.
 
In approaching this concept the three guest curators soon decided that limitations of time and space precluded the possibility of a comprehensive survey. They felt that while a comprehensive survey might represent the variety of work being made in America, it would sacrifice definition and could never do justice to the individual participants, as each would be restricted to only one work. The three critics chose to focus on a limited number (five) of aesthetic issues or artistic directions which might be described as central preoccupations of recent art.
 
The delineation of five categories is not intended to be definitive or all-inclusive, as further categories could have been selected to augment the five. In each category three artists have been selected who represent successive generations' responses to the aesthetic focus which they share. Although in some cases the term generation applies in its literal sense of age, the intention is to outline chronologically successive contributions. It should be emphasized that all fifteen of these artists are actively working and therefore the relationships between them are necessarily in a state of flux.
 
Of the five categories, Field Painting probably has the closest affinity with Abstract Expressionism, the first major native American art movement which in the fifties marked the emergence of New York as the art capital of the world. Field Painting's link with Abstract Expressionism is in our exhibition most evident and pre-eminently represented by the work of Robert Motherwell, one of the original Abstract Expressionist painters of the forties. Robert Ryman's stark, pure white canvases and walls, progressively purged of impasto, and Jake Berthot's subtly modulated, somber works extend the tradition of field painting which emerged from Abstract Expressionism.
 
The art movements of the sixties which succeeded Abstract Expressionism - Pop Art with its commercially inspired and ironic imagery, and Minimal Art with its spare geometric forms, industrial surfaces, and perceptual preoccupations - may be seen as a reaction to the heroic individualism of Abstract Expressionism. The artists of Perceptual Fields share the Minimalists' concern with problems of perception and illusion. While Agnes Martin continues to work within the boundaries of the frame and in two dimensions, Irwin and Tuttle have shed these restrictions. Robert Irwin's early white painted "discs" are mounted in such a way that they cast shadows on the supporting wall, thereby subverting the distinction between the art object and surrounding world. In a similar fashion, Richard Tuttle's three-dimensional wire drawings are executed on the wall in drawn line, wire and shadow. Both these artists have created works for this exhibition which actively involve the architectural space of the gallery.
 
The artists of Objecthood deal with the sculptural paradox of object, allusion and illusion. Donald Judd's "boxes" are three-dimensional objects occupying real space, sculptural works which have been stripped of all but the most direct reference. Nevertheless the geometric clarity of these objects is frequently confounded by illusionistic play of shadow and the reflections indigenous to the glossy paint and plexiglas surfaces.
 
Richard Artschwager, while utilizing a similarly spare geometry of form, introduces a further element of surface illusion and allusion as the objects are frequently built with formica which "emulates marble or wood. This play on the notion of trompe l'oeil is further complicated when Artschwager applies bands of contrasting color to the surfaces of these geometric forms in configurations which suggest such familiar utilitarian objects as tables and chairs.
 
Joel Shapiro's cast iron houses have a powerful presence which belies their diminutive size. Placed on the floor or upon shelves on the wall they dislocate perception and perspective as if confronted in memory or a dream. They look and are heavy, being made of cast iron; their perspective lines are reversed so that they grow larger as they recede. Their reduced scale and presentation in an otherwise empty expanse enhance the quality of solidity as if they were a concentrated essence - "houseness" for example.
 
While Perceptual Fields and Objecthood may be seen to have roots in the art of Minimalism, Cultural Irony and Narrative Art share an involvement with popular culture which relates them to Pop Art. Like Pop Art they draw on figurative, narrative imagery and join an iconoclastic tradition stretching back through Rauschenberg and Johns to Dada. The art of Cultural Irony is distinctly anti-High Art yet has a homespun quality quite in contrast to the slick, commercial art style of Pop Art. Formal inspiration comes more from the homemade fruit stand sign than the Pop Art billboard, and themes derive from the tough preoccupations of low-brow American culture. Charles Garabedian's large two-dimensional works consciously eschew elegant draughtsmaship and composition in favor of a naive, graffiti-like appearance. H. C. Westermann's constructions reveal a loving handmade quality of craftsmanship devoted to mysterious tableaus of violence. Jim Roche revels in the gaudy paraphernalia and horror vacui presentation of kitsch souvenir shops and the "tasteless" extravagances of front yard Olmsteads working with plastic flowers, pink flamingos and Christmas tree lights. All three artists of this group draw energy from indigenous, grass-roots American culture. Narrative Art shares with Cultural Irony a vernacular source of imagery and deadpan presentation, yet it maintains the slick treatment of Pop Art as an extension of the media myth. Andy Warhol's portraits of cultural heroes such as Mao are aloof when juxtaposed with the more earnest products of Cultural Irony. The use of words and photography in Edward Ruscha's art provides a link between Pop billboard painting and the story art of Bill Beckley.
 
It is dangerous to generalize about the work of fifteen artists who have been selected as much for their differences as similarities. However the diversity of technique and conception represented by these artists attests to the strength of the recent tradition which they extend.
Contact
Open
Tuesday-Friday:
11am to 4:30pm
Saturday & Sunday:
2pm to 5pm
Open until 8 PM every first Thursday of the month
Closed
Mondays
Academic Breaks
State Holidays  
Contact Us
Main Number
(413) 545 3672
 
Connect