Daniel Buren
Metamorphoses - Works in Situ
September 12 – October 23, 1987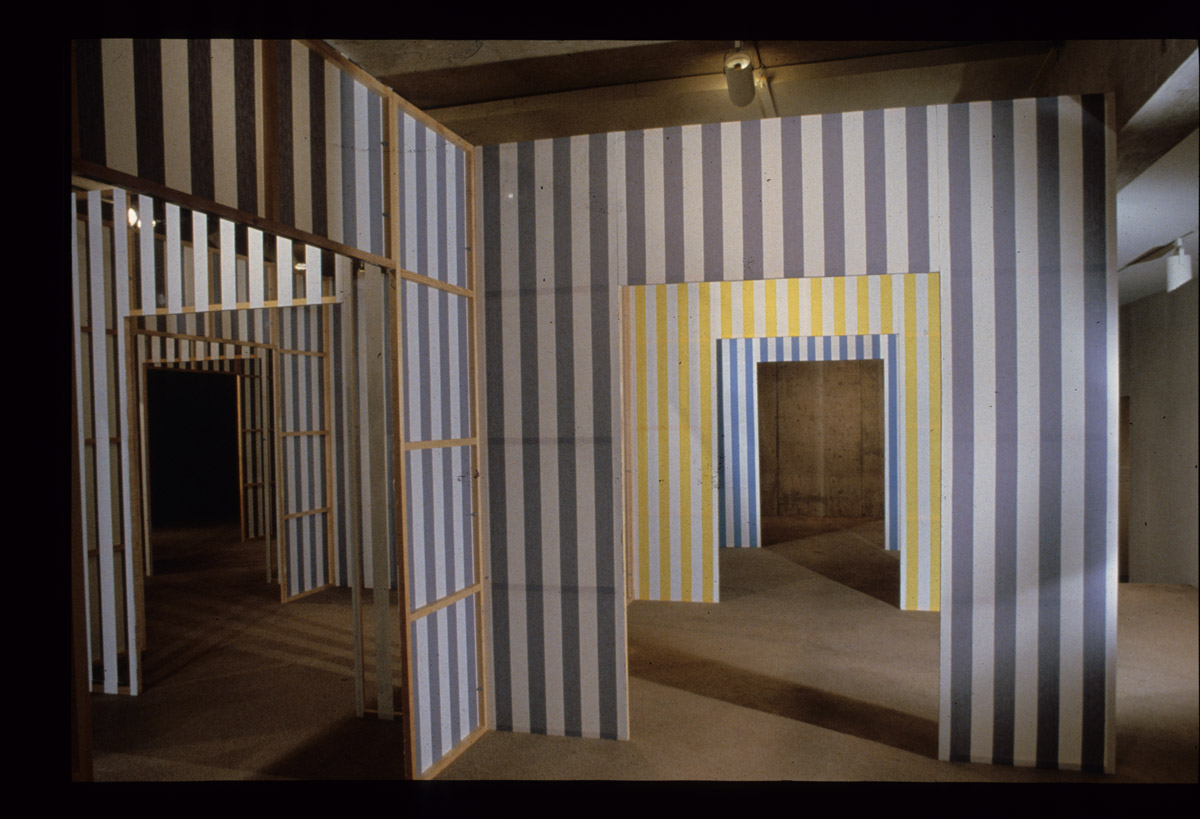 METAMORPHOSES - WORKS IN SITU, a major new installation by the internationally known French Conceptual artist DANIEL BUREN, will be on view at the University Gallery of the University of Massachusetts at Amherst from September 12 through October 21, 1987.

Since 1965, Buren has used a "visual tool" of 8.7-centimeterwide stripes of alternating white and color, on canvas, paper, or plexiglas, to create his installations. Each work takes its shape from the exhibition site. As Buren states " ... this visual tool once 'positioned' in 'its' site, will define it, demarcate it, DRAW it (and also color it, emphasize it, illuminate it, decorate it, critique it, politicize it, etc.) just as much as the place (space) in question will give it its form. " The installation creates a "dialogue with the place."

METAMORPHOSES - WORKS IN SITU will consist of modular units of striped materials attached to a wooden framework creating an enterable structure. This construction will be built in response to the University Gallery site, and will also have a variety of possible configurations that will be explored by the artist as the work travels to four additional locations. The installation will be determined by the given properties and circumstances of each site; as the site changes, so does the work.

METAMORPHOSES - WORKS IN SITU will be on view at the Zilkha Gallery, Wesleyan University, Middletown, Conn.; the Knight Gallery, Spirit Square Center for the Arts, Charlotte, N.C.; the Columbus (Ohio) Museum of Art, and the Institute of Contemporary Art, University of Pennsylvania, over the next two years.

The installation will be accompanied by approximately thirty drawings or "graphic sketches" that relate directly to the installation and its variations. Buren refers to these works as sketches because they are quick notes or general schemes done to clarify his ideas before executing an installation. He describes these works on paper as " ... thoughts 'written' in the way others might fix their thoughts with a few hand-written words." The sketches allow the viewer to gain some understanding of the artist's creative process. An illustrated catalogue will document the exhibition and will include a significant statement by Daniel Buren titled "Terminology."

Daniel Buren was born in 1938 in Boulogne-Billancourt, France. The artist has exhibited his work internationally since 1965, creating major indoor and outdoor installations. In 1986, Buren represented France at the 42nd Biennale in Venice, Italy, and won the award for Best
Pavilion. The artist recently completed Deux Plateaux consisting of 260 free-standing black and white striped columns and a sunken artificial stream in the Cour d'honneur of the venerable Palais-Royal in Paris. One person exhibitions of the artist's work have been presented
at the Wadsworth Atheneum, Hartford, Conn.; the Rijksmuseum Kroller-Muller Museum, Otterlo, The Netherlands; the Musee des Arts Decoratifs, Paris, and the Moderna Museet, Stockholm, among others. The artist is represented in New York by the John Weber Gallery and presently lives and works in Paris.
Contact
Open
Tuesday-Friday:
11am to 4:30pm
Saturday & Sunday:
2pm to 5pm
Open until 8 PM every first Thursday of the month
Closed
Mondays
Academic Breaks
State Holidays  
Contact Us
Main Number
(413) 545 3672
 
Connect





Daniel Buren Catalog
Texts by Helaine Posner and Daniel Buren
8.5" x 11", 9 pages
Published in 1987
Price $10.00
order form pdf