David Goldblatt: Intersections Intersected
February 3 - May 1, 2011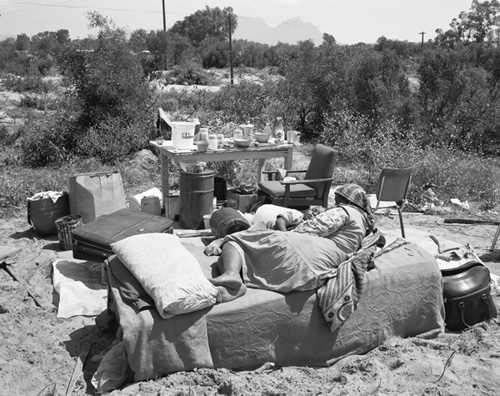 Read the Boston Globe review by Mark Feeney here.

Daily Collegian slideshow of the exhibition

David Goldblatt (b. South Africa, 1930) is one of the great documentary photographers of our time. As both citizen and photographer, he was witness to apartheid's infiltration into every aspect of South African life. The exhibition of over 100 photographs, taken by Goldblatt during the past 50 years, focuses on South Africa's human landscape in the apartheid and post-apartheid eras. The exhibition, titled Intersections Intersected, looks at the relationship between the past and present by pairing Goldblatt's earlier black-and-white images with his more recent color work. Sometimes the pairings show the same place 20 years apart. In other cases, Goldblatt couples images of comparable scenes at different moments. Through those pairings Goldblatt introduces a strong element of time in his images, creating unpredictable results.

Captions written by the artist accompany each photograph in order to convey context and critical information about the image. His photographs do not look at the large events or the public face of violence; rather they focus on the world of ordinary people and the minutiae of everyday life, illuminating the depth of injustice and the character of the people who imposed it and who struggled against it.

Goldblatt says, "I regard myself as an unlicensed, self-appointed observer and critic of South African society which I continue to explore with the camera."

Recipient of the 2009 Henri Cartier-Bresson Award and the prestigious Hasselblad Photography Award, David Goldblatt began photographing professionally in the early 1960s, focusing on the imagery and effects of apartheid. The son of Jewish Lithuanian parents who fled to South Africa to escape religious persecution, Goldblatt was forced into a peculiar situation, being both a white man in a racially segregated society and a member of a religious minority with a sense of otherness.

Goldblatt continues to explore the consciousness of South African society today, looking at the condition of race relations after the end of apartheid while also tackling other contemporary issues, such as the influence of the AIDS epidemic. As an almost forensic witness to history, Intersections Intersected commingles past, present, and future in a narrative that persistently turns away from spectacle in its constant search for the human.

His photographic essay South Africa: the Structure of Things Then was made into a monograph and also shown at the Museum of Modern Art, NY in 1998. Goldblatt's work was included in Documenta 11 in 2002; Documenta 12 in 2007; and the traveling mega-exhibition Africa Remix in 2004-07. His limited edition book, Particulars, won the award for the best photography book at the Rencontres d'Arles festival, France, in 2004. His most recent solo exhibitions include Intersections Intersected: The Photography of David Goldblatt, organized in 2008 by the Fundação de Serralves, Portugal, and curated by Ulrich Loock (travelled to the Malmo Konsthall, Sweden; The New Museum, NY; and the University Museum of Contemporary Art, Umass Amherst); and South African Photographs: David Goldblatt at the Jewish Museum, NY, 2010.

The exhibition at the University Museum of Contemporary Art will be the context for which a program of panel discussions, public talks, film screenings, readings, and an outreach school program is being organized. This information will be found here as it becomes available.

This exhibition is organized by Fundação de Serralves – Museu de Arte Contemporânea, Porto, Portugal and presented by the University Museum of Contemporary Art, Fine Arts Center, University of Massachusetts.
Contact
Open
Tuesday-Friday:
11am to 4:30pm
Saturday & Sunday:
2pm to 5pm
Open until 8 PM every first Thursday of the month
Closed
Mondays
Academic Breaks
State Holidays  
Contact Us
Main Number
(413) 545 3672
 
Connect



In Conversation
February 3, 2011 - 6pm
Fine Arts Center Lobby 

South African Photographer David Goldblatt "In Conversation" with Susan Jahoda (UMass Professor of Studio Art), Stephen Clingman (UMass Professor of English and Director of ISHA), and Natasha Becker (Mellon Assistant Dirctor of Research and Academic Programs, The Clark Art Institute).