Dawoud Bey
September 7 - October, 1996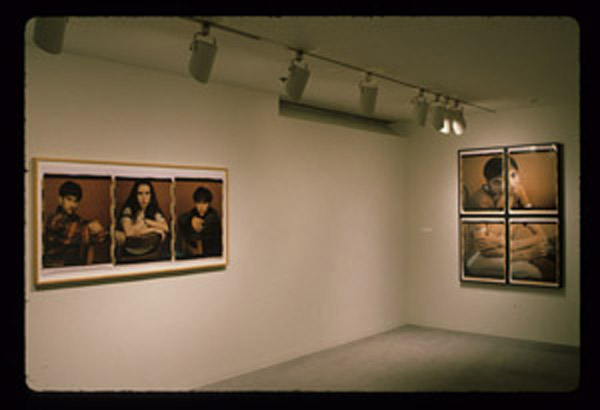 Dawoud Bey has been investigating the conventions of photographic portraiture for nearly 20 years. He began his career as a photographer in 1975 by taking pictures of people on the streets of Harlem. This series, Harlem USA (1975-1979), is a collective portrait of a place and its inhabitants done in a style reminiscent of the documentary tradition of the 1930s and 1940s. Bey continued with street photography during the 1980s focusing on the urban landscape and primarily African-American populations. He gradually felt the need for a sense of sustained contact with the people he was photographing and began using a 4-by-5 inch view camera which required a tripod and, therefore, a less candid approach. The process, a hybrid between street photography and a formal sitting, resulted in what have been described as "formal, outdoor portraits" and, consequently, a greater degree of involvement on the subject's part. Because Bey was using Polaroid Positive/Negative Type 55 film, he was able to solidify that involvement by giving the subject the print of him- or herself while keeping the negative for his studio work.

In 1991, Bey had the opportunity of using Polaroid's 20-by- 24 inch "Land" camera--one of five in the world--which allowed him even more contact with his subjects. He then began to experiment with his working format by expanding the number of prints--anywhere from two to twelve--to create one composite image. The multi-paneled portraits show the subject(s) from different perspectives and at different moments creating a sense of movement across the work's surface. Such a format invites a greater amount of participation from those viewing the work in that the eye and mind are brought together in a more conscious engagement to see the "whole" of the work.

Engaging people in the process of making and seeing art is one of Bey's central concerns and interests, and is, in fact, part of his art work. It is of special concern to him that young people are introduced to art in very active and direct ways in order to have them feel the inherent power of images regarding self-definition. For the past several years, Bey has taken advantage of invitations to exhibit his work at various museums and galleries by conducting photography workshops with the respective area's high school students. The artist instructs the students in photographic practice and has them discuss both the relationship between photographers and subjects as well as responsibilities that the artist should consider in how the work is presented. As part of the workshop activities, Bey photographs the students and incorporates their portraits in his own work. Speaking about this aspect of his work, the artist has said: "I think museums can be made to function in ways that create a broader social dialogue between diverse communities and constituencies. I try to use my work as a catalyst to create these kinds of relationships and situations .... There are whole communities out there that have no voice. I want my work and my projects to begin to address that."

Dawoud Bey was born in Jamaica, New York in 1953. He received his Bachelor of Arts from Empire state College of the State University of New York in 1990, and his Master of Fine Arts from Yale University in 1993. His first oneperson exhibition was held at the Studio Museum in Harlem in 1979 upon the completion of his series Harlem USA 1975-1979. Since that time, he has had one-person exhibitions at numerous museums and galleries including the Fogg Art Museum, Cambridge (1991), the Addison Gallery of American Art, Andover (1992), The Museum of Contemporary Photography, chicago (1993), and the Cleveland Museum of Art (1994). In 1995 the Walker Art Center, Minneapolis organized a 20 year retrospective of Bey's work which is currently on national tour. Over the past eight years, Bey has held teaching positions at various colleges and universitites and is presently an Assistant Professor of Art at Rutgers University, New Brunswick.
Contact
Open
Tuesday-Friday:
11am to 4:30pm
Saturday & Sunday:
2pm to 5pm
Open until 8 PM every first Thursday of the month
Closed
Mondays
Academic Breaks
State Holidays  
Contact Us
Main Number
(413) 545 3672
 
Connect