Donna Dennis: Deep Stations
November 6 – December 15, 1985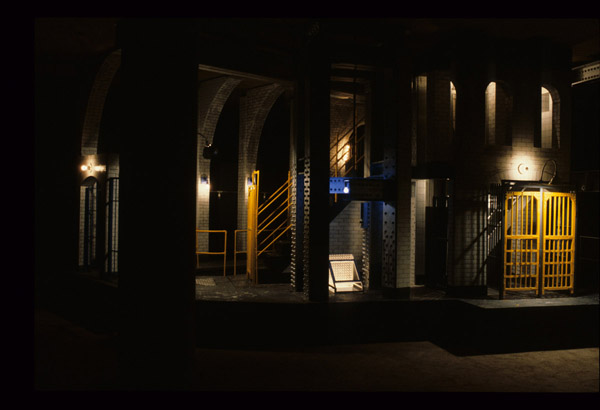 The exhibition features a selection of Donna Dennis' work created between 1974-1985 which takes the subway station as its subject. A major new sculpture, Deep Station, 1985, will be presented for the first time in the University Gallery exhibition. Donna Dennis' sculpture is representational, depicting vernacular architectural forms. The artist demonstrates an acute observation of architectural detail and materials in her renderings of hotels, resort cabins, and subway stations. The works in the current exhibition incorporate ornament, surface decoration, and architectural references from the famil iar New York City subways, including trompe l'oeil tiles, bare liqht bulbs, dark stairways, barred gates, and silver girders.

Dennis extracts and recombines architectural elements creatinq imaqinary structures rather than real istic representations. Her sculptures are hauntinq and enqaging forms rich in associative content. Liqht and scale play an important role in Donna Dennis' work. Deep Station, the artist's most recent work, installed appropriately in the University Gallery's underqround exhibition space, is lit dramatically from within. The effect of the interior light is both invitinq and isolatinq. Dennis' sculpture, scaled-down to just under human-size, is made to be viewed from the exterior. Staircases  and doorways encouraqe entrance to a deep interior space but are, in fact, inaccessible. Liqht and scale reinforce the poetic presence of the sculpture by enticing the viewer to feel the spaces they cannot enter or see. The subway station is a metaphor for journey or passaqe. In Dennis' subways, devoid of crowds and activity, the journey becomes a spiritual one, involving the passage of time, memory, reflection. Donna Dennis lives and works in New York City. One-person exhibitions of her work have been presented at the Holly Solomon Gallery, New York: the John F. Kennedy Center for the Performing Arts, Washington, D.C.; Contemporary Arts Center, Cincinnati: and, currently, at the Neuberqer Museum, Purchase, New York. She has created outdoor installations for the Dayton City Beautiful Council in Ohio and at Mocassin Creek in Aberdeen, South Dakota.

Recent group exhibitions which include Dennis' work are, "Artists' Architecture,"the Institute of Contemporary Arts, London; the 1984 Venice Biennale, and "Content: A Contemporary Focus, 1974-1984," Hirshhorn Museum and Sculpture Garden, Washington, D.C.
 
Contact
Open
Tuesday-Friday:
11am to 4:30pm
Saturday & Sunday:
2pm to 5pm
Open until 8 PM every first Thursday of the month
Closed
Mondays
Academic Breaks
State Holidays  
Contact Us
Main Number
(413) 545 3672
 
Connect