DU BOIS IN OUR TIME
September 10 - December 8, 2013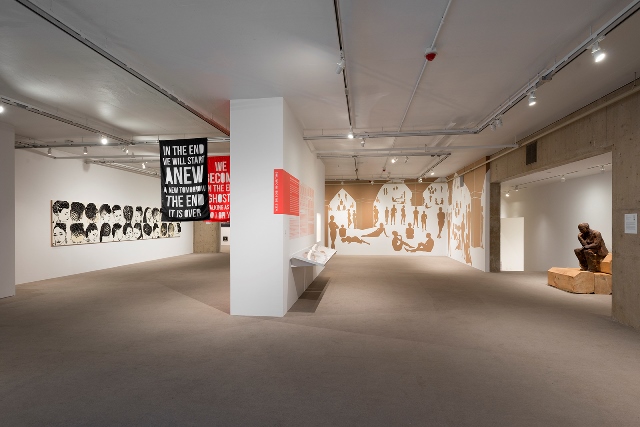 Photo Credit: Stephen Petegorsky

The video Du Bois in Our Time  explores the response often contemporary artists to the complex legacy of the writer, scholar, and activist W. E. B. Du Bois, arguably the most important black intellectual figure of the twentieth century. Each artist was asked to create a new work of art that would reflect the inspiration of Du Bois and connect his work to our contemporary world. The film emerged out of a collaboration among the ten artists*; the University Museum of Contemporary Art at the University of Massachusetts, Amherst; scholars from the university (the first to include an African American Studies program in the U.S.); and elsewhere.

The film was coordinated by American History Workshop, a Brooklyn based historical research think-tank and museum planning practice. The director of the film, Lynda B. Kaplan, is a principal at the Workshop. Ms. Kaplan has created media installations for exhibitions at institutions across the country, from Arizona to New York. Excerpts from in-depth interviews with artists give the viewer first-hand insight into each artist's work process. The end result is a celebration of W.E.B. Du Bois and his ongoing legacy — a commentary, a critique, and a challenge going forward.


* Artists include:
Radcliffe Bailey
Mary Evans
Brendan Fernandes
LaToya Ruby Frazier
Julie Mehretu
Ann Messner
Jefferson Pinder
Tim Rollins & K.O.S.
Mickalene Thomas
Carrie Mae Weems
This may also be an appropriate moment to reflect upon the legacy of Du Bois as an environmentalist. His 1930 speech on the condition of the Housatonic River, and the river's meaning to Western Massachusetts, inspired artists LaToya Ruby Frazier and Tim Rollins:
"Rescue the Housatonic and clean it as we have never in all the years thought before of cleaning it… restore its ancient beauty; making it the center of a town, of a valley, and perhaps — who knows? of a new measure of civilized life."
— W.E.B. Du Bois, 1930
LaToya Ruby Frazier
Artist's Statement
On July 21, 1930, W.E.B. Du Bois gave a speech that addressed man's relation to the Housatonic River and its condition. Du Bois described the Housatonic River as the center of the picture. Yet the valley of Great Barrington turned away and used the Housatonic as "a sewer, a drain, a place for throwing waste." In 1982, similar to Du Bois, I was born next to another river, the Monongahela, in Braddock, Pennsylvania. Andrew Carnegie's nineteenth-century steel mill, railroads, and bridges dissect and erode the waters. One night the river flooded. Crossing through miles of man-made manufactures, contaminated soils, and debris, it filled the basement and soaked the floors of my childhood home on Washington Avenue, in the area historically known as The Bottom. Growing up there has made me realize that, if seventy percent of the world is covered with water and more than fifty percent of our bodies are comprised of water, then the properties found in waters that surround our artificial environments reflect not only a physical condition, but a spiritual condition in which we exist. Through a series of aerial photographs of the Mon-Valley Braddock region, A Despoliation of Water: From the Housatonic to Monongahela River (1930 – 2013) will reveal that Du Bois's words resonate with the current environmental crisis along the Monongahela River in Braddock, Pennsylvania.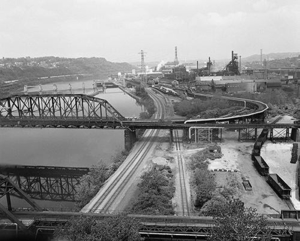 Work by Tim Rollins in the UMCA Collection
Darkwater (after W. E. B. Du Bois), 2013. Furnace black watercolor, gold acrylic, book page on panel. Each panel: 7 x 5 x ⅛ in.; entire piece: 184 in. Gift of the artist.
Photos: Detail of one page. All the pages, installed.
Tim Rollins
Artist's Statement
Of all of the writings of W.E.B. Du Bois, what draws us to his Darkwater? Over ninety years ago, W.E.B. Du Bois writes of being born by a golden river in the Berkshire Hills of Massachusetts, a mother with a face of dark shining bronze, a tall black landlord with golden earrings. Du Bois believes in a "God who made of one blood all nations that do dwell on earth." All throughout Darkwater he insists that art is a form of perpetual prayer and patience. He believes in educating children toward beauty, truth, even grandeur. Education is "the problem of problems." This son of Great Barrington generates a lyrical essay and instrumental poetry. Again, what's the attraction to the visage, life, legacy, and model of Du Bois? Maybe it's because as a young scholar on his summers off at Fisk University he taught poor kids at the Wheeler School in Wilson County in rural Tennessee. Maybe this was the simple but revolutionary learning experience that changed his life and predestined his future thought and activism. He writes of "The Immortal Child" and the life and music of a Samuel Coleridge- Taylor and soon we are often playing a recording of the "American Negro Melodies" in our studio while working. Golds, furnace-black rivers, eternal flowing, movement, veils, baptism, chance, and, always, Patience. We study, admire, and emulate Du Bois, but, moreover, we feel him. We find ourselves in March of 2013 visiting the Renaissance School in Springfield, Massachusetts, and a diverse group of 6th, 7th, and 8th-grade students. In a brightly lit classroom, we are all reading Darkwater together beginning with the great "Credo." The young participants then write their own personal credos. Then they illustrate them. Soon we are literally baptizing pages rent from a first edition of Darkwater deeply embossed in old letterpress and golden with ninety-three years of age. One by one, each young artist dips a page they have personally selected in a pool of furnace-black ink laced with gold pigment. What happens happens . . . and what is happening? A painting that painted itself — something supernatural. It's an old-fashioned New England séance with all of us focused together at the table. Art is our medium. It's not long before the fiercely loving ghost of W.E.B. Du Bois has been summoned and is fully present in a Springfield public school. Du Bois speaks, whispers, lectures, and even sings to us while we make our own dark and gold rivers of veils, chances, and changes.
— Tim Rollins, Studio K.O.S.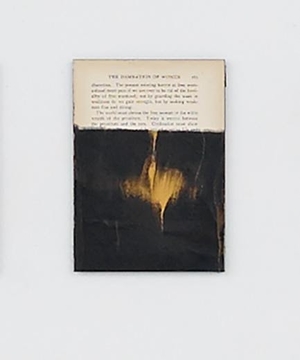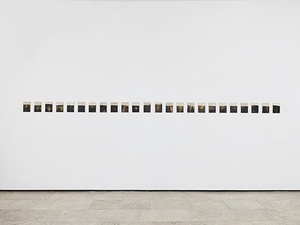 Work by Tim Rollins in the UMCA Collection
Darkwater (after W. E. B. Du Bois), 2013. Furnace black watercolor, gold acrylic, book page on panel. Each panel: 7 x 5 x ⅛ in.; entire piece: 184 in. Gift of the artist.
Photos: Detail of one page. All the pages, installed.
The UMass Office of News and Media Relations produced
this video
about the Du Bois exhibition.
---
As of this date, the exhibition and its related programs are generously supported by the National Endowment for the Arts; The Andy Warhol Foundation for the Visual Arts; and The Art Mentor Foundation Lucerne; with additional funding from the Massachusetts Cultural Council; Art Angels (The Community Foundation of Western MA), and Mass Humanities. Support from the University of Massachusetts Amherst comes from: The Office of the Graduate Dean; The Office of the Provost; The W.E.B. Du Bois Library; The Interdisciplinary Studies Institute; The Office of International Programs; University Relations; and Friends of the Fine Arts Center Residency Fund. Special Thanks to Brittany Mayo, M.A. Candidate, Art History; Kelli Morgan, Ph.D. Candidate, Afro-American Studies; and Joe Saphire, M.F.A. Candidate, Studio Arts.
Contact
Open
Tuesday-Friday:
11am to 4:30pm
Saturday & Sunday:
2pm to 5pm
Open until 8 PM every first Thursday of the month
Closed
Mondays
Academic Breaks
State Holidays  
Contact Us
Main Number
(413) 545 3672
 
Connect