Avital Sagalyn: A Life of Exploration
October 4 – December 8, 2019
Reception for the Artist: Oct 3, 5:00 – 8:00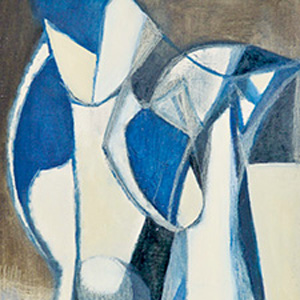 Avital Sagalyn, Two jugs, c. 1950s; oil on canvas; 20" x 16".
We are saddened to note the recent passing of Avital Sagalyn. Read more below...
Avital Sagalyn has been called an "undiscovered" talent among 20th century artists. Despite gaining early notoriety, she chose to keep her artworks largely private for much of her career.
In presenting Sagalyn's first museum exhibition, the UMCA will provide a glimpse into the range of the artist's work and its rich cultural history that spans three continents. Included in the exhibition is a selection of Sagalyn's cubist, abstract, and abstract-expressionist paintings, drawings, sculptures, and textile designs. Sagalyn's family fled the Nazi invasion of Belgium in 1940. Their journey took them through France, Spain, and Portugal. The following year, Sagalyn and her family immigrated to the United States and settled in New York City.
Sagalyn was among the first female Fulbright scholars selected to study painting in Paris in the early 1950s, where was befriended by such iconic 20th century artists as Pablo Picasso, among others. She was among few women in Manhattan's male‐dominated art scene of the "New York School" of painters who became friends and acquaintances such as abstract expressionist painters Willem de Kooning and Richard Pousette‐Dart.
In 1968 Sagalyn and her family moved to Amherst, where her connection with the University of Massachusetts began. She served on a search committee to hire the first director of the Fine Arts Center. She also participated on a panel to select works of art to purchase for the University Gallery — the precursor to the University Museum of Contemporary Art. This exhibition is curated by a team of UMass Art History students — Nicholas Fernacz, Elizabeth Filshtinsky, and Natalie Richards — who researched Sagalyn's paintings, drawings, sculpture, and textile designs, from the 1940s to the present.

PRESS

The Boston Globe review of Avital Sagalyn: A Life of Exploration -- by Stacey Stowe


---
We are saddened to note the recent passing of Avital Sagalyn. The Museum was proud to host her first-ever museum exhibition in the fall of 2019, and our staff became friendly with Avital and her family. Our love and condolences go to Michelle, Adine, and Dan Sagalyn, and their entire family. Avital, a longtime Amherst resident, died at home, surrounded by family.
Students and faculty members who worked with Avital on her retrospective exhibition shared some of their memories:
…I was privileged to play a small part in helping Avital's exhibition come into being. She was an extraordinarily warm, vibrant, and creative woman; her love of life will remain with me forever. ― Nancy Noble, Lecturer/Undergraduate Program Director, American Art / History of Art & Architecture, UMass
…It was a real joy to see Avital's work exhibited and the share in the excitement of her first exhibition. I am so glad it was possible and that she could enjoy it. She was such a warm and loving soul, and we are all better having known her. ― Meg Vickery, Lecturer / History of Art & Architecture, UMass
…I am especially grateful for the memory of visiting Avital at her home with Liza, Natalie, and Nick. Beyond the pleasure of looking over a lifetime of creative endeavor, especially seeing the Rising Moon, Sinking Sun painting that couldn't be in the exhibition, I remember what joy she brought to hosting the students with a tea of macarons (Natalie can probably describe the flavors) and fruit tart. ― Christine Ho, Assistant Professor, East Asian Art / History of Art & Architecture, UMass
…I am grateful for every moment, story, and Trader Joe's macaron I got to spend with her. She was such a warm, elegant, and insightful individual ― unlike anyone else I've ever met. Besides her artistry, I admired so much about Avital, such as her compassion for fellow human beings, her profound and unyielding love of literature, and a worldly view gained from years of travel. I learned so much from her, both professionally and personally. ― Natalie Richards, Art History '20
Working with Avital was a privilege. I am especially grateful I got to connect with her on a personal level, and to hear about her illustrious life escapades. When talking to us about her art making process, she recounted everything with such a sense of love. I learned a lot from her about how to live life fully and joyously, and feel extremely fortunate to have gotten to know her. ― Liza Filshtinsky, Art History '19