Avital Sagalyn: A Life of Exploration
October 4 – December 8, 2019
Reception for the Artist: Oct 3, 5:00 – 8:00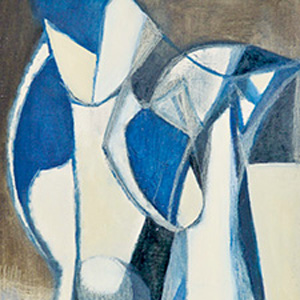 Avital Sagalyn, Two jugs, c. 1950s; oil on canvas; 20" x 16".
Avital Sagalyn has been called an "undiscovered" talent among 20th century artists. Despite gaining early notoriety, she chose to keep her artworks largely private for much of her career.
In presenting Sagalyn's first museum exhibition, the UMCA will provide a glimpse into the range of the artist's work and its rich cultural history that spans three continents. Included in the exhibition is a selection of Sagalyn's cubist, abstract, and abstract-expressionist paintings, drawings, sculptures, and textile designs. Sagalyn's family fled the Nazi invasion of Belgium in 1940. Their journey took them through France, Spain, and Portugal. The following year, Sagalyn and her family immigrated to the United States and settled in New York City.
Sagalyn was among the first female Fulbright scholars selected to study painting in Paris in the early 1950s, where was befriended by such iconic 20th century artists as Pablo Picasso, among others. She was among few women in Manhattan's male‐dominated art scene of the "New York School" of painters who became friends and acquaintances such as abstract expressionist painters Willem de Kooning and Richard Pousette‐Dart.
In 1968 Sagalyn and her family moved to Amherst, where her connection with the University of Massachusetts began. She served on a search committee to hire the first director of the Fine Arts Center. She also participated on a panel to select works of art to purchase for the University Gallery — the precursor to the University Museum of Contemporary Art. This exhibition is curated by a team of UMass Art History students — Nicholas Fernacz, Elizabeth Filshtinsky, and Natalie Richards — who researched Sagalyn's paintings, drawings, sculpture, and textile designs, from the 1940s to the present.

PRESS

The Boston Globe review of Avital Sagalyn: A Life of Exploration -- by Stacey Stowe