This spring we invite you and your students to visit the UMCA for a virtual or hybrid educational experience. Your students can now visit the museum individually in-person during our open hours, then meet online for guided, interactive discussions during one of your class sessions.

Our Education Curator will welcome your students via Zoom and introduce one of our featured exhibitions,
"
Mirror Mirror: The Prints of Alison Saar,
" "
We Are For Freedoms,
"
 or
"
Artifacts at the End of a Decade." Students will be given questions to consider as they explore the work independently online, then the group will reconvene on Zoom to discuss and share what they learned. Groups can also examine works from our past Exhibitions or from our Permanent Collection. We can tailor your visit to best support your class content. Start the conversation, and plan your visit now!

Contact Amanda Herman .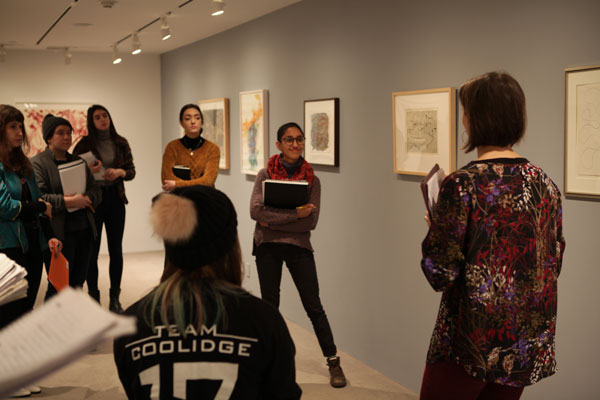 The University Museum of Contemporary Art is a multidisciplinary laboratory for the exploration and advancement of contemporary art. As the teaching museum of UMass Amherst, it is our goal to be a resource for faculty and to enhance your teaching through innovative exhibitions, public programing, educational opportunities for students, guided tours, and in-depth collaborative exchanges. Using
Visual Thinking Strategies
and close-looking techniques, we provide tools for students to think, feel, reflect, and connect to the work they see, no matter their area of study or discipline.  
Plan a Class Visit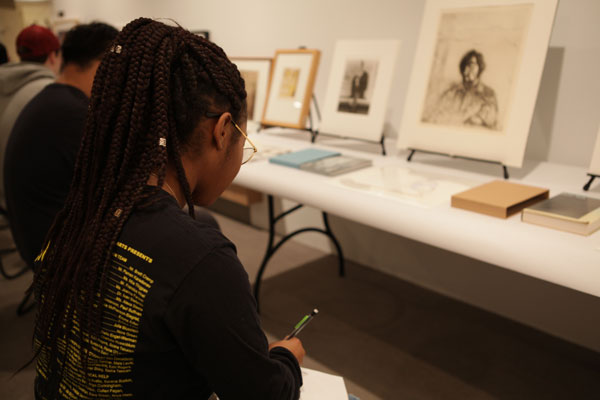 We invite you to visit the UMCA with your students! We offer a range of curriculum-integrated educational experiences during the academic year. These include: tours of current exhibitions led by our Education Curator or one of our UMCA Student Educators; guided conversations about a topic relevant to your course or to our current exhibition; hands-on museum studies workshops with UMCA staff; or self-guided explorations.
We ask that all visits to the UMCA be scheduled through our online form, and then we encourage a phone call with the Education Curator to discuss your goals for the visit. The more we know about your teaching objectives, the better we can plan a worthwhile experience for you at the UMCA.
To plan a visit for your class, please fill out this online form
here.
Please contact us at least 2 weeks in advance of your desired visit date.
Review the
UMCA Visitor Guidelines
in advance of your visit. We ask that no food, drink, large bags, or pens be brought into the Museum. We provide pencils if needed. We ask that you share these guidelines with your students before they arrive. The pdf can be uploaded to your Moodle class management site or sent directly to students prior to their Museum visit.
Interdisciplinary Collaborations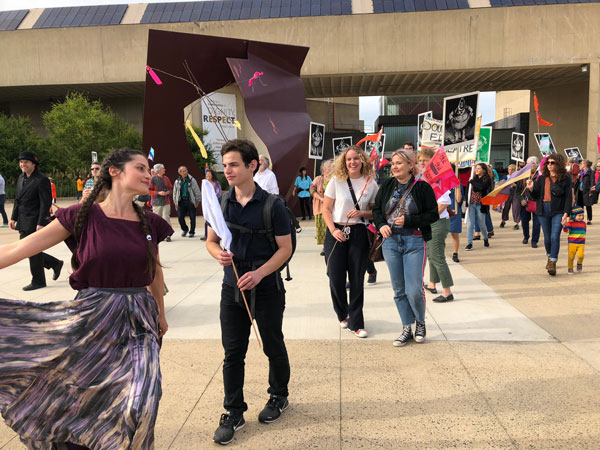 The UMCA is committed to working collaboratively with UMass faculty across disciplines to create new opportunities to learn through art. Through public programs, artist lectures and roundtables, symposiums, and exhibitions, the museum hopes to expand our reach to audiences throughout the campus.
Past examples include
Cross Town Contemporary Art,
a series of temporary public art installations linking UMass to Amherst, organized in collaboration with the Department of Art and Architecture and the Town of Amherst.
Art + Math =
 was a multi-day symposium and concert exploring the intersections of these two disciplines; it included faculty and students from the departments of Math, Engineering, Art & Architecture, and Music & Dance.
Please view our full list of
current
and
past events
to learn more about how we've worked across disciplines to support innovative contemporary art experiences and to expand learning at UMass.
To discuss your ideas and explore possibilities of future interdisciplinary collaborations, please contact UMCA Education Curator
Amanda Herman
.  
Explore Our Collection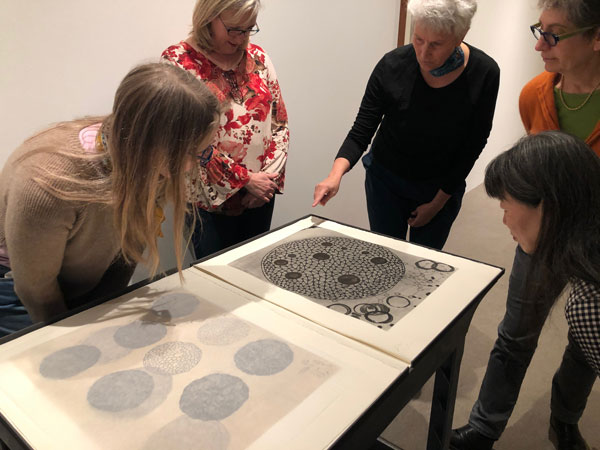 The University Museum of Contemporary Art collection was started by professor emeritus Walter Kamys in 1962 as a teaching collection for art students. It has grown to over 3000 pieces, with on focus of works on paper. It is the most expansive compilation of contemporary photographs, drawings, and prints to be housed in a Massachusetts public institution outside of Boston.
The UMCA is part of the
Five College Museums/Historic Deerfield computerization project
, which integrates the collections of the area's museums and makes their respective holdings accessible for purposes of study and research. All images of works in the University Museum of Contemporary Art Collection are identified with "UM" affixed to their accession number.
Access the collection online
here.
Online Project Space
The UMCA
Online Project Space
serves as a laboratory where multi-disciplinary practices are explored and tested. The space provides a showcase for a variety of Art History class projects that may or may not be related to the UMCA's exhibitions, such as student essays, virtual exhibitions with interactive content, research results, intellectual inquiry, and collaborations with other institutions. This space stretches conventional approaches to teaching and learning, and to our visual culture. Although the Online Project Space does not replace the experience of seeing original works of art at a museum, the digital exhibition offers access to global collections and intellectual collaborations.