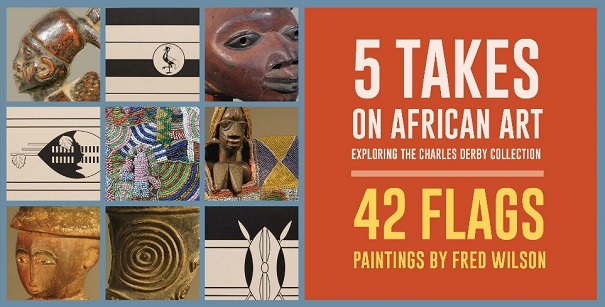 5 Takes on African Art / 42 Flags by Fred Wilson
September 27, 2017 – December 10, 2017
January 23  – 

April 29, 2018

(extended through Spring Semester)
CONTINUING A TRADITION of hosting challenging, exploratory exhibitions organized by student curatorial teams, this year's team of graduate students from Art History, Studio Arts, Public History, and Afro-American Studies, curate an exhibition of African art drawn from the collection of Charles Derby, a UMass alumnus who has been collecting African art since the 1970s, in tandem with an exhibition of Flags of Africa by the renowned African American artist Fred Wilson. By having the student curators come from different fields of study, the exhibition has been strengthened by the multiplicity of viewpoints brought to the curatorial process. Working with a private collection, a collector, and a contemporary artist, this project offers a new model in exhibition curation, particularly in the way the conversation about African art is shared among the various disciplines on our campus, and how an artist can participate and inform the project in an innovative way.

Imo Imeh, a professor of African and African American art at Westfield State University, served as advisor, mentor, and co-curator of the exhibition.

The exhibition invites visitors to see objects on display not only as visually compelling works of art in their own right, but also as objects of encounter that can "tell" stories about the broader social contexts and often fraught global histories through which they have journeyed. They bring the "telling" of African stories into the museum experience and draw out resonances among the objects on view.

One of the goals of the exhibition is to ask the viewer to recognize that changes in context can create changes in meaning, but without losing the object's "aura" and emotional impact. How do we shape interpretations of historical truth as well as artistic merit? What distinguishes African art as a body of work to study in and of itself, given the fact that objects from the African continent have been brought into the museum and gallery context only within the last 100 years? How do we convey intrinsic concepts about ethnicity, authorship, the spiritual, the metaphysical, or the utilitarian? It is our hope that this exhibition will probe these questions and initiate a dialogue that is important and meaningful within our larger community.

The exhibition is divided into five sections — or "5 Takes" — by the five curators, each highlighting a different aspect of Charles Derby's collection. Encircling 5 Takes are Fred Wilson's Flags of Africa, paintings which the artist stripped of color, thereby questioning how flags work, what they signify, and to what extent do they represent the people, history, and geography of a land that was delineated by a colonial master.
 
This video by the UMass News and Media Relations Office gives a brief overview of the exhibition.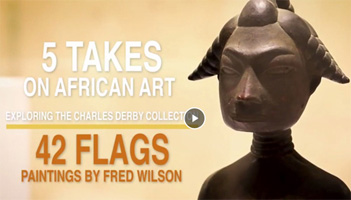 Acknowledgments
Exhibition Curators: Yingxi Lucy Gong; Kiara Hill; Imo Imeh; Vick Quezada; and Elizabeth Upenieks
Exhibition Design: Joseph Krupczynski, The Center for Design Engagement; Randy Crandon, Design Assistant
We gratefully acknowledge the following people whose support and advice have been vital throughout the organization of this exhibition: Charles Derby; Fred Wilson; Imo Imeh; Douglas Baxter, President of Pace Gallery, New York; and Victor & Karen Woolridge
Business and Corporate Support: UMass Five College Federal Credit Union, Hadley, MA; Leader Home Centers Lumber Yard and Hardware Store, Amherst, MA; Pace Gallery, New York
We thank the following UMass campus partners for their support: Friends of the Fine Arts Center; Interdisciplinary Studies Institute; Department of Art History; History Department





Schedule of Events
 
All events are free and open to the public.
More events coming in Spring 2018.

 
September 27 / 4:30-7:30 p.m. / UMCA and Fine Arts Center lobby / UMass Amherst
Exhibition Opening and Related Events
4:30-6:00 p.m.: Special Performance by the Bamidele Dancers and Drummers on the Fine Arts Center Plaza
6:00-7:00 p.m.: Panel Discussion with Charles Derby and the five curators in the Fine Arts Center Lobby
October 11 / 5:30-7:00 p.m. / Integrated Learning Center, Room 151 / UMass Amherst
Talk by Artist Fred Wilson: The Silent Message of the Museum, and Other New Works
Since the beginning of his career some thirty years ago, acclaimed artist Fred Wilson has created a diverse range of work that challenges assumptions of history, culture, and race. For this exhibition Wilson collaborated with the UMCA and the Curatorial Fellows, contributing an interdisciplinary focus on African art
October 26 / 5:00-6:00 p.m. / UMCA / UMass Amherst
Tour of Exhibition with Charles Derby
African art collector Charles Derby will offer commentary and personal anecdotes about his forty years of collecting and acquiring the objects on display in this exhibition.
November 15 / 5:00-6:00 p.m. / UMCA / UMass Amherst
Tour of Exhibition with Exhibition Curators
Join exhibition curators — Yingxi Lucy Gong; Kiara Hill; Imo lmeh; Vick Quezada; and Elizabeth Upenieks — as they tour the exhibition and offer insights into their curatorial approaches.
November 29 / 4:30-6:00 p.m. / UMCA / UMass Amherst
In Conversation: Ceramicist Juliet Bacchas and art historian/artist Imo lmeh
Bacchas and lmeh discuss and demonstrate traditional West African ceramic techniques employed by contemporary artists. Juliet Bacchas, from Jamaica, brings forth her talents in the area of slab building and African Coiling. Her pottery forms are bold and full of daring angles and curves. Imo Nse Imeh is a Visual Artist and Scholar of African Diaspora art and aesthetics. He teaches at Westfield State University.

Visit Juliet Bacchas' website
 
Student Docent Tours / UMCA / UMass Amherst
First Thursday of the month at 6 p.m., in conjunction with Amherst Arts Night Out; and every Sat. and Sun. at 3 p.m.
About the 5 Curators
This year's team of curators Yingzi Lucy Gong, Kiara Hill, Prof. Imo Imeh, Vick Quezada, and Elizabeth Upenieks have curated an exhibition of African art drawn from the collection of Charles Derby, a UMass alumnus who has been collecting African art since the 1970s. The five curators come from a variety of disciplines and contribute a multiplicity of viewpoints to the curatorial process.
 

Kiara Hill
(WOMB)an explores the saliency of femininity and womanhood in West African cosmology. Kiara is currently a third-year doctoral student in the W.E.B. Du Bois Department of African American Studies, and in Public History.

(WOMB)AN
The veneration of the female body is a salient theme of West African cosmology. Because women's bodies were believed to be imbued with supernatural capabilities, they were typically the subjects of various ceremonial and religious works. Feminine beauty, wisdom, and the ability to gestate were presumed to be indicative of a woman's spiritual power. For this reason, women serving as advisors, religious leaders, spiritual mediums, and caretakers were considered necessary for the social well-being of their respective communities.

When depicted through sculpture, the female body is frequently used to represent the duality of the physical and spiritual world. As vessels for humanity, literally and metaphorically, the symbolism of a mother and child is commonly invoked in West African art to elucidate the primacy of ancestral connection. Additionally, sculptures with embellished physical characteristics — typically regarded as feminine — personify divinity, supernaturalism, and status.

— Kiara Hill (PhD, African-American Studies and Public History, 2020)
Elizabeth Upenieks
Elizabeth breaks down Western notions of authenticity with objects that force the viewer to consider their own point of view and how it affects their perception of African art. She is currently in the second year of her master's studies in the department of the History of Art and Architecture at UMass.

AUTHENTICITY
The popularized idea of "African art" is largely a western construct, comprised of objects that tend to carry assumptions and stereotypes from cultural frameworks that are foreign to the African continent. We in the West re-imagine the significance and value of these objects based on our own cultural biases and definitions of visual art. To arrive at a foundational understanding of these remarkable objects, we must first consider how our biases complicate a clear and honest glimpse of African aesthetic traditions and the amazing minds behind the works that we have come to celebrate in our museums.

This section of the exhibition explores the degree to which African aesthetic creations (sculptures, wearable objects, and even weaponry) are classified as valuable and "authentic." In the world of African art, the question of authenticity-often determined by influential western consumers of African art-tends to weigh the age of an object, where an older object may be crowned as "valuable" or "authentic" and more contemporary works of the same styles deemed as cheap "tourist" art.

— Elizabeth Upenieks (M.A. Art History, 2018)
Yingxi Lucy Gong
Lucy explores the impact of collector Charles Derby's aesthetic taste, personal beliefs, and curatorial practice on the shaping of this particular exhibition. She received a Master of Art History degree from UMass in 2017 and is currently working at a modern and contemporary art gallery in New York.

THE COLLECTOR
Across all cultures, the concept of "collecting," whether as a social activity, for personal interests, or even for the preservation of precious objects, has been ingrained into the human consciousness. Collecting is often intergenerational, a valued tradition passed down from old hands to younger ones. Whether the objects collected are uniquely branded memorabilia or highly coveted works of art, the resulting body of work — the collection — is always stamped by the vision, taste, and aspirations of the collector.

This section explores the critical role played by Charles Derby, the collector of the works in this exhibition. By examining his storied experiences in collecting, his methods in curating his own collection, and his unique process of acquiring these works, we arrive at a fascinating portrait of a man fully engaged in a set of cultures that are separate from his own. Charles, by his own account, sees much of himself reflected in the works that he collects, and feels that this body of African works-though textured in the histories of the people who created them — somehow also tells his story. Additionally, as this installation will reveal, the collector — especially one as unique and outspoken as Charles Derby -undoubtedly shapes the works that he possesses, imbuing their narratives with new perspectives and affecting how we ultimately digest the stories that they offer.

— Yingxi Lucy Gong (M.A. Art History, 2017)
Vick Quezada
Diasporic Consciousness explores the forgotten histories and overlooked narratives of utilitarian objects. Vick is currently a third-year Master of Fine Arts student in the Studio Art department at UMass.

DIASPORIC CONSCIOUSNESS
This installation considers materiality, namely the substances that are used to make aesthetic objects. It also considers the connections that these basic elements of composition have to the original people who used them to craft objects, and furthermore, the ties between these materials to new generations of crafters, interpreters, and collectors of African works. This collection of objects challenges our notions of "African art" in that they were not formed for aesthetic purposes, but rather were created from raw, natural materials, carefully refined, and then skillfully handcrafted to serve particular needs in homes and communities.

While it is fascinating to consider that each work featured here bears a characteristic that can be generally linked to a distinct region or group of people, unfortunately it is nearly impossible to unearth the narratives of the artists who created them. Through these works, we consider the bridge between materiality and diaspora — objects of significance with "genetic codes" that move from one hand to the next, across borders and oceans, with a dynamism that is defined by our ever-shifting world. Here, these "useful" objects take on a new function, as the chorus of voices of those who created them, their stories and their journeys.

— Vick Quezada (M.F.A. Studio Arts, 2018)
Dr. Imo Imeh
Imo delves into the long history of twins and the Ibeji sculptures depicting them in Yoruba culture. He received his doctorate in Art History from Yale University and is currently an Assistant Professor of Art and Art History at Westfield State University.

COLLECTIVE MEMORY
In the traditional Yoruba belief system, ibeji is the name of an Orisha (or minor god) representing a pair of human twins. Ere ibeji, loosely translated, is "the sacred image of the twins." lbeji sculptures are created to honor a twin who has passed away; they are crafted only after a twin dies. While the foundation of the sculptural tradition is commemorative, their formation was also regarded as a necessary precautionary step in protecting the surviving sibling from the restless spirit of the deceased one.

The sculptures in this grouping are in fact idealized portraits of people -not deities or spirits -but real people, belonging to real families, who mourned their deaths, in part through artistic representation. These people, however, have been cast in a "sacred" deified reflection. This vast collection of honored souls offers us a philosophical portal into Yoruba and West African ideas about how those who are living elect to remember the dead, and the degree to which collective memory serves to build a specific type of representation of the deceased, whether in appearance, characteristics, or personality.

— Imo lmeh (Professor of African and African-American Art, Westfield State University, Westfield, MA)
The exhibition is divided into five sections — or "5 Takes" — by the five curators, each highlighting a different aspect of Charles Derby's collection. Encircling 5 Takes are Fred Wilson's Flags of Africa, paintings which the artist stripped of color, thereby questioning how flags work, what they signify, and to what extent do they represent the people, history, and geography of a land that was delineated by a colonial master.