Home Rooms: Fred Schwartz, Billie Tsien and Tod Williams, Allan Wexler
September 7 – December 15 , 1991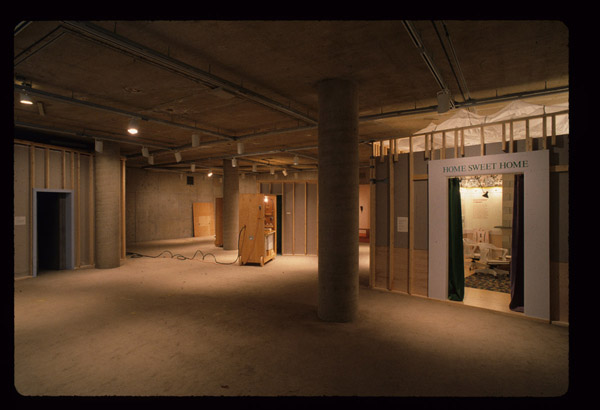 For this exhibition, the Museum has invited the noted American architects Frederic Schwartz, the collaborative team of Billie Tsien and Tod Williams, and the artist/architect Allan Wexler to design interiors that address the interdependent relationship between features of settings and features of people who use them. In presenting this exhibition, the Museum makes an attempt to reflect, in visual terms, two contemproray issues: the need to create a physical and mental "home" for ourselves, a place of fundamental nourishment which feeds our actions in the world; and the need to foster open dialogue among people of different histories and belief systems.
Billie Tsien and Tod Williams,
Project for A Better Chance
, installation view,
Home Rooms
, 1991, photography:
Creative Services, University of Massachusetts
Home Rooms
consists of three enclosed but enterable spaces with unfinished exteriors and interiors that have been designed by the architects, providing a trio of responses to the exhibition's broad theme.
Home Sweet Home
by Frederic Schwartz opened the exhibition on September 6 and is a demonstration of this architect's skill and delight in combining an assortment of textures, patterns, and colors not usually seen together. By balancing subtlety with panache, Schwartz has created an inviting atmosphere conducive to relaxation and conversation. In
Crate House
, Allan Wexler has devised an ingenious system whereby four functions of living can be separately accommodated in one 7 foot square room. Four plywood crates, containing the essential elements of a kitchen, bedroom, living room and bathroom, are located on the outside of the small "house" and can be rolled into it, one at a time, as desired. Billie Tsien and Tod Williams contacted the Amherst branch of A Better Chance located on North Prospect Street. A Better Chance is a national organization that selects students from educationally disadvantaged urban and rural areas and sends them to exceptional private and public high schools. After speaking with Mitchell and Luz Smith, the directors of ABC in Amherst, the architects decided to design a living room for the young residents who have strong musical interests both in performing and listening. The room constructed in the University Museum of Contemporary Art is a full-scale mock-up of the room at ABC on North Prospect Street. The elements specifically fabricated for the room consists of a system of bleachers made from homasote, a sound-absorbent material, and a stage/platform of high-density rubber. It is the intention of the architects to donate these elements to A Better Chance once the exhibition closes at the Museum in mid-December.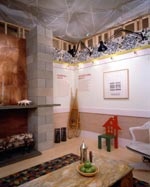 Frederic Schwartz, detail from
Home Sweet Home
, 1991,
photography: Creative Services,
University of Massachusetts
Frederic Schwartz, of the firm Anderson/Schwartz Architects, New York, was educated at the University of California at Berkeley, and Harvard University. Before opening his own firm, he was the director of the New York office of Venturi and Scott Brown. Schwartz won the Rome Prize of the American Academy in Rome in 1985, and has taught at Harvard University, Yale University, Columbia University, and the University of Pennsylvania. Billie Tsien is a graduate of Yale University, and the University of California at Los Angeles. She has taught at Cooper Union, Parsons School of Design, Harvard University, and Southern California Institute of Architecture. Tod Williams was educated at Princeton University and at Cambridge University in England. He has been an adjunct professor at Cooper Union since 1974. Tsien and Williams began their partnership in 1986 and have had a series of commissions that include interiors for the Asia Society, and a downtown Manhattan branch for the Whitney Museum. Their work was included in the recent "Architecture Tomorrow" series presented by the Walker Art Center, Minneapolis. Allan Wexler was educated at the Rhode Island School of Design and Pratt Institute. He teaches environmental design at Parsons School of Design. Recent solo exhibitions of his work have been held at the San Diego Museum of Contemporary Art; the Institute of Contemporary Art, University of Pennsylvania, Philadelphia; and the University Museum of Contemporary Art, University of Massachusetts, Amherst.  
Contact
Open
Tuesday-Friday:
11am to 4:30pm
Saturday & Sunday:
2pm to 5pm
Open until 8 PM every first Thursday of the month
Closed
Mondays
Academic Breaks
State Holidays  
Contact Us
Main Number
(413) 545 3672
 
Connect