James Welling: Open Space
January 31 - May 5, 2013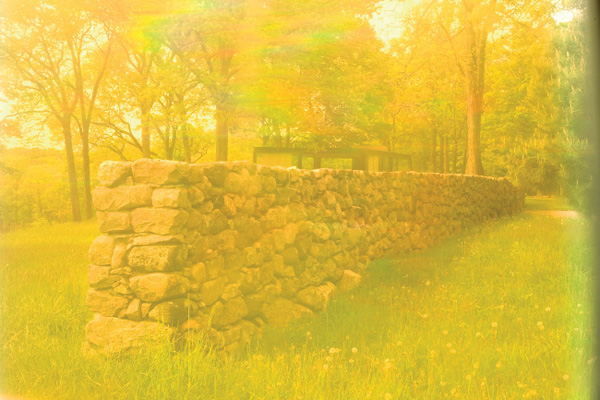 An exhibition detailing the photographer's work in New England from 1970 to 2010

The University Museum of Contemporary Art at UMass Amherst is pleased to announce an exhibition of work by the Los Angeles-based artist James Welling. This exhibition will focus on the photographer's work in New England from 1970 to 2010. Included are Welling's earliest experiments in photography, video, and watercolor, all harking back to his formative years in Connecticut. The exhibition concludes with his remarkable Glass House series (2006 – 2010). This architectural landmark by Philip Johnson in New Canaan, Connecticut, became a laboratory for Welling's ideas about transparency, reflectivity, and color. His recent videos, taken at the Glass House at different seasons of the year, will also be premiered in this exhibition.

James Welling has created beautiful and challenging photographs for over thirty-five years. His practice has addressed an impressive range of issues and ideas: the tenets of realism and transparency, abstraction and representation, optics and description, personal and cultural memory, and the material and chemical nature of photography. His photographs are equally about vision, light, negative, and solid as they are about the depicted image and subject. Using an experimental approach to the medium of photography, Welling investigates a variety of formal and theoretical ideas about picture making. His work has helped transform the history and practice of contemporary photography.

James Welling is a seminal figure in the "Pictures Generation," a group of photographers (including Cindy Sherman, Barbara Kruger, Sherrie Levine, Robert Longo, and others), who emerged in the U.S. in the 1970s. In 2009, Welling's work was featured in the critically acclaimed historical survey, The Pictures Generation, 1974-1984, at the Metropolitan Museum of Art, New York.

Welling's work has been exhibited widely in the U.S. and internationally, including solo exhibitions at the Wadsworth Atheneum Museum of Art, Hartford, Connecticut (2012); Minneapolis Institute of Arts, Minnesota (2010); Horticultural Society of New York (2007); Palais des Beaux-Arts, Brussels; Art Gallery of York University, Toronto (both 2002); Sprengel Museum Hannover (1999); Carnegie Museum of Art, Pittsburgh; and the Kunstmuseum Luzern, Lucerne, Switzerland (both 1998). In 2000, the Wexner Center for the Arts, Columbus, Ohio organized a major survey of his work, which traveled to the Museum of Contemporary Art, Los Angeles, and the Baltimore Museum of Art. In 2008 he participated in the Whitney Biennial. In 1992, his work was included in Documenta IX. A major survey of his work opens at the Cincinnati Art Museum in February 2013.

James Welling is Head of Photography at UCLA and was a Visiting Professor at Princeton University in fall 2012. His work is held in major museum collections, including the Centre Georges Pompidou, Paris; Hammer Museum, Los Angeles; Kunstmuseum Wolfsburg, Germany; Los Angeles County Museum of Art; Metropolitan Museum of Art, NY; Museum of Contemporary Art, Los Angeles; Museum of Fine Arts, Boston; The Museum of Modern Art, NY; Solomon R. Guggenheim Museum, NY; Tokyo Metropolitan Museum of Photography; and the Whitney Museum of American Art, NY.

*Lorne Falk has worked in the arts and education for 38 years as a teacher, dean of faculty, residency program director, gallery director, curator, writer, and consultant in the arts and education. He is currently a Visiting Associate Professor at Hampshire College, where he teaches courses in contemporary art history and culture. From 2001 to 2008, he was Dean of Faculty at the School of the Museum of Fine Arts (SMFA) in Boston. Prior to that, he was Associate Professor (Design Theory and Criticism) at the School of Design, the Hong Kong Polytechnic University; Program Director at the Banff Centre for the Arts in Canada; Director and Chief Curator of the Walter Phillips Gallery at The Banff Centre for the Arts; and Director-Curator of The Photographers Gallery in Saskatoon, Canada.

Every aspect of producing this exhibition is thanks to the coordination provided by Justine Durrett and Anna Drozda of David Zwirner, New York/London.
Contact
Open
Tuesday-Friday:
11am to 4:30pm
Saturday & Sunday:
2pm to 5pm
Open until 8 PM every first Thursday of the month
Closed
Mondays
Academic Breaks
State Holidays  
Contact Us
Main Number
(413) 545 3672
 
Connect



Opening Reception
January 30, 2013 - 5-7 pm
UMCA Main Gallery
In Conversation
James Welling with
Lorne Falk
January 30, 2013 - 5:30 pm


Visiting Associate Professor at Hampshire College Lorne Falk will conduct an informal conversation with the artist during the opening reception.