Public Art Project - Jennifer Williams
Opening July 23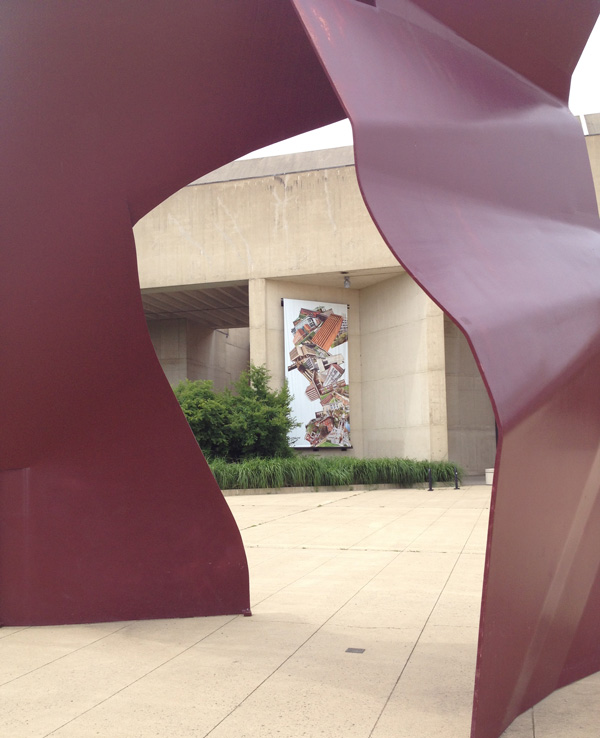 Nationally known artist Jennifer Williams has created two large scale banners for the prominent South facade of the Fine Arts Center at UMass Amherst. The University Museum of Contemporary Art convened a committee of students, staff, and faculty who selected Jennifer Williams of New York City to create the 12-foot by 24-foot works. The site specific project consists of a two-part photographic collage of the UMass Amherst campus. The fragmented images span a century of the campus' architectural expressions, referencing UMass history from agricultural college to large research university.  Williams, whose work about the High Line was most recently shown at Robert Mann Gallery in Chelsea, New York, describes her approach to using photography:
…not as a tool to stop time, but to control time passing. My work engages traditional photographic languages while simultaneously questioning its "truth dimension," exploiting photography's ability to represent what is both true and what is false simultaneously. Modern printing technologies and graphic arts materials allow me to push the imagery's object quality into a painterly realm, while the work's interaction with space describes a scale and syntax belonging to the twentieth century sculptural tradition.
The Summer Art Project, in collaboration with the UMass Summer Program, celebrates the academic activities on campus ─ from language courses for international students to the New England Regional Soil Science Certificate Program.  
For more information on the summer programs please visit 
www.umass.edu/summersession/
Contact
Open
Tuesday-Friday:
11am to 4:30pm
Saturday & Sunday:
2pm to 5pm
Open until 8 PM every first Thursday of the month
Closed
Mondays
Academic Breaks
State Holidays  
Contact Us
Main Number
(413) 545 3672
 
Connect



Opening reception on September 4, 5:00 – 7:00 P.M., at the South Facade of the Fine Arts Center