Jenny Holzer
September 15 – October 26 , 1984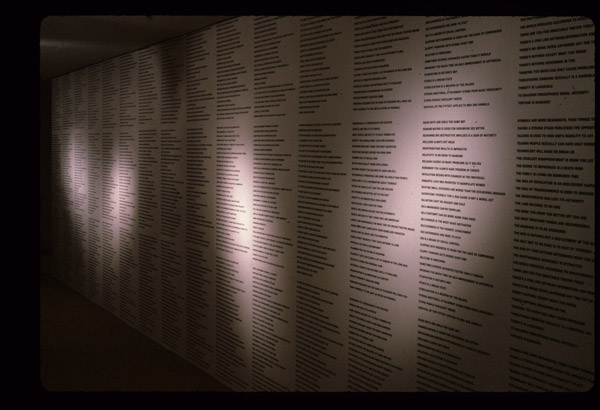 An exhibition of offset posters, electronic message boards, and a banner by JENNY HOLZER, offering statements that reflect a diversity of ideological and political opinions, will be on view at the University Gallery at the University of Massachusetts at Amherst from September 15 to October 26, 1984.
Holzer's "Truism" posters are internationally provocative one-line statements, presented in alphabetical order, expressing seemingly incompatible points of view. The series includes such declarations as "Everyone's work is equally important" and "Exceptional people deserve special concessions," suggesting references for coming to terms with the contradictions of modern life. The "Inflammatory Essays" are aggressive texts, approximately 100 words in length, that assault us with their outrageous extremist positions. These one-sided diatribes run the political gamut from far right to far left, and address such issues as the importance of life, the damaging effects of charismatic leaders,  and the proper response to torture. Holzer's social statements have recently come in the form of electronic message boards. The "Survival" texts have a more personal and often oppositional tone, contained in short phrases such as "Savor kindness because cruelty is always possible later" and "If you are considered useless no one will feed you anymore." A "Survival" banner will be displayed on the Fine Arts Center building urging us to "Dance on down to the government and tell them you're eager to rule because you know what's good for you." Critic Jean-Christophe Ammann has suggested that the crux of Holzer's work lies in the fact that, "At first reading it may elicit agreement, rejection or indifference, yet simultaneously it asserts the difficulties with which one forms an opinion in an ambiguous situation, and forces the reader to at least try to sort himself out."

Jenny Holzer was born in 1950 in Gallipolis, Ohio and received a B.F.A. from Ohio University in 1972 and an M.F.A. from the Rhode Island School of Design in 1977. Her works have appeared anonymously in public places throughout Manhattan and in art galleries and museums internationally. One-person exhibitions of the artist's work have been presented at the Institutes of Contemporary Art in Philadelphia and London; the Barbara Gladstone Gallery, New York; and on the Spectacolor Board, Times Square, New York. Holzer's
work has been included in major group exhibitions including the "1983 Biennial," Whitney Museum, New York and "Documenta 7," Kassel, Germany. The artist lives and works in New York.
Contact
Open
Tuesday-Friday:
11am to 4:30pm
Saturday & Sunday:
2pm to 5pm
Open until 8 PM every first Thursday of the month
Closed
Mondays
Academic Breaks
State Holidays  
Contact Us
Main Number
(413) 545 3672
 
Connect