Karen Dolmanisth
Life Lines of Connection and Continuity
October 4 - October 14, 2008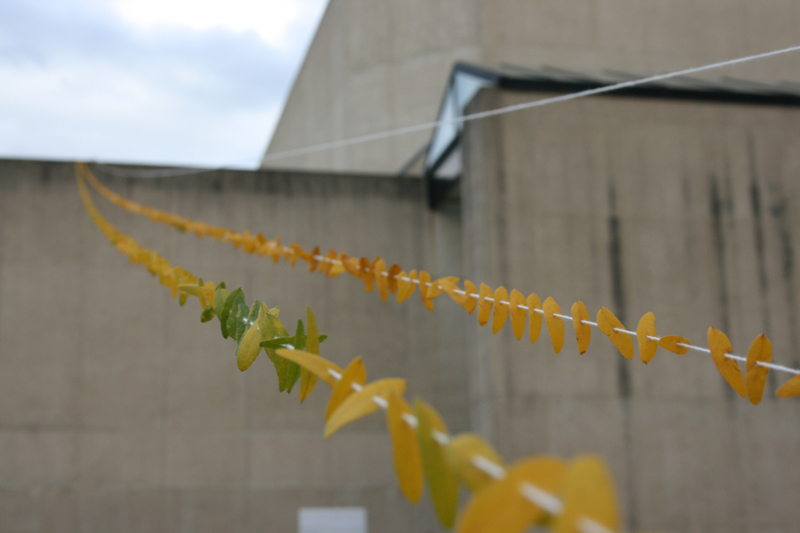 Karen Dolmanisth's time-based installation is well suited to its location on the Umass campus pond's "Isle of View". Her accumulative and performance-based modes of thinking create a ritual in progress, as the artist continues to add to the installation over the course of one week this fall. Art-making itself becomes the ritual with its final shape exemplifying an incremental, open-ended exploration of natural material-intensive art forms.

Taking cues from george Trakas' environmental sculpture "Isle of View" and the natural autumn surroundings, Karen Dolmanisth's temporary site-work will be based on a composition of measured parallel, overlapping and intersecting lines that are made with white cotton and wool thread, upon which will be strung evenly spaced autumn leaves of transforming color.

Dolmanisth received her MFA from Umass Amherst. Her work has been seen in solo and group exhibitions at The Vienna Secession Museum, Austria; The Wexner Center for Contemporary Art in Columbus, Ohio; at Connecticut College; New York City's Exit Art, Brooklyn's Smack Mellon Studios; Open Square in Holyoke, MA, among others.
Contact
Open
Tuesday-Friday:
11am to 4:30pm
Saturday & Sunday:
2pm to 5pm
Open until 8 PM every first Thursday of the month
Closed
Mondays
Academic Breaks
State Holidays  
Contact Us
Main Number
(413) 545 3672
 
Connect