Katy Schimert: Camouflage, Ink and Silence
March 27 - May 4, 2014
Opening Reception March 26, 5:00 – 7:00pm 
6:00pm: Artist in conversation with noted poet and art critic John Yau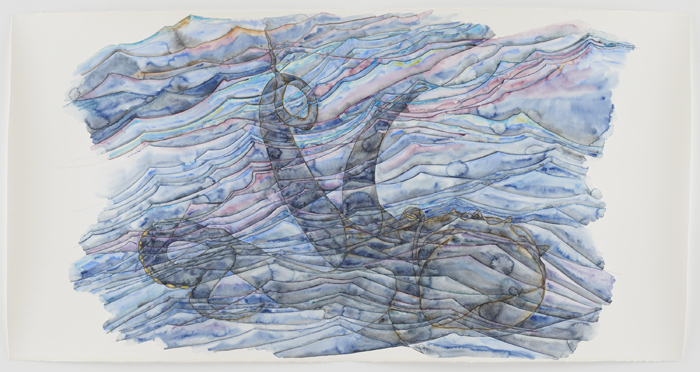 Katy Schimert | Lurking Octopus, 2011 | Watercolor on paper
Paper: 51 x 99 1/2 in., 129.5 x 252.7 cm
Courtesy David Zwirner, New York/London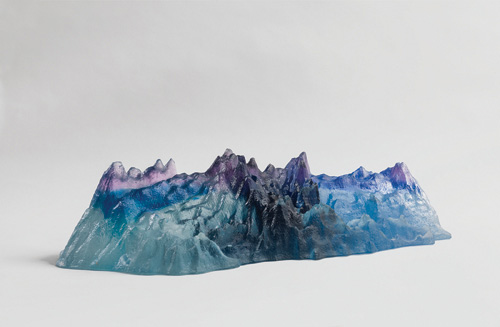 Katy Schimert | Lurking Octopus, 2013 | Lead crystal | 9 x 34 1/2 x 10 in.
22.9 x 87.6 x 25.4 cm
Courtesy David Zwirner, New York/London
 
Working across a variety of media, including drawing, sculpture, and film, Katy Schimert uses fragments of personal experience as conceptual impetus. The intersection of the fine and decorative arts is a formal point of departure for the artist. Densely layered and vaguely topographical, her drawings suggest sequences of cosmic or otherworldly events occasionally populated by ethereal human figures; as Schimert describes it, they create a "space for illusion." The results of this investigation are not only visually compelling, but formally succinct – this allows Schimert's works in various media to meld together as an ongoing visual essay.


This exhibition will comprise a series of large-scale watercolors and ceramic and glass sculptures about the sea and a large mythical octopus, a hidden sculptural force, and ghost like presence of fierce emotion underneath the moire effect of water. Schimert has been inspired by literature of the sea and science fiction including: Jules Verne, Herman Melville, Joseph Conrad, Patrick Obrien, Arthur C Clark and Marianne Moore's poem The Octopus. She uses an ancient method of casting glass and ceramics, making forms through a process of heating and cooling.


Thomas Chambers; Shipping off a Coast [Nahant, from Lynn Beach], c. 1843-50, Oil on canvas, 22 x 30 in., 55.9 x 76.2 cm; Collection of Nahant Public Library, Nahant, MA

     

Katy Schimert will be on campus to participate in the Artists Residency Program, supported by the Class of 1961. She will conduct workshops and class discussions with students and faculty in the Departments of English, Geoscience, and Art.

 

---




Katy Schimert (b. 1963) has had works included in significant solo and group shows internationally since the early 1990s. Recent venues include the Brooklyn Academy of Music, New York; the Hammer Museum, Los Angeles; and the Pinakothek der Moderne, Munich. Her work is featured in prominent public collections worldwide, including the Museum of Contemporary Art, Los Angeles; The Museum of Modern Art, New York; the Walker Art Center, Minneapolis; the Wanås Foundation, Knislinge, Sweden; and the Whitney Museum of American Art, New York. The artist lives and works in New York.


 
 
Katy Schimert's residency is supported by the Class of 1961 Artists Residency Fund.
 
The University Museum of Contemporary Art gratefully acknowledges the support of The Andy Warhol Foundation for the Visual Arts. Additional support comes from the Fine Arts Center Friends Residency Fund.
 
The UMCA thanks David Zwirner, New York/London, for their support, facilitation of the exhibition and catalogue, and generous sharing of information.
 
A fully illustrated exhibition catalogue, with essay by John Yau, will be published.

 
Contact
Open
Tuesday-Friday:
11am to 4:30pm
Saturday & Sunday:
2pm to 5pm
Open until 8 PM every first Thursday of the month
Closed
Mondays
Academic Breaks
State Holidays  
Contact Us
Main Number
(413) 545 3672
 
Connect



Tuesday, March 25
5:00–6:30 p.m., Fine Arts Center Lobby, UMass
• PANEL DISCUSSION •
Contemporary Glass Sculpture / Ancient Middle Eastern Luster Technique — A Conversation:
Katy Schimert, artist (New York); Linda Ross, glass artist (Boston); Hosseinali Saheb Ekhtiari, ceramicist (RISD); and Walter Denny,  Professor of Art History and Islamic Art (UMass Amherst)

7:00–10:00 p.m., Hasbrouck Hall, UMass
• FILM SCREENINGS •
in collaboration with Professor Christopher Couch's seminar "International Science Fiction Films"
(UMass Comparative Literature Dept. of Languages,  Literatures, and Cultures)
— A Trip to the Moon (Voyage dans la Lune), 1902; French silent film by Georges Méliès; 18 min.
— 20,000 Leagues Under the Sea, 1954; first science fiction film produced by Walt Disney Productions; 137 min.
Introductory remarks by Katy Schimert and Christopher Couch
Wednesday, March 26
5:00–7:00 p.m., University Museum of Contemporary Art
• OPENING RECEPTION •

6:00 p.m., University Museum of Contemporary Art
• ARTIST IN CONVERSATION •
with noted poet and art critic John Yau
Thursday, March 27
5:00–7:00 p.m., Fine Arts Center Lobby, UMass
• PANEL DISCUSSION •
"In the Octopus's Garden" — A Conversation about Art, Science, and Science Fiction: with Katy Schimert, artist; Roger T. Hanlon, Director,  Program in Sensory Physiology and Behavior, Woods Hole Marine Biological Laboratory, and Professor, Ecology and Evolutionary Biology, Brown University; and N. C. Christopher Couch, Comparative Literature, Dept. of Languages, Literatures, and Cultures, UMass