Kimsooja: Performance/Video
September 21 - December 11, 2011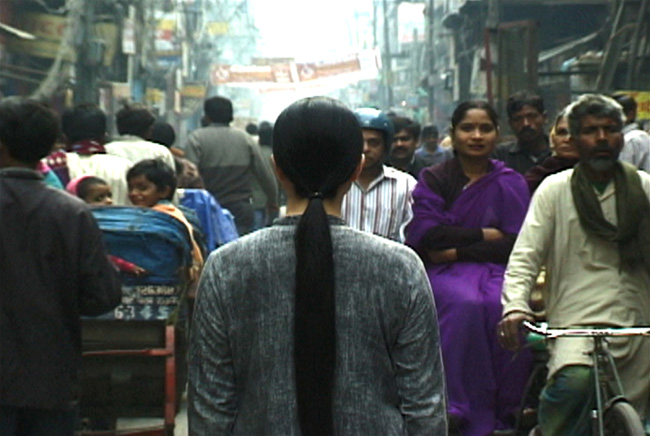 The University Museum of Contemporary Art (UMCA) is proud to present renowned Korean artist Kimsooja's video exhibition opening September 21 and continuing through December 11, 2011. Kimsooja's work combines performance, video, and installation, addressing issues of the displaced self. Kimsooja brings together a conceptual and structural investigation of performance through immobility that inverts the notion of the artist as the predominant actor. This exhibition includes five of her major works.

A Needle Woman, composed of four simultaneous videos, documents the artist as she stands motionless in the crowded streets of Lagos, Nigeria, Tokyo, New York, and Delhi, putting the viewer at the center of a global space. The world weaves past the artist's needle-like figure, acting as an instrument, a medium that establishes connections, relationships and experiences, expands time and seeks universal truths.

A Laundry Woman-Yamuna River, India, considers nature, stillness and movement and the cycle of life and death as the river slides by, picking up flotsam and washing away the earth.

In A Needle Woman - Kitakyushu set on a rocky ledge in Japan, the artist lies motionless, with her body as its own landscape connecting earth and sky. As clouds roll by, this minimal image evokes the cosmic proportions of time and space, contrasting with the ephemeral and superficial excesses of the city streets. Through her gesture of stillness, the artist transcends cultures.

An allusion to the theme of suffering is apparent in A Beggar Woman (Lagos, Nigeria), where the artist sits on the pavement with her arm outstretched in supplication. A few people stop and press money into her hand, while later a man takes it out of Kimsooja's cupped hand. The artist's apparent lack of desires makes the theft completely irrelevant, and we are left to wonder what this "beggar woman" is asking for.

Sewing Into Walking (Istanbul), one of Kimsooja's early seminal works, is a 2 channel video, one with street sound and the other with a Tibetan monk chant, locating the spiritual in the urban world.

*Kimsooja: Black Holes, Meditative Vanishings and Nature as a Mirror of the Universe, an essay by Ingrid Commandeur. Printed by the UMCA with permission of the Kroller Muller Museum, The Netherlands, from its catalogue in connection with the exhibition Windflower: Perceptions of Nature premiering in October 2011. Ingrid Commandeur is an international art critic and art historian based in Rotterdam, the Netherlands.
Contact
Open
Tuesday-Friday:
11am to 4:30pm
Saturday & Sunday:
2pm to 5pm
Open until 8 PM every first Thursday of the month
Closed
Mondays
Academic Breaks
State Holidays  
Contact Us
Main Number
(413) 545 3672
 
Connect



Exhibition Events
Opening Reception
September 21, 2011
,
5-8pm
Fine Arts Center Lobby

In Conversation
September 21, 2011
- 6pm
Fine Arts Center Lobby


Kimsooja discusses her work with NY art critic Robert C. Morgan (MFA UMass 1975).

Panel Discussion
October 19, 2012 - 4:30 pm
UMCA East Gallery

UMass Professors Anne Ciecko (Global Film Studies), Susan Jahoda (Video/Art), Miliann Kang (Women, Gender and Sexuality Studies), and Smith College Professor Jina Kim (East Asian Studies) will talk about the work of Kimsooja.