Svetlana And Igor Kopystiansky
September 13 - October 30, 2005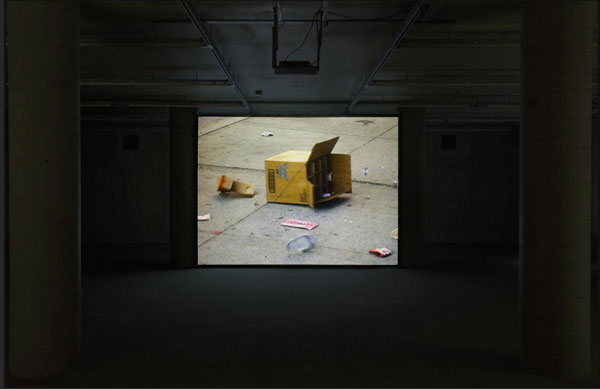 This project, on view at the University Museum of Contemporary Art, located on the lower level of the Fine Arts Center, will present works created in the urban environment of New York where artists have been living since 1988. Major works from this project were previously exhibited at three international biennials, in a number of museum exhibitions, and are included in several important museum collections.

"Certainly there have been couples in recent years who made art together, and groups of two or more artists who have insisted that their work be taken together as a whole, but the fusion of the two notions into one can probably be said to be unique to their work. And yet, it would not be accurate to say that their work is any way separate, either in terms of conception, execution or presentation. On the contrary, they are partners in the germination of each other's ideas, right up to the final encounter between the work and the viewer."
- Dan Cameron, Senior Curator, The New Museum, New York

"The Kopystianskys seem to have an unusually flexible and equilibrated relationship as artists who are also a couple. They work (in the same studio) mostly separately, sometimes together; they exhibit mostly together, sometimes separately. Each has a clearly marked artistic persona, yet their work moves easily between parallelism and complementarity.

The Kopystianskys" collaborative slide projection piece The Day Before Tomorrow, 1998-99, gives one very clear and touching metaphor for the way their togetherness/separateness as artists articulates the quandary at their heart of their distinct bodies of work: Its two screens show two different versions of the same everyday events on the streets of New York, one shot by Svetlana and one by Igor. With each screen reflecting a slightly different angle (and not necessarily at the same moment), it is as though each artist were but a single eye, but where then is the brain in which these two inputs can be synthesized into a single three-dimensional, perspectival image? That of God? Or maybe just the ideally imaginative and sympathetic viewer?

In any case, The Day Before Tomorrow, shows how a collaborative project can be built out of two near but distinct viewpoints: To make the work the two artists stood next to each other snapping the same views, so the differences between what appears on the two screens are entirely the product of small differences in position and the speed with which each artist pushed the shutter button. One's attention is engaged partly by the ghostlike presence of passersby fading in and out of view and partly by the even more intangible presence of the two invisible people who registered their movements."
- Barry Schwabsky, Art Critic, from an essay first published in Contemporary Artists St. James Press/Video Hound, Gale Group, MI (2001) and in Art Forum XLI 4, (December 2002) pp.148-9.

"The Kopystianskys have not made a film about dirty streets so much as a celebration of chance encounters. Many hours of footage carefully collected on windy days have been meticulously edited to capture these magical moments. It is remarkable how quickly we start to read characters into these discarded objects. The particular formal properties of each of the objects determine the very individualistic movement each character acquires through the animating breath of the wind. At times the characterization becomes so strong that audiences spontaneously burst out laughing. When an empty hamburger box moves forward in a series of jerky steps with the lid flapping up and down it becomes a vividly anthropomorphic image and zanily Muppet-like.

There are also moments of great elegance particularly when pieces of fabric or a plastic bag twist and twirl their way along the gutter or defying gravity fly up into the air then shudder and spin back to earth. There is a long and interesting history of poor and discarded materials being recycled into art, but this work brings the genre to a new level of aesthetic pleasure. We think of Joseph Beuys sweeping the streets and the forests of Germany as an environmental gesture and then framing the resulting material in a vitrine. There were the décollage artists in France in the late 1950s, whose torn billboard posters aestheticized everyday Parisian street furniture. Before them Kurt Schwitters elevated old bus tickets and fragments of paper into high art and Marcel Duchamp and Joseph Cornel kept up a long exchange of such fragments, some of which found their way into artworks and journals.

A more recent example might be the installations of Tony Cragg in the early 1980s. Many of these works were assembled from fragments of colored plastics found along the banks of the Thames in London at low tide. Cragg arranged them into geometric or pictorial configurations that elevated trash into valuable art, a sleight of hand that was only partly a conceptual critique of commodification and the art market. The other side of Cragg's assemblages was a finely balanced form between the chances of nature and cultural signs. This balance revealed his genuine delight in the visual and tactile qualities of things. The same is true of the Kopystianskys. The history of their work makes it clear that they understand the critical context of art in society but they always also raise the aesthetic value of the work to a level that brings a surprising degree of pleasure to the viewer."
-Anthony Bond, Head Curator, International Art, Art Gallery of New South Wales, Sidney

The Kopystiansky's have jointly participated in many international exhibitions including the Venice Biennale Aperto (1988), Sydney Biennial (1992), San Paolo Biennial (1994), Sculpture Project Munster (1997) Istanbul Biennale (1995), Johannesburg Biennale (199), Lyon biennale (1997), First British Biennale in Liverpool (1999), and Documenta 11 (2002).
Solo exhibitions of Igor and Svetlana Kopystiansky have taken place at the Martin-Gropius-Bau, (DAAD) Berlin (1991), Kunsthalle Dusseldorf (1994), The Art Institute of Chicago (1996), the Kunstmuseum Dusseldorf (2000), the Sprengel Museum Hannover, Germany (2002), the Art Gallery of New South Wales, Sydney, Australia (2003) and the Scottsdale Museum of Contemporary Art, Arizona (2005). Their work is represented by Lisson Gallery in London and was recently exhibited at the Christine Burgin Gallery in New York.The exhibition is guest curated by Gregory Salzman, an independent curator who previously exhibited Svetlana and Igor Kopystiansky's video,
Fog
(1999-2000) in an exhibition concerning landscape. The present exhibition will travel to the Kunsthalle Fridericianum in Kassel, Germany, from December 20, 2005 to February 26, 2006. A fully illustrated catalogue, featuring essays by the exhibition's guest curator, Gregory Salzman and Whitney Museum of Art director, Adam D. Weinberg, will accompany the exhibition. All events related to this exhibition are free and all are welcome to attend. This program is supported in part by the University of Massachusetts Arts Council.
Contact
Open
Tuesday-Friday:
11am to 4:30pm
Saturday & Sunday:
2pm to 5pm
Open until 8 PM every first Thursday of the month
Closed
Mondays
Academic Breaks
State Holidays  
Contact Us
Main Number
(413) 545 3672
 
Connect





Igor & Svetlana Kopystiansky Catalog
Introduction by René Block and Loretta Yarlow and texts by Adam D. Weinberg, Barry Schwabsky, Andreas Bee, Anthony Bond, Kai-Uwe Hemken
8.25 x 9.5 inches;
120 pgs; 191 illus.
Published in 2006
Price $20