Leonardo Drew: Cycles
September 20 – December 8, 2019
Opening Reception: September 19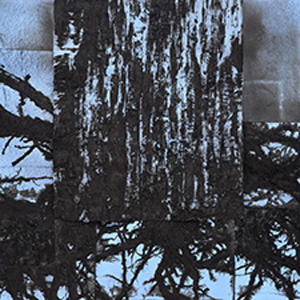 Leonardo Drew, 74P, edition MONO, 2017. Pigmented and cast handmade paper with hand applied pigment, 48 x 70 in.
From the Collections of Jordan D. Schnitzer and His Family Foundation
September 20 – December 8, 2019
Reception for the Artist: September 19 / 4:00 – 7:30 p.m.

In Conversation, 4:30 – 5:30 p.m.: Leonardo Drew, Artist; Jordan Schnitzer, Collector; Lauren Haynes, Curator of Contemporary Art, Crystal Bridges Museum of American Art, Bentonville, Arkansas; and Ruth Lingen, Master Printer and Papermaker Emerita at Pace Editions, New York

Leonardo Drew's prints, at once powerfully large yet fragile, test the versatility of the medium, transforming cotton paper pulp and pigment into what suggests densely populated cities, a forest, or an urban wasteland. They sometimes look like maps of geographical landscapes viewed from above, while others are reminiscent of the night sky and distant galaxies. Evocative of fire, soil, sky, and water, there are strong perceptions in both microcosmic and macrocosmic scale.
Organic forms within the composition undulate with various textures and luminosities, pushing the boundaries of its materiality. Much like his sculptural installations in wood, Drew starts with a raw material, transforming and reconstructing its essence until it resembles debris. Through this process, the artist articulates diverse histories of chaos, and cycles of birth and death.

Several examples of the artist's sculptures will also be on view. Using a variety of off-the-shelf materials (wood, cardboard, paint, paper, plastic, rope, and string) combined with natural materials such as branches or tree trunks, Drew subjects these elements to processes of oxidation, burning, and weathering. These labor-intense manipulations mimic natural processes and transforms these objects into sculptures that address both formal and social concerns, as well as the cyclical nature of existence.



ABOUT THE ARTIST
Leonardo Drew was born in 1961 in Tallahassee, FL, and grew up in Bridgeport, CT. His talent and passion for art was recognized at an early age, and first exhibited his work at the age of 13. He attended the Parsons School of Design and received his BFA from the Cooper Union for the Advancement of Science and Art in 1985.

Recent solo museum exhibitions include shows at de Young Museum, San Francisco (2017); SCAD Museum of Art at the Savannah College of Art and Design (2013); Beeler Gallery at the Columbus College of Art & Design (2013); Palazzo Delle Papesse, Centro Arte Contemporanea, Siena (2006); Royal Hibernian Academy, Dublin (2001); and Hirshhorn Museum and Sculpture Garden, Washington DC (2000). Drew's mid-career survey, Existed, premiered at the Blaffer Gallery at the University of Houston in 2009. The exhibition went on to the Weatherspoon Art Museum in Greensboro, NC, and the de Cordova Museum and Sculpture Park in Lincoln, MA.

Drew's work is included in numerous public and private collections. Public collections include the Metropolitan Museum of Art, New York; Museum of Contemporary Art, Los Angeles; Hirshhorn Museum and Sculpture Garden, Washington, D.C.; Crystal Bridges Museum of American Art, Bentonville; and Tate, London. He has collaborated with the Merce Cunningham Dance Company and has participated in artist residencies at ArtPace, San Antonio, Texas, and The Studio Museum in Harlem, among others. In 2011 he was awarded the prestigious Joyce Alexander Wein Artist Prize by The Studio Museum in Harlem.

Madison Square Park Conservancy in New York City has commissioned Leonardo Drew to create a monumental new public art project for the Park, titled "City in the Grass," which will be on view while Drew's exhibition premieres at the UMCA: https://www.madisonsquarepark.org/mad-sq-art/leonardo-drew-city-in-the-grass



NEWS
Here's a link to a New York Times review of Leonardo Drew's remarkable new outdoor sculpture! His exhibition opens at the UMCA on September 19, 2019 (more info soon on our website):

2019-05-30 The New York Times Leonardo Drew Rides His Magic Carpet sm



RELATED EVENTS

September 19, Thursday / 4:00–7:30 p.m. / RECEPTION FOR THE ARTIST
4:30 – 5:30 P.M. / PANEL DISCUSSION

Leonardo Drew (Artist); Jordan Schnitzer (Collector); Ruth Lingen (Master Printer and Papermaker Emerita, Pace Editions); and Lauren Haynes (Curator of Contemporary Art, Crystal Bridges Museum of American Art, Arkansas; former Curator, Studio Museum of Harlem)

October 16, Wednesday / 5:30–6:30 p.m. / PLAY TO THE ART 
Three musicians respond to the work of Leonardo Drew — Jason Robinson (saxes, flutes), Bob Weiner (drums, percussion), and Carl Clements (saxes and flutes). 
All are UMass and Amherst College faculty members. 

November 7, Thursday / 6:00–7:00 p.m. / ARTISTS ON ARTISTS 
Museum open until 8:00 P.M., in collaboration with Amherst Arts Night Plus EXHIBITION WALKTHROUGH led by artists Rie Hachiyanagi, Professor of Art, Mount Holyoke College, and Amanda Maciuba, Visiting Artist in Printmaking, Mount Holyoke College

November 7, 8, and 9 / 7:30 p.m. / Totman Performance Lab
The UMass Department of Music & Dance presents "Metamorphose," Dance inspired by the work of Leonardo Drew; conceived and choreographed by UMass Professors of Dance Thomas Vacanti, Bronwen MacArthur, and Aston McCullough.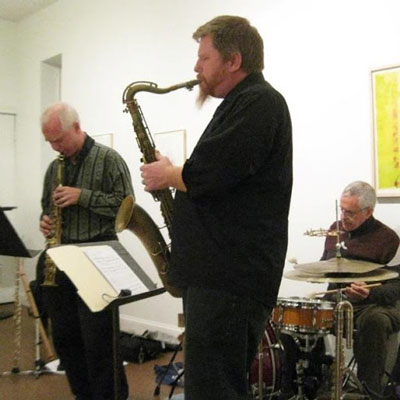 "Play to the Art"
Three musicians respond to the work of Leonardo Drew
October 16, Wednesday / 5:30–6:30 p.m. / UMCA
On Wednesday, October 16, musicians Jason Robinson, Bob Weiner, and Carl Clements will play an improvisational concert in response to the artwork of Leonardo Drew, now on view at the University Museum of Contemporary Art.
Clements, Robinson, and Weiner perform together at events referred to as "Play to the Art," in which the trio responds musically to visual art. While pre-composed elements are sometimes included, each piece involves a direct improvised response to the art. The musicians may move around the room, interacting with various artworks, or remaining focused on a single work.
Support for the exhibition and related educational and outreach programs has been made possible by a grant from the Jordan Schnitzer Family Foundation.
About the Musicians
Carl Clements
is an active performer on saxophones, flutes, and bansuri (North Indian bamboo flute). He has performed at jazz festivals and concerts in the US, Europe, Asia, South Asia, and Southeast Asia, and is featured on numerous recordings. While he has focused particularly on jazz and Hindustani classical music, his approach to music is stylistically eclectic. As an educator, Clements' primary areas are jazz performance, theory, and ethnomusicology, and he is currently teaching at Amherst College. He received a Ph.D.in ethnomusicology, an M.F.A. from CalArts, and a B.M. from Berklee College, and studies bansuri in India with Nityanand Haldipur.
The music of saxophonist and scholar
Jason Robinson
thrives in the fertile overlaps between improvisation and composition, acoustic music and electronics, tradition and experimentalism. Robinson has appeared on nearly 50 albums in total, including 14 albums as leader or co-leader. He performs regularly as a soloist (acoustically and with electronics), with his group the Janus Ensemble, and in a variety of collaborative contexts. He has performed at festivals and prominent venues around the world. As a scholar, Robinson's work investigates the relationship between improvised and popular musics, experimentalism, and cultural identity. Robinson is Associate Professor of Music at Amherst College.
Drummer and percussionist
Bob Weiner
has toured and performed extensively, notably with such players as Harry Belafonte, Itzhak Perlman, Betty Buckley, Jon Lucien, Dianne Reeves, Andy Statman, Rebecca Paris, Kenny Werner, Bob Moses, and many others. Bob has co-authored two important percussion books, "Afro-Cuban Rhythms for Drumset" with Frank Malabe and "Brazilian Rhythms for Drumset" with Duduka da Fonseca (Alfred Music). He has a Masters' degree in Inter-Disciplinary Studies, and has taught at the Drummers Collective (New York, NY), New England Conservatory and Berklee College. Bob currently teaches percussion and drumming to Five College music students, as well as privately. The UMCA thanks UMassFive College Federal Credit Union for their support of our exhibitions.