Log Mass - Mass Curve
January 25– March 14 , 1980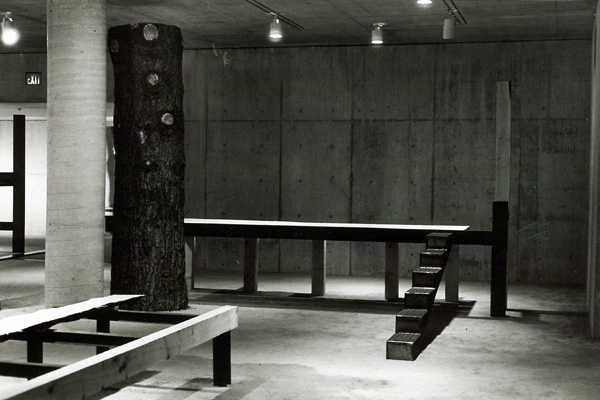 A major exhibition entitled Log Mass: Mass Curve by George Trakas will be featured at the University Gallery from January 25 to March 14. The focus of the exhibition will be a unique wood and steel sculptural installation which will extend from the main gallery into two adjacent galleries. In addition, working drawings of the current installation will be displayed. The artist will lecture on his work on Tuesday, February 26, 8:00 pm in Herter 231 on campus.
 
After developing plans for the installation during the past year, Trakas began actual construction in the Gallery in December. As in his earlier pieces, the materials consist of raw pine logs and steel girders and columns he cuts, welds, and bolts himself. The natural wood and industrially fabricated steel reflect his continuing interest in the contrast and synthesis of organic and inorganic materials. The installation will involve a slowly ascending steel bridge which forms a sweeping curve around the main gallery, a staircase and platforms at various angles and heights and massive undressed logs. Rather than ignoring the four huge columns which divide the central space of the main gallery, Trakas uses them to interact with his even larger upright logs and low-lying steel platforms constructed around them. This concept is an extension of ideas articulated in past environmental works such as Extruded Works at the Art Gallery of Ontario (1978) and Columnar Pass at the Philadelphia College of Art (1977). The spectator plays an important role in the environment, since the meaning of the piece depends on how the body circulates through space and perceives the shifting relationships between architectural elements and human proportions. Trakas has called the participant in his sculptures "a thinking being that uses the senses for self-realization."
 
As an internationally known environmental sculptor, George Trakas has built works for many major exhibitions including Documenta 6 held in Kassel, Germany (1977) and Scale and Environment at the Walker Art Center, Minneapolis (1977). The current exhibition, which is funded by a grant from the National Endowment for the Arts in Washington, D.C. and the University of Massachusetts Arts Council, will be Trakas' first solo exhibition in New England. A catalogue with extensive photographic documentation and an essay by Hugh Davies will be available at the University Gallery in the spring.
Contact
Open
Tuesday-Friday:
11am to 4:30pm
Saturday & Sunday:
2pm to 5pm
Open until 8 PM every first Thursday of the month
Closed
Mondays
Academic Breaks
State Holidays  
Contact Us
Main Number
(413) 545 3672
 
Connect