Look at Art, Get Paid
Tuesday, April 20, 2021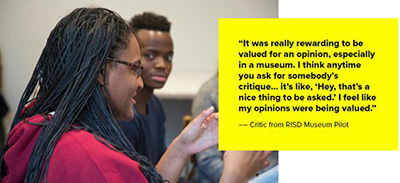 Join a live conversation about museums, art, and cultural accessibility with artists Maia Chao and Josephine Devanbu, the creators of "Look At Art. Get Paid." — a socially engaged art project. LAAGP invites people (who usually don't visit museums) to visit museums as guest critics of the art and the institution – and pays them.
Maia Chao, based in Brooklyn, teaches sculpture at Rhode Island School of Design (RISD), and Josephine Devanbu is an interdisciplinary artist based in Providence, RI.
Moderator Karen Kurczynski (UMass History of Art and Architecture) will reflect on the program as an inspiration for the 2019-20 UMass Campus Climate project "Making Art Yours" at the University Museum of Contemporary Art.
*Disclaimer: No visitors will be paid for participation in this virtual event.