Martin Puryear
February 4 – March 16, 1984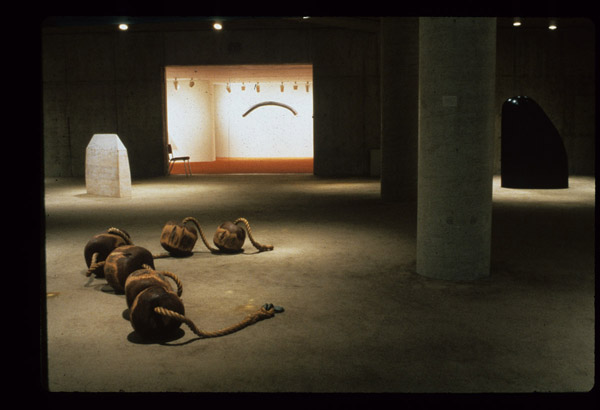 The first ten year survey exhibition of sculpture by artist Martin Puryear will be presented by the University Museum of Contemporary Art at the University of Massachusetts at Amherst from February 4 through March 16, 1984.

Puryear's abstract sculpture is handcrafted of wood and other natural materials and ranges in form from linear to volumetric. Much of the artist's imagery is derived from the organic, such as the Anthropomorphic Self, 1978, a cedar and mahogany sculpture of human height and scale suggesting a "biological version of a cylinder." Bask, a dyed pine floor sculpture of 1976, is a long, slender form that billows in the middle. Its rounded, swollen silhouette evokes a whale or a seal basking in the sun. The exhibition will also include several of Puryear's recent series of painted sculptures based on the circle such as Tango, 1982 and Dream of Pairing, 1981. Each of the irregularly shaped circles appears as a line on the wall, but is actually an object with volume. The artist refers to the circle sculptures as "drawings in wood." The exhibition will include more than twenty of Martin Puryear's sculptures.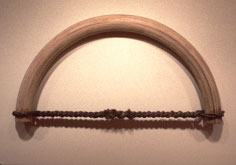 Martin Puryear,
Arkon Bwah
, 1973, willow
wood, rope, 28 x 57 x 7 inches, 1984,
photography: Creative Services,
University of Massachusetts
After receiving his undergaduate degree from the Catholic University of America, Washingon, D.C., Puryear enlisted in the Peace Corps and spent two years in Sierra Leone, West Africa, teaching secondary school. Upon leaving the Peace Corps, Puryear was accepted by the Swedish Royal Academy of Art in Stockholm to study printmaking and sculpture. The artist returned to this country to study at Yale University and received and M.F.A. degree in sculpture. One-person exhibitions of Puryear's sculpture have been presented at the Corcoran Gallery of Art, Washington, D.C., and the Museum of Contemporary Art, Chicago. His work has also been included in the 1979 and 1981 Biennial Exhibitions at the Whitney Museum, New York. The artist has completed major sculptural commissions at Artpark, Lewiston, New York and at the Governor's State University, Park Forest South, Illinois. The artist currently lives and works in Chicago and is represented by the Donald Young Gallery, Chicago.
Contact
Open
Tuesday-Friday:
11am to 4:30pm
Saturday & Sunday:
2pm to 5pm
Open until 8 PM every first Thursday of the month
Closed
Mondays
Academic Breaks
State Holidays  
Contact Us
Main Number
(413) 545 3672
 
Connect