Massachusetts Review
Celebrating Fifty Years of Covers
April 22 - May 24, 2009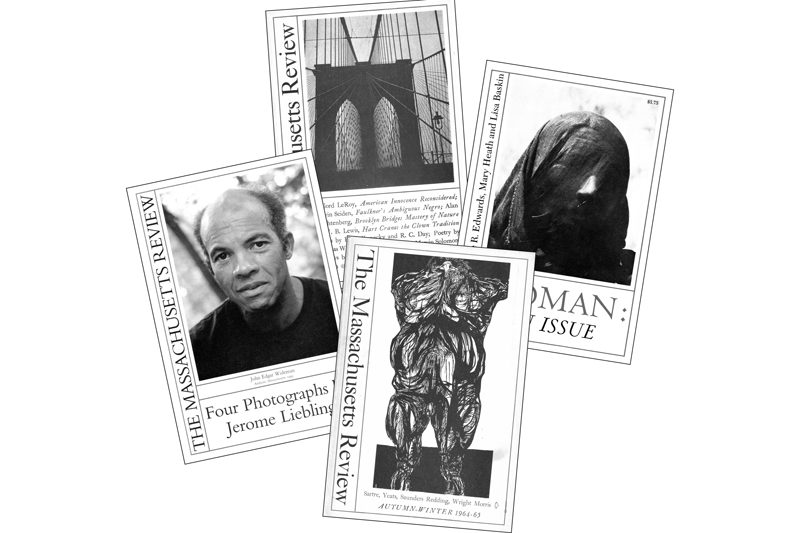 The Massachusetts Review is one of the nation's leading literary magazines, distinctive in joining highest-level artistic concerns with pressing public issues. Throughout its 50 year history, MR has been noted for its involvement with the visual as well as the literary arts. The cover has provided desirable exhibition space for both established and rising painters and photographers. Covers have featured many artists over the years, where the breadth and variety are evident: Photographs by Walker Evans, Wendy Snyder MacNeil, and Jerome Liebling; Prints by Leonard Baskin, Li Hua and Fred Becker; Works on paper by Richard Yarde and Laylah Ali. Its Winter 2008 issue featured a cover and special insert by Welsh artist Bethan Huws, in collaboration with the University Museum of Contemporary Art.

The exhibition has original art from over 30 Massachusetts Review covers selected from each decade, focusing on photography and works-on-paper. There is also a display of covers from every issue, all five decades, as a sort of timeline. Historical ephemera, letters, broadsides, and off-prints are showcased at the UMass W.E.B. Dubois Library in conjunction with the University Museum of Contemporary Art exhibition.

Curators of this exhibition are MR art editors, Christin Couture, Oriole Farb Feshbach, and MR art director, Pamela Glaven.
Contact
Open
Tuesday-Friday:
11am to 4:30pm
Saturday & Sunday:
2pm to 5pm
Open until 8 PM every first Thursday of the month
Closed
Mondays
Academic Breaks
State Holidays  
Contact Us
Main Number
(413) 545 3672
 
Connect