Movable Feast
September 23 - October 12, 2010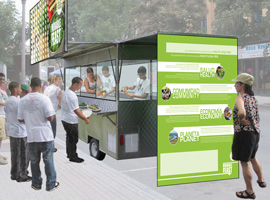 This collaborative project between the University Museum of Contemporary Art, Nuestras Raices Inc. of Holyoke, Holyoke Food and Fitness Policy Council and Joseph Krupczynski (art activist, architect/designer and Umass professor) transforms a traditional mobile food cart into a visual and culinary feast, circulating to locations throughout our community. It is a vehicle (both literally and metaphorically) that advocates for building a healthier local food system.

Meals and discussions about healthy community-based food practices are transformed into "artworks" through the framework of this public art project. The truck will be owned by Nuestras Raices, a grass-roots organization that promotes economic, human and community development through projects relating to food, agriculture, and the environment. Movable Feast is inspired by the idea that art can expand conventional notions of people, place and the art-making process. Movable Feast coincides with the University Museum of Contemporary Art's participation in the Museums10 fall festival "Table for Ten". Throughout the fall Movable Feast will circulate from the Umass campus to rotating locations in Springfield, Holyoke, and other towns in Western MA. All dates and locations, listed on this website and on the project's website at movablefeastproject.org, are subject to change.
Contact
Open
Tuesday-Friday:
11am to 4:30pm
Saturday & Sunday:
2pm to 5pm
Open until 8 PM every first Thursday of the month
Closed
Mondays
Academic Breaks
State Holidays  
Contact Us
Main Number
(413) 545 3672
 
Connect



Gallery Talk
April 4, 2012 - 6pm
UMCA East Gallery
Curatorial Fellows Kristen Rudy and Rebecca Bernard discuss the ideas and concepts behind their exhibition.
Opening Recepetion
April 4, 2012 - 5 - 7 pm
UMCA East Gallery