Nature Studies I & II
September 9 - October 20
November 4 – December 15, 1995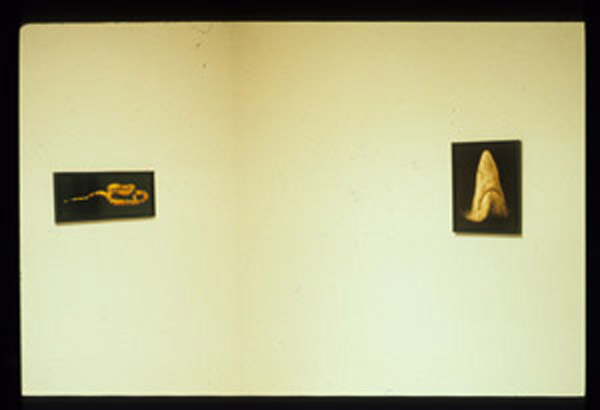 Nature Studies is a two-part, semester-long group exhibition which presents the landscape/nature genre in contemporary painting and photography. Nature Studies I, on view from September 9 through October 20, features paintings by David Bierk, Michael De Jong, Catherine Murphy, Joan Nelson, Alexis Rockman, Rick Shaefer, and Brenda Zlamany. On view from November 3 through December 15, Nature Studies II presents photographs by Peter Campus, Gregory Crewdson, Eldon Garnet, Andreas Gursky, Zoe Leonard, John Pfahl, Gary Schneider and Hiroshi Sugimoto. Both parts of Nature Studies will address the ways that we construct our view of the landscape, and the exchange that often occurs between the mediums of painting and photography.

The majority of the artists included in Nature Studies I are not as involved with the observation of nature or even its representation as much as they comment upon art historical styles and painterly devices by which nature has been perceived--the tradition of representation. These styles have become rooted in shared memory by means of illustrations, various reproductions, photographs and films contributing to our expectations of what landscapes "look like" and, consequently, what they signify. Pure landscape first emerged as an original subject matter during the 16th century and became especially popular in Holland during the 17th century along with the still life genre. Both landscape and still life are typically void of figuration and narrative, yet have the strange ability to carry feelings full of psychological suggestions or to imply cultural perspectives. In their 'absence of any isolated and obvious content, landscape and still life subjects have a l so been seen as forerunners of the formal and painterly concerns of abstract art.

Inspiration for the works on view run a rich gamut in sensibility from the intense mini-dramas of otto Marseus van Schriek's (Dutch, 1619/20-78) woodland scenes, to the pristine yet atmospheric pastorals of Jacob van Ruisdael (Dutch, 1628/29-82) to the nostalgic panoramas of Frederick Edwin Church (American, 1826-1900). The range of perspectives presented to the viewer is also broad: One has both feet firmly planted on the ground in Catherine Murphy's severely cropped and concentrated depictions of nonspectacular scenes, has bird-like flight in the softly glowing paintings of David Bierk, and is engulfed in Rick Shaefer's surreal magnifications of overgrown foliage and insect dynamics whereas the simple compositions of Brenda Zlamany's free-floating creatures make for visual disorientation. In making their work, all of the artists tend to be studio-based and proceed from using a combination of memory, sketches, photographs, and invention, and, express true originality in the creative modernization of traditional formats and principles.
 
Nature Studies II is the second part of a semester-long, group exhibition that presents the landscape/nature genre in contemporary painting and photography. The first half of Nature Studies featured paintings by David Bierk, Michael De Jong, Catherine Murphy, Joan Nelson, Alexis Rockman, Rick Shaefer and Brenda Zlamany. All of these artists tend towards an exploration of the tradition of representation, both in pursuing the issues of the painted medium as well as in finding inspiration of our perception of nature according to historical frameworks. The second part of the exhibition includes photographic work by Peter Campus, Gregory Crewdson, Eldon Garnet, Andreas Gursky, Zoe Leonard, John Pfahl, Gary Schneider and Hiroshi Sugimoto. Whereas the painters in Nature Studies I may have found creative impetus from photographically-reproduced work or used it as part of their method, these eight artists employ a host of respective photographic processes that, for the most part, draw our attention to the concerns, formats and styles typically seen in and expected of painting such as the artifice of arrangement, the manipulation of formal elements, and the projection of symbolic meaning or narrative content.

In two of Peter Campus' recent works, forms and elements of nature are extracted from their usual context and set within computer-manipulated surroundings. To make one image Campus begins with a number of conventionally-taken photographs which are fed into a computer, digitized by a scanner and then manipulated in the computer by the artist. Campus can change color and texture, eliminate, exaggerate or merge certain areas, and fabricate backgrounds. The final result is "outputted" by an Iris inkjet printer which sprays 300 dots per inch of four colors--cyan, magenta, yellow and black--onto the paper. From a distance surrealistic scenes of a butterfly in nebulous space or a leaf-sitting spider have the gestural qualities of a painting. Upon closer viewing one can detect the irregularly shaded areas that form the puzzle-like pattern common to computer-generated images.

Whereas Campus utilizes the most current of photographic methods--a literal blending of mechanical and electronic reproduction--Gary Schneider finds his muse in the very beginning of photography's history with nearly comparable results. Representatives of three bodies of the artist's work are included in the exhibition that provide a glimpse of 19th century interests and aspirations. Botanical Specimen #5 and Entomological Specimen #8 (both 1992) are examples of photographic enlargements Schneider made from 19th century microscope slides which he substituted for negatives. Along with these specimen slides that he found by chance, Schneider discovered a cache of 19th century glass-plate negatives. Entomological Specimen #6 (1987-91) is from this series and shows the insect's form, at one time wholly precise and used for taxonomic purposes, abstracted by the deterioration of time and handling. It was understood from the earliest days of photographic research that the camera, a mechanical extension of the eye, could be linked to the microscope and, in so doing, could reveal more of nature's invisible world. with the publication of such photographs in popular presses, however, the mysteriously beautiful patterns of the images, and the associations they evoked, caught the layperson's interest and awe. Schneider refreshes the life of the images by shuttling them out of their original time period, and, similar to Campus' intentions, revives in us a historical fascination in a world within reach but just out of sight.

The third group of works by Schneider are examples of "portraits" that he makes of floral and vegetal forms from his own large-format negatives. The artist works on the negatives over about a week and so the final product is the result of multiple exposures allowing him to "draw with light". Once printed, the photograph reveals an image layered with deeply sensuous tonalities that harkens to the pictorial effects achieved by some turn-of-the-century photographers.

Rather than manipulating processes and focusing on patterns and surfaces, Eldon Garnet's photographic tableaux are self-consciously theatrical in their exploration of the relationship between nature photography and still-life painting. Garnet, who is both a writer and artist working in film and video, photography, theater, and sculpture, has been influenced by image-based and allegorical narration througout his work. In Vanitas I and Vanitas II (both 1992), the artist foregrounds, isolates and juxtaposes single animals, insects or elements which clearly show signs of or comment on death. Art historically speaking, vanitas still-lifes, popular during the 17th century, were allegorical scenes that symbolically depicted the vulnerability of life. They were artfully arranged, dramatically lit and highly stylized suiting their moralistic theme.

Gregory Crewdson also creates fabricated tableaux but here the focus is less on a singular symbolic meaning and more on uncanny melodrama reminiscent of the films of David Lynch or Alfred Hitchcock. Crewdson presents the viewer with the little known behavior of birds, bugs and vegetables, behavior that may be occurring in the familiar and banal surroundings of suburbia but which is beyond the reach of our analysis. Each of his photographs begins as a huge diorama that the artist builds, sculpts, paints and assembles in his studio over a 5 to 6 week period. He shoots up to 100 Polaroids readjusting the elements until his final shot with a 4x5 view camera. untitled (Robin with Ring of Eggs, 1993) gives a voyeuristic view of some strange ritual taking place on the edges of a suburban property. The Stonehenge-like placement of the eggs and the deliberate gathering of the birds creates " ••• a world ••• combining nature and artifice into a believable fiction."

In addition to the work of certain film directors, Crewdson has also been influenced by the work of Hiroshi Sugimoto. Sugimoto is known primarily for three photographic series that he has been making for nearly the past two decades: movie theater interiors, seascapes, and natural history dioramas. (He has most recently begun series on museum wax figures and drive-in movie theaters). Whereas Crewdson creates his own fictional context, Sugimoto presents us with the artificial recontextualization of natural behavior within the (decontextualizing) environment of a museum. The artist, however, does not give us much of a hint of the museum setting--no visitors are standing about, no reflection of the diorama's glass front is visible--and so the viewer is lured into creating a narrative in a manner similar to the one induced by Crewdson though perhaps not quite as eerie.

Inspired by The Niagara River and Falls from Lake Erie to Lake ontario (1886), a portfolio of etchings made by Amos W. Sangster, John Pfahl followed Sangster's path both physically and stylistically in making his own series of that general site titled Arcadia Revisited (1985-86). Pfahl was convinced that the pictorial strategies of the previous century still influence the ways in which landscape is perceived by contemporary viewers. "What I find most interesting about the Niagara River is the way in which the 19th century is palpably evident under the veneer of present-day reality." Even more interesting, and something that attests to the continuing legacy of manipulating landscape into formats, painted or otherwise, that satisfy changing philosophical trends, is the inspiration that Sangster felt for the natural lyricism associated with the Arcadian movement developed in 15th century Italy and formalized in the 17th century by Claude Lorrain. By the mid-1880s, the time at which Sangster produced his portfolio, admiration for landscapes of the Barbizon School, with their non-taxing emphasis on the tranquility of the scene, was at a peak.

A whole different perspective of the sublimity of Niagara is presented by Zoe Leonard. Her aerial views of the Horseshoe Falls are at such a distance that one's eye goes back and forth in perceiving the images first as surveillance photographs and then as abstract designs. Presented fullframe, un-retouched and unframed, Leonard makes an equally strong statement in her casual contrivance as that of Crewdson's or Garnet's overt stagings. There is as well a curious reverse relationship between Schneider's enlarged views of microscopic organisms, which also hover between abstraction and representation, and Leonard's miniaturized views of a place so grand that it maintains iconic status.

The last photographer included in Nature Studies II, Andreas Gursky, shares a similar objectivity as Leonard but his viewpoint is a bit more grounded in the distinctive nonevent that is usually the subject of his photographs. Gursky investigates the nature of the relationship between humans and our environment--how we structure it, how we perceive it. In recording behavior as a way of describing the position we occupy between awe for the earth and a tendency to impose structure on it, Gursky employs different vantage points from bird's eye to squirrel's eye views. A telling comparison is evident between the two featured images by Gursky: Zoobrucke (1988) shows a distanced slice of landscape in relation to a towering concrete overpass; the image of Erdwall Ratingen (1989), on the other hand, presents a generous sweep of a recently plowed field with signs of industry in the far background. The people pictured in both photographs--at leisure in the former, observing nature in the latter--are diminutivly-sized in relation to their respective surroundings, perhaps a fitting and humble summation of the exhibition.
Contact
Open
Tuesday-Friday:
11am to 4:30pm
Saturday & Sunday:
2pm to 5pm
Open until 8 PM every first Thursday of the month
Closed
Mondays
Academic Breaks
State Holidays  
Contact Us
Main Number
(413) 545 3672
 
Connect