UMCA "Satellite Sites" at UMassFive College Federal Credit Union branches
This program is part of a partnership between the University Museum of Contemporary Art (UMCA) at UMass Amherst and the UMassFive College Federal Credit Union, in which the UMCA curates and highlights works of art by local artists and displays them on a rotating basis at the Credit Union's Hadley and UMass Campus Center branches. The
UMassFive College Federal Credit Union
has generously underwritten UMCA exhibitions and programming since 2017. We appreciate their support.  
Hadley Branch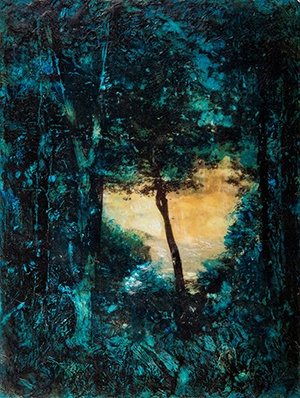 The Nearest Faraway Place
 is about more than a shadowy woodland and rushing river water. For nearly 15 years Couture has been painting the same view from her house with its innumerable changes through the hours of the day and seasons of the year. These paintings on wood panels use the technique called encaustic and combine beeswax, candelilla wax, oil pigment, acrylics, and colored pencils.  
Hadley branch
Peter Healey is a photographer and sculptor who has developed a separate interest in scientific, medical photography. Regularly working with microscopic images contributed to the way he often sees his own work abstractly, even when a subject is clear. Healey was the chief photographer for the Department of Pathology at the University of Massachusetts Medical School. Following his tenure at UMass, he moved to the Pioneer Valley, where he began his career as a professional photographer an sculptor.  
Hadley branch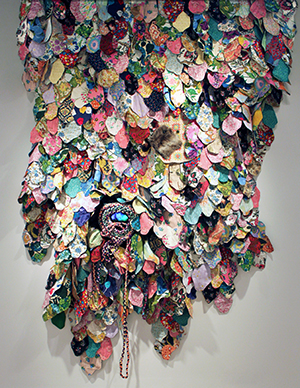 Angela Zammarelli's work lives at an intersection of fantasy and reality. By using play in a broad context, she asks how fantastical elements call upon reality to give them meaning, and how observations in reality can slip into the fantastical through certain framing. By playing with the concepts of dwelling and "home" spaces, her work often incorporates structures that house idiosyncratic objects and imagery related to characters developed in her studio exploration.  
Hadley branch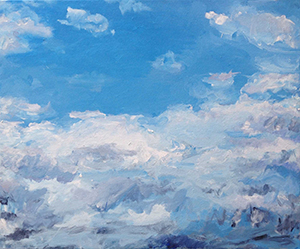 Chris Page has been exploring the intersection of nature and painterly abstraction throughout his artistic career. In 2013, Page expanded his work beyond the studio to include a walking practice focused on witnessing the unfolding daytime sky. This resulted in his Sky Series and exhibitions throughout Western Massachusetts.  
Hadley branch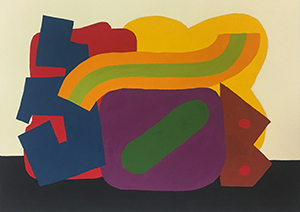 An exhibition of paintings on paper by Sean Greene, whose art focuses on an interest in color interactions and the sensations that result from visually absorbing them. "I have studied color and taught color classes in the tradition of Josef Albers, which in essence says that colors interact, colors affect each other when seen together," Greene said.  
UMass Campus Center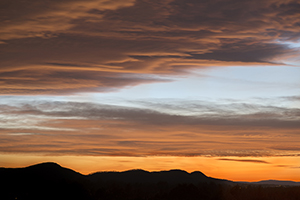 A selection of landscape photographs by Michael Zide was on view. Zide brings to his images a sensitivity to gesture and mood; he has said, "My efforts reflect a connection to place and to eons of geological time that color my photography and filter my vision of the Valley landscape."  
Hadley branch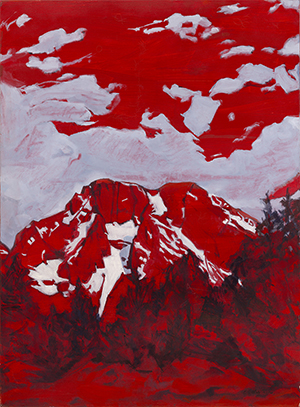 From 2006 to 2015 the artist visited Grand Teton National Park yearly, resulting is the Red Painting Series. She has said, "My work falls somewhere in the category of "realism."  While these are recognizable portraits of the mountains, I simplify the landscape, capturing the shapes of things – clouds, snow, peaks, trees – without giving all the details. The strong red is common in the fall landscape of the Tetons."  
Hadley branch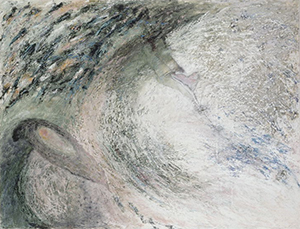 Bernard's work is a hybrid, or what lies between painting, sculpture, installation, and drawing. They are translucent handmade paper pieces with thread, glass, and wax panels – truly extending the definition of a drawing. Her work comes out of minimalism, feminism, and process art. The title of the work in view at the Credit Union, (Dis)Entanglement, can be implied as a freeing from a difficult position or situation or from what holds us back.