Soft White
Lighting Designs by Artists
April 8 - May 19, 2000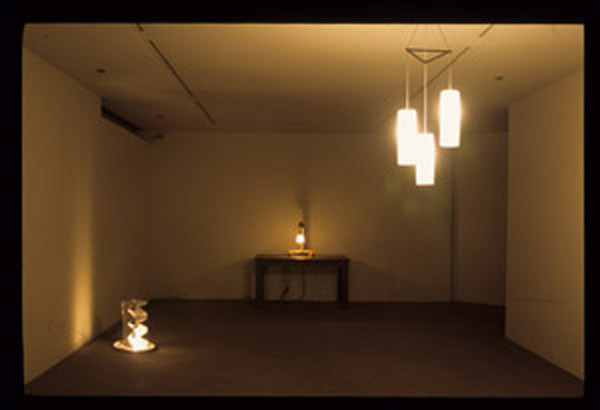 Soft White: Lighting Designs by Artists features objects that fall within the general design conventions of electric lamps and chandeliers as well as designs that playfully rethink those conventions. All, however, have a practical use which could be a part of the domestic environment, and the selection represents works by artists rather than by professionals associated with product design. Included in the exhibition are objects by Vito Acconci, Nayland Blake, Greg Colson, R.M. Fischer, Tom Otterness, Robert Rauschenberg, Jason Rhoades, Richard Tuttle, Franz West and Robert Wilson.

Though the majority of objects take on the well-known forms of table lamps, floor lamps, and chandeliers, a composite of functions has been designed by both Vito Acconci and Robert Rauschenberg in that the artists respectively created internal lighting for furniture pieces. Acconci's Fluorescent Bed and Fluorescent Table and Chair, each made in an edition of four in 1992, are sleek designs in which series of fluorescent light tubes are visible beneath the Plexiglas surfaces upon which one could sleep or sit and eat picnic-table style. Water Table I and Water Table II, unique pieces designed by Rauschenberg in 1971, are also minimal in design, free of extraneous details that might detract from the materials employed and essential function.The box-like tables are made of wood and white formica and have a sheet of glass set into their top surfaces making visible a light source within the interior, a space which is also meant to contain water. Unfortunately, the age of these pieces combined with the nature of fabrication preclude the Gallery from presenting the pieces as they were intended to be seen as one of the lending conditions was that the tables not be filled with liquid of any kind. Drilled into each of the glass panels is a hole through which Rauschenberg has inserted elements that could have been used to agitate the water, if it were there, thus creating a rippling effect of shadows on the ceiling and nearby walls. These elements are makeshift inventions -- in one case, an old can with a paint brush attached, and in the other, a wooden spoon outfitted with a rubber washer -- that provide a homey quality in contrast to the "corporate" style of the tables.

Other works included in Soft White bear a liveliness that ranges from the whacky humor of Dodo Bird Lamp, 1991, by Tom Otterness to the excesses of "Victorian" mutation in R.M. Fischer's The Incandescent Ones, 1988.
Contact
Open
Tuesday-Friday:
11am to 4:30pm
Saturday & Sunday:
2pm to 5pm
Open until 8 PM every first Thursday of the month
Closed
Mondays
Academic Breaks
State Holidays  
Contact Us
Main Number
(413) 545 3672
 
Connect