An Exclusive Screening of the Art21 Episode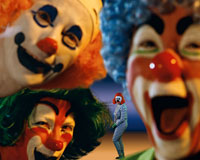 Friday, October 23, 2009
Flavin Auditorium, Isenberg School of Management   from 7:00 pm to 9:00 pm
The University Museum of Contemporary Art at UMass Amherst, in partnership with the Art:21 Access "09 initiative, presents a sneak preview of the fifth season of Art:21 - Art in the Twenty-First Century, the only prime-time national television series focused exclusively on contemporary art. The screening will be held on October 23rd at the Flavin Auditorium in the Isenberg School of Management. This event is free and open to the public.
Art:21 Access "09 is an international screening initiative created to increase knowledge of contemporary art, ignite dialogue, and inspire creative thinking through hundreds of public screenings and events that tailor the ideas presented in the series to the interests and concerns of local audiences. The season premieres on PBS October 7th with a new episode each Wednesday during the month at 10pm (check local listings). Through in-depth profiles and interviews, the four-part series reveals the inspiration, vision and techniques behind the creative works of some of today's most thought-provoking artists.
Transformation episode details:
Whether observing and satirizing society or reinventing icons of literature, art history, and popular culture, the artists featured in Transformation capture the sensibilities of our age while at times inhabiting the characters they have created. Yinka Shonibare MBE, Cindy Sherman and Paul McCarthy are featured.
Contact
Open
Tuesday-Friday:
11am to 4:30pm
Saturday & Sunday:
2pm to 5pm
Open until 8 PM every first Thursday of the month
Closed
Mondays
Academic Breaks
State Holidays  
Contact Us
Main Number
(413) 545 3672
 
Connect