Take A Seat!
Anne Beresford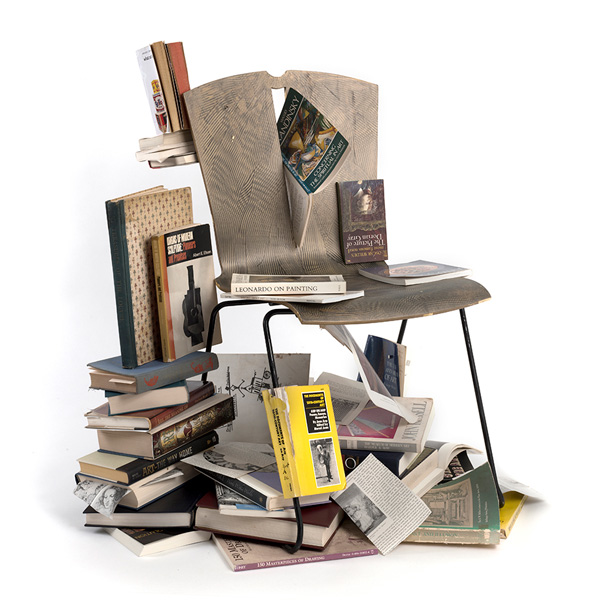 "Chair of Art History"
Leverett, MA
"Chair of Art History"
Website:
www.aberesford.com
Artist's Statement
"The chair is of extreme antiquity and simplicity, although for many centuries and indeed for thousands of years it was an article of state and dignity rather than an article of ordinary use. … According to George Makdisi and Hugh Goddard, 'the fact that we still talk of professors holding the "chair" of their subject' is based on the 'traditional Islamic pattern of teaching where the professor sits on a chair and the students sit around him'. (From Wikipedia, the free encyclopedia) The professor would typically own the chair for life. This (my) Chair of Art History's field/store of knowledge is quite far-ranging, like any good professor. 
                                              
In addition to painting, drawing, printmaking etc etc, I have sung and acted in lots of plays, designed & printed scores of theatrical posters, & designed & built theatrical sets, most notably with The American National Theater at the Kennedy Center, Washington DC, and with Cornerstone Theater Company, LA. I have taught at the Bow and Arrow Press in Cambridge, MA, at the Art Institute of Boston, at Zea Mays Printmaking in Florence, and as an Assistant Professor in the Visual & Environmental Studies Department at Harvard University. My work is included in a number of public and private collections, including the Houghton Rare Book Library, Harvard University; Wellington Management; Boston College; Boston Public Library & The New York Public Library Print Collection, as well as its Department of Rare Books.
Just moments ago in 2015 I had the fun and honor of curating "Ten Thousand Wonderful Things: A Conversation with the University Collections" for this museum, and was awarded a MacDowell Fellowship. I have a BA from Harvard University in art and art history, and an MA/MFA from New York University. I live in western Massachusetts on a Mill River where I practice the cello very, very, very slowly.
40 local artists and designers creatively paint, decorate, cut, drill, and embellish 40 chairs. The exhibition culminates in a fundraising party and silent auction of the chairs on February 28, 2016. Exhibition runs January 27 – February 28, 2016

 
Contact
Open
Tuesday-Friday:
11am to 4:30pm
Saturday & Sunday:
2pm to 5pm
Open until 8 PM every first Thursday of the month
Closed
Mondays
Academic Breaks
State Holidays  
Contact Us
Main Number
(413) 545 3672
 
Connect



Take A Seat! SILENT AUCTION
Join us as we close this exhibition with a silent auction of these amazing works of art.

Sunday, February 28, 2016
5–7:30 p.m.
University Museum of Contemporary Art
$35/person

The evening includes sumptuous edible creations by award-winning UMass Catering Services, music by UMass' finest musicians, and a beer and wine cash bar.

Did you find the chair of your dreams?
Be sure to attend and do some bidding!

Proceeds from this event will support the University Museum of Contemporary Art, an important educational resource for our community