Take A Seat!
Candace Bradbury-Carlin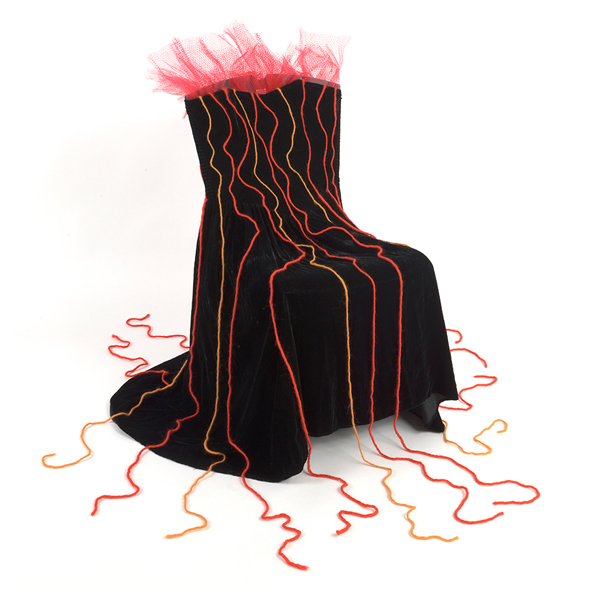 "Roused"
 

South Deerfield, MA
"Roused"
Website: 
www.sites.google.com/site/cbradburycarlin/
Artist's Statement
It is crucial for me to use materials that might normally be discarded. Preventing the inflation of landfills, even in my small way, brings levity to my conscience. Objects that are considered plain and therefore overlooked are of great value to me as a creative challenge.  I am always looking for the meeting point of the minimal and the organic; capturing gestures that have the greatest impact.

Roused makes reference to both geological and emotional shifts, as well as moving from a seated position. In observation of long dormant exterior and interior states, the moment when those bodies are roused to the surface is thrilling, dangerous, and necessary for change. In comparison, the simple act of rising from a seated position is on a smaller scale an act of waking a body from slumber and coming to life.
40 local artists and designers creatively paint, decorate, cut, drill, and embellish 40 chairs. The exhibition culminates in a fundraising party and silent auction of the chairs on February 28, 2016. Exhibition runs January 27 – February 28, 2016

 
Contact
Open
Tuesday-Friday:
11am to 4:30pm
Saturday & Sunday:
2pm to 5pm
Open until 8 PM every first Thursday of the month
Closed
Mondays
Academic Breaks
State Holidays  
Contact Us
Main Number
(413) 545 3672
 
Connect



Take A Seat! SILENT AUCTION
Join us as we close this exhibition with a silent auction of these amazing works of art.

Sunday, February 28, 2016
5–7:30 p.m.
University Museum of Contemporary Art
$35/person

The evening includes sumptuous edible creations by award-winning UMass Catering Services, music by UMass' finest musicians, and a beer and wine cash bar.

Did you find the chair of your dreams?
Be sure to attend and do some bidding!

Proceeds from this event will support the University Museum of Contemporary Art, an important educational resource for our community