Take A Seat!
Ellen Grobman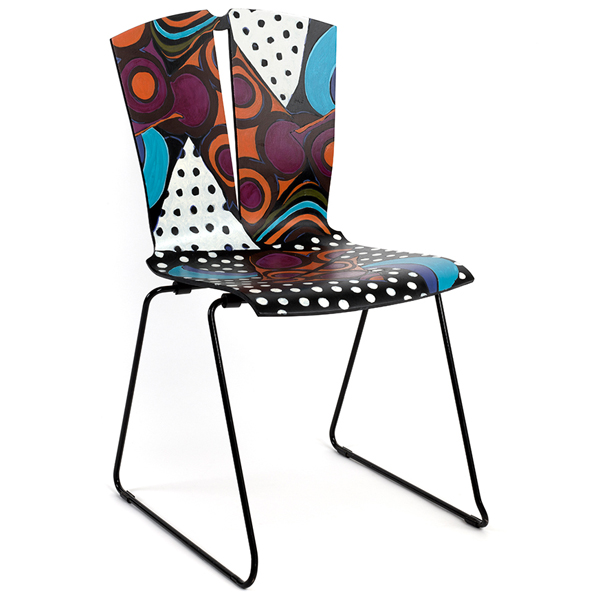 " Dot Dot "
Leverett, MA
"Dot Dot"
Website:
www.ellengrobman.com
Artist's Statement
Ellen Grobman is a painter based in Amherst, Massachusetts, where she has lived for more than 25 years. She has had a daily studio practice for a decade longer than that, and without it, she says, "nothing else is in balance, nothing else completely works."

Her abstract pieces are vividly colored and delicately textured. They communicate, through elegant gestures and veiled messages, a visceral emotional undercurrent, and a desire to connect. Her work has been shown extensively in Massachusetts, New York, and other places on the eastern seaboard.

"I'm always interested in creating another world. That was my first impetus in making art, and it still is," says Grobman. "I use pattern as structure. I articulate it, mess it up, and then allow it to bring me back from the edge of chaos, which is actually the place that interests me most."

Raised in New York, Grobman knew she wanted to be an artist since early childhood. During high school, she took courses at the Art Students League and the New School in New York City. She attended Cornell University School of Art, earned her B.A. at Goddard College, and did a year of graduate work at Hunter College. During her time living in Manhattan, she worked in Information at the Metropolitan Museum, and at a studio in pre-gentrification Union Square.

Grobman has enjoyed being part of a large blended family for many years, is a Big Sister, has eight years of experience as a hospice volunteer, and is a self-described "political junkie." She is also an avid hiker, and climbed Mt. Kilimanjaro in 2013.
40 local artists and designers creatively paint, decorate, cut, drill, and embellish 40 chairs. The exhibition culminates in a fundraising party and silent auction of the chairs on February 28, 2016. Exhibition runs January 27 – February 28, 2016
Contact
Open
Tuesday-Friday:
11am to 4:30pm
Saturday & Sunday:
2pm to 5pm
Open until 8 PM every first Thursday of the month
Closed
Mondays
Academic Breaks
State Holidays  
Contact Us
Main Number
(413) 545 3672
 
Connect



Take A Seat! SILENT AUCTION
Join us as we close this exhibition with a silent auction of these amazing works of art.

Sunday, February 28, 2016
5–7:30 p.m.
University Museum of Contemporary Art
$35/person

The evening includes sumptuous edible creations by award-winning UMass Catering Services, music by UMass' finest musicians, and a beer and wine cash bar.

Did you find the chair of your dreams?
Be sure to attend and do some bidding!

Proceeds from this event will support the University Museum of Contemporary Art, an important educational resource for our community