Take A Seat!
Cassandra Holden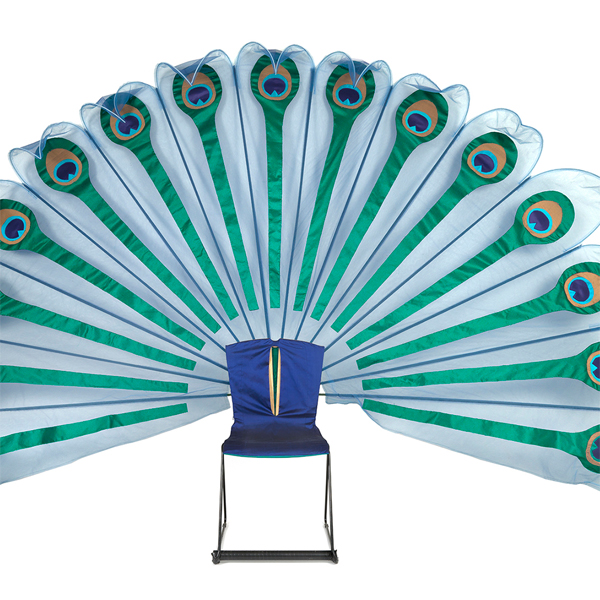 "Peacock Throne"
 
Northampton, MA
"Peacock Throne"
Website:
www.cassandraholden.com
Artist's Statement
I make things: custom clothing, costumes, theatrical sets, and public art. During the past twenty years as a clothing designer, I've dressed actors and acrobats, brides and business women, dandies and dancers.

I am drawn to the process of collaborative art-making, especially to engaging with people who may not see themselves as artists. Over the last several years, I have had the privilege of working with groups of young women in Holyoke to create large-scale public projects: a site specific mobile, which flies in the atrium at the Kittredge Center at Holyoke Community College; and a giant illuminated butterfly puppet with a twenty foot wing span, which took flight along the canal as part La Noche De San Juan.

The best projects begin in uncertainty and evolve through experimentation and revision. The
final product is more intricate and nuanced than initially conceived.

This design challenge was compelling because of the questions that it raised: How can a chair be more than a functional object? What if the fabric is more than its skin?

A throne! Both the seat and the seated are transformed. Regal. Proud.

I invite you to try it. How does it make you feel?
40 local artists and designers creatively paint, decorate, cut, drill, and embellish 40 chairs. The exhibition culminates in a fundraising party and silent auction of the chairs on February 28, 2016. Exhibition runs January 27 – February 28, 2016
Contact
Open
Tuesday-Friday:
11am to 4:30pm
Saturday & Sunday:
2pm to 5pm
Open until 8 PM every first Thursday of the month
Closed
Mondays
Academic Breaks
State Holidays  
Contact Us
Main Number
(413) 545 3672
 
Connect



Take A Seat! SILENT AUCTION
Join us as we close this exhibition with a silent auction of these amazing works of art.

Sunday, February 28, 2016
5–7:30 p.m.
University Museum of Contemporary Art
$35/person

The evening includes sumptuous edible creations by award-winning UMass Catering Services, music by UMass' finest musicians, and a beer and wine cash bar.

Did you find the chair of your dreams?
Be sure to attend and do some bidding!

Proceeds from this event will support the University Museum of Contemporary Art, an important educational resource for our community