Transition and Transformation
A. Balasubramaniam and Ranjani Shettar
March 5 - May 15, 2005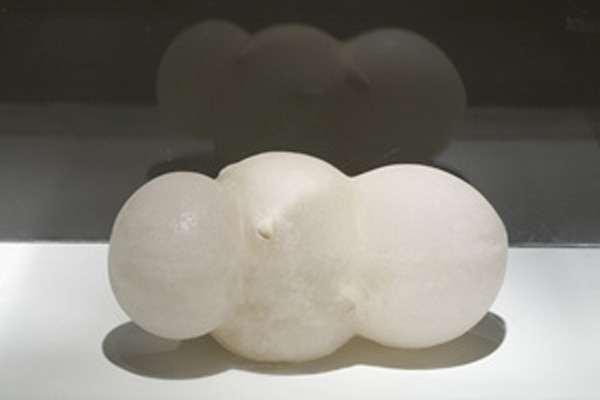 This exhibition brings together for the first time the work of Ranjani Shettar and A. Balasubramaniam, two leading young artists from Bangalore, India. Their work, in common, explores boundaries between personal and cosmic dimensions, between physicality and immateriality, the man-made and the natural, and between tradition and modernity. Formally their work combines light and shadow, and is both amorphous and contained. Above all, their work offers metaphors that concretize a belief in the cyclical nature of things.
 
Ranjani Shettar creates sculptural installations that refer obliquely to the effects of the burgeoning urbanscape in which she lives. By using a wide range of materials from the organic (such as beeswax, cotton, terra cotta, and lacquered wood) to the industrial (PVC pipes, plastic sheeting), Shettar evokes the present collision of high-tech Bangalore with its rural surroundings.
 
For her exhibition at the University Museum of Contemporary Art, Shettar will exibit a new work, Hoomalae (2004), derived from a Kannada language idiom translated as "Gods rained flowers", which continues her investigation with the relationship between the processed and the natural. A sculpture resembling a three-dimensional drawing, it is a net-like curtain consisting of threads joined together by hand-molded colored beeswax traversing in twirling rhythms between the ceiling and the floor. Its scintillating webbed structure suggests cobwebs and constellations, as well as global Internet connections.
 
Her other work on view, Container and Content (2000-05), seen for the first time in the U.S., is a sculptural investigation of the concept of containment and shelter. It sets up a dichotomy between archetypal structures found in nature (such as the homes of insects, birds, plants and seeds) and industrially processed forms.
 
Ranjani Shettar was born in 1977 in Bangalore, India. Her work is currently included in the Walker Art Center's traveling exhibition How Latitudes Become Forms and the Wexner Art Center's exhibition Landscape Confection. She is represented by Talwar Gallery, New York.
 
Transition and transformation, time and change, also mark the work of A. Balasubramaniam. A life-sized figure that seems to pass through a gallery wall (Self in progress, 2002), a self-portrait cast in an opaque waxy substance that vanishes over time (Untitled, 2004), a drawing that measures the duration of an entire day by means of a slow-burning fuse (Dawn to dawn, 2004), and a slender branch of thorns cast in solid gold (Golden Thorn, 2004) all speak of the artist's quest for the ungraspable. Through its implicit immateriality, his work merges intellectual, emotional, and spiritual concerns and invokes some of the fundamental tenets of Hinduism and Buddhism regarding the fusion of the self and the cosmos.
 
Trained as a painter and printmaker and self-taught as a sculptor, A. Balasubramaniam was born in 1971 in Tamil Nadu, India. He has participated in various exhibitions in India, Spain, Poland, Korea, Japan, Finland, and Germany. His work is represented by Talwar Gallery, New York.
 
A fully illustrated catalogue will accompany the exhibition, with essays by Sasha Altaf and Deepak Talwar.
 
THE CURATOR
Loretta Yarlow joined the University Museum of Contemporary Art as director in November 2004. Prior to coming to the University of Massachusetts Amherst, she served as director of exhibitions at Pratt Institute, New York, and director/curator at the Art Gallery of York University, Toronto. She gave numerous artists their first solo museum exhibitions in the U.S. such as Mark Manders, Luc Tuymans, Cristina Iglesias, and Yun-Fei Ji; in Canada she organized the premiere exhibitions of work by Louise Bourgeois, Richard Tuttle, Marlene Dumas, Diana Thater, among many others. At the 1997 Venice Biennale she was curator of the Canadian Pavilion, commissioning Rodney Graham's video installation Vexation Island.
Contact
Open
Tuesday-Friday:
11am to 4:30pm
Saturday & Sunday:
2pm to 5pm
Open until 8 PM every first Thursday of the month
Closed
Mondays
Academic Breaks
State Holidays  
Contact Us
Main Number
(413) 545 3672
 
Connect



Related Media
Introduction

Images

Press Release