Explore the UMCA Permanent Collection
An Invitation from Jennifer Lind, our UMCA Collection Manager, to View Highlights from the Permanent Collection
As the work of the UMCA has shifted from our physical space to a variety of virtual spaces, I want to invite you to enter a little piece of my world as Collection Manager of the UMCA Permanent Collection. I will be sharing highlights and treasures from our Collection to enjoy as we do our best to stay safe and healthy. I hope you enjoy these glimpses into our Collection of nearly 4000 works of art and become curious about what's tucked away in our darkened store rooms.
Collection Highlight / Ansel Adams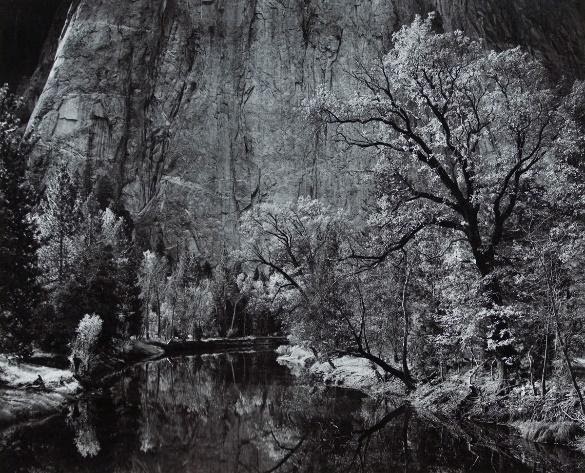 (Ansel Adams, "Merced River, Cliffs, Autumn, Yosemite Valley, California," 1939. Black and white photograph; 15 3/8 i x 19 in. UM 1978.28. Gift of Ansel Adams on the occasion of the 50th reunion of the Class of 1928)
This black and white photograph of the winding Merced River in Yosemite National Park was made by Ansel Adams — a famed photographer of the American West, and particularly of Yosemite. Adams founded a photographers' association known as Group f/64. The group favored the technique of "pure" photography, which is used to capture a scene in high contrast, focus, and detail. Advocates of pure photography postulate that a photograph does not have to mimic a painting to be a work of art and that a scene captured in sharp detail is a work of art on its own.

Though Adams's photograph here is in black and white, the varying coloration of the leaves on the trees lining the river indicates that the scene is autumnal. The sharp, rising cliff face stands in contrast to the calm, slow-moving river below, which twists off into the distance of the photograph. The scene is all at once tranquil and exciting: it reminds the viewer of the beauty of landscape, united with the beauty of adventure. As the summer quickly fades away, so autumn welcomes us.

While our ability to seek adventure is limited as we approach the seventh month of an ongoing pandemic, Adams's skillful capturing of the scene and attention to natural realism evoke the feeling that adventure is out there and waiting for us.

— Rachel Sweeny (BA, Art History; BA, History; and certificate in Medieval Studies; Spring 2020)

Thank you, Rachel, for researching Collection Highlights this summer!

 
Collection Highlight / Danny Lyon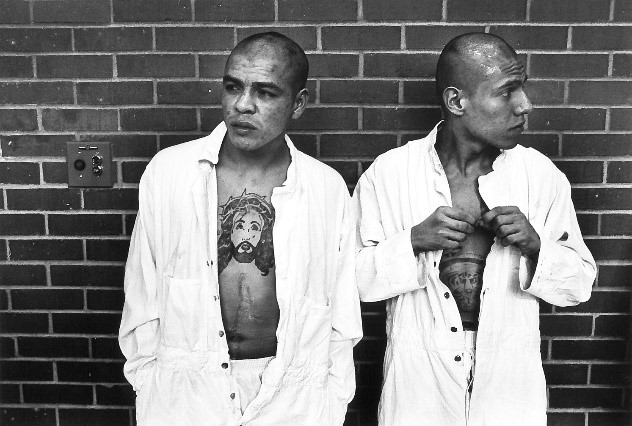 Danny Lyon, Texas Prison, 1968. Gelatin silver print photograph; 8 3/4 x 12 7/8 in. UM 1978.71. Purchased with funds from National Endowment for the Arts and Alumni, Class of 1928
Join our summer intern Rachel Sweeney (BA, Art History; BA, History; and certificate in Medieval Studies; Spring 2020) for a deeper look at a work from the UMCA Permanent Collection. Rachel wrote this Highlight about a photograph by Danny Lyon from 1968.

Given the current political climate, I feel that this photograph, though taken in the late 1960s, serves as a pertinent window for interpretation of how artists capture and reflect the American prison industrial complex in a variety of ways. Danny Lyon is a prolific American filmmaker, writer, and photojournalist. He has been part of and has photographed many major historical events throughout his career, which has been particularly defined by his documentation of the Civil Rights Movement. Lyon has also completed an important series of photo essays inside the walls of prisons.

This photograph, shot in black and white, shows two men in prison-ordered jumpsuits against a brick wall, both of them with averted gazes. The tops of their jumpsuits are unbuttoned, exposing tattooed chests. The man on the left has a tattoo of Christ with a crown of thorns, but the man on the right's tattoo is more unclear — though it appears to be some sort of animal, perhaps a leopard or a cheetah.

The photograph brings to mind themes of masculinity and individualism, and especially how those concepts are affected by incarceration. These two men have had their heads shaved, removing any individuality that their hair could have given them outside of prison, but they can still showcase their unique tattoos that remain underneath their jumpsuits. The tattoos themselves can be interpreted as facets of each man's relationship with ideas about religion, personality, and self. Therefore, the photo serves as a reflection and reminder of the humanity that lives behind bars. — Rachel Sweeney
About Rachel
"I have loved art since I was a child. My mother is an artist, and she started giving me mini-lessons in art history when I was in elementary school. As an intern this summer, I have been working with Amanda, the UMCA's Education Curator, to develop educational materials for our upcoming exhibitions — such as deep dives with the artwork and curricular connections across all kinds of majors — and Jenny, the UMCA's Collection Manager and Registrar, to provide image descriptions for our online collections and to develop Collection highlights." — Rachel Sweeney
More information about
Danny Lyon
.  
Collection Highlight / Andy Warhol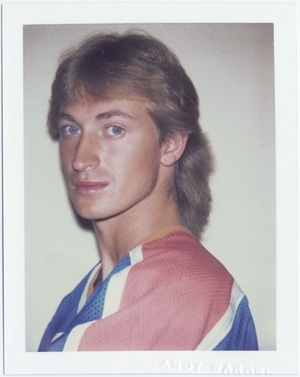 Andy Warhol, American (1928-1987). Wayne Gretzky, 1983 or 1984.
"You miss 100% of the shots you don't take." — Wayne Gretzky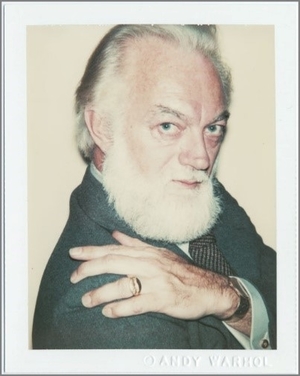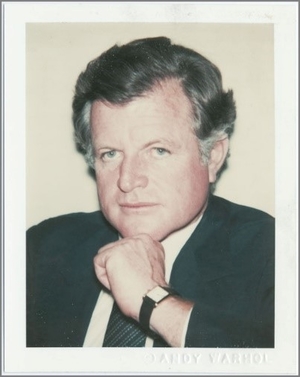 Andy Warhol, American (1928-1987). Paul Jenkins, 1977 or after. Polaroid Polacolor Type 108; 4 1/4 x 3 3/8 in. Gift of the Andy Warhol Foundation for the Visual Arts. UM 2008.52. ©The Andy Warhol Foundation for the Visual Arts.
Andy Warhol, American (1928-1987). Edward Kennedy, 1979. Polaroid Polacolor Type 108; 4 1/4 x 3 3/8 in. Gift of the Andy Warhol Foundation for the Visual Arts. UM 2008.95. ©The Andy Warhol Foundation for the Visual Arts.
Andy Warhol purchased a Polaroid Big Shot camera in the early 1970s and began taking photographs that emulated old-style painted portraits. He set his subjects against a blank white wall and cropped the photos at their shoulders, while producing a series of instant photos that, when sequenced together, reflected the subtle changes in position and mood that traditional portraits could not. In this way, we are lucky — as viewers — to be able to witness a snapshot of a moment pass across the sitter's face.

This Polaroid image of Canadian hockey star Wayne Gretzky, considered by some to be one of the greatest players of all time, was included in the UMCA Curatorial Fellowship exhibition The Minox and the Big Shot — Andy Warhol in 2009. The purpose of the curatorial exhibition was to shed light on Warhol's somewhat lesser known use of the medium of photography. He used the Big Shot camera to shoot many portraits quite similar to this one of Gretzky. Often, as in many of his other photographic forays, his subjects were celebrities

This series of portraits by Warhol and the Big Shot calls to mind the widely circulated and professionally done shoots of our celebrities in the 21st century. Are we desensitized to the modern portrait because we consume so much media on a day-to-day basis? Or, does the modern portrait subject retain more of their humanity than a painted portrait sitter ever could? Regardless, Gretzky's famous quote above rings true of Warhol's instant portrait shoots — one really does miss 100% of the shots that they don't take.
— Rachel Sweeny (BA, Art History; BA, History; and certificate in Medieval Studies; Spring 2020)
 
UMCA and the Andy Warhol Photographic Legacy Program
In 2007, the UMCA was chosen by the Andy Warhol Photographic Legacy Program to receive a curated selection of 150 Andy Warhol Polaroids and gelatin silver prints. The gift was part of an unprecedented program to donate over 28,500 Warhol photograph across more than 180 educational institutions across the United States to celebrate the twentieth anniversary of The Andy Warhol Foundation for the Visual Arts. The Foundation's hope is that these images will "spark interest, discussion and future scholarship about the essential role photography played in Warhol's artistic production and to draw attention to the lifelong commitment he had to the medium."
The 2007 gift was bolstered by the Foundation in 2014 with another gift of six large iconic and unique screen prints. This brings the UMCA's collection of Andy Warhol works to 165. I'm happy to report that of the nearly 25,000 visits to the UMCA's online collection this year, more than 7,500 were visits to works by Andy Warhol. Our data illustrate that the Warhol Foundation's generous gift has been successful in drawing attention to his work, and that the legacy of Andy Warhol flourishes, more than 30 years after his untimely death at the age of 58.
This fall, a selection of eight Andy Warhol Polaroid photographs from the UMCA permanent collection will be on loan to the Newport Art Museum in Newport, Rhode Island, for the exhibition
Andy Warhol: Big Shot
, September 19 ‒ December 20, 2020. Images of Edward Kennedy, Paul Jenkins, Margaret Hamilton, and the Cabbage Patch Doll, among others, will be on loan. For more information visit
https://newportartmuseum.org/exhibitions/warhol/
.  
To look at additional UMCA exhibitions that included works by Andy Warhol, please check these linked exhibitions on our website:
Critical Perspectives in American Art
(1976);
The Culture of Violence
(2002);
Suites from the Permanent Collection
(2004);
The Minox and the Big Shot Andy Warhol
(2009); and
40 Years / 40 Artists
(2015). Visit our online permanent collection
here
, and select UMass Amherst.
— Jenny Lind, UMCA Registrar and Collection Manager, August 14, 2020
Recent Acquisitions / Xylor Jane drawings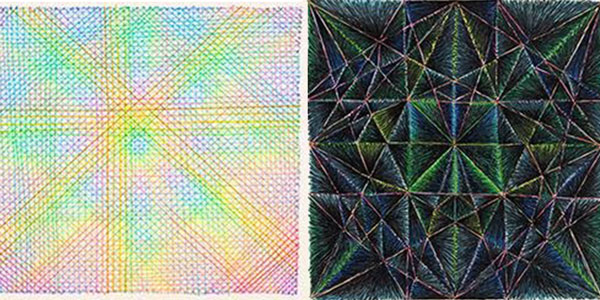 Xylor Jane, 2458357, Sunday, Truro, MA, 2018. Drawing; Ink on graph paper, 8 x 6 in. & Xylor Jane, Matt P., Costa Rica, 2017. Drawing; ink on paper, 14 x 11 in.
As we emerge from the leafless cold into warm spring yellows and greens, I would like to introduce the two newest works to have settled into the UMCA permanent collection. The drawings may look familiar if you visited the UMCA's 2019 painting exhibition Counterclockwise  by Greenfield, Massachusetts, artist Xylor Jane; however, unlike Jane's meticulously prepared paintings from that exhibition, these two ink drawings undeniably reveal the artist's hand in their making.

The vibrant color in both works seems to pulse with movement that has been adroitly enhanced by the artist's underlying order, based in her love of numbers and her seven-hue color system. There is likely a number puzzle or a dedication within the meditatively drawn lines of each.

To meet Xylor Jane and to get a sense of her art practice, please watch the short documentary film Xylor Jane by filmmaker Kate Geis and editor Al Shurman. The film was co-produced by the UMCA and CANADA Gallery and was made possible by a grant from the Women for UMass Amherst Fund.

We invite you to take a closer look at the UMCA collection online. The link will direct you to the
Collections Database
 of the Five Colleges and Historic Deerfield Museum Consortium ― Mead Art Museum at Amherst College, Hampshire College Art Gallery, Historic Deerfield, Mount Holyoke College Art Museum, Smith College Museum of Art, and the UMCA.
Hint: Try searching for "Xylor Jane" in the database and you'll find that Amherst College and Smith College both own Xylor Jane works, too. Please enjoy.
― Jennifer Lind, Registrar and Collection Manager, UMCA, May 6, 2020  
Double Header by William Wegman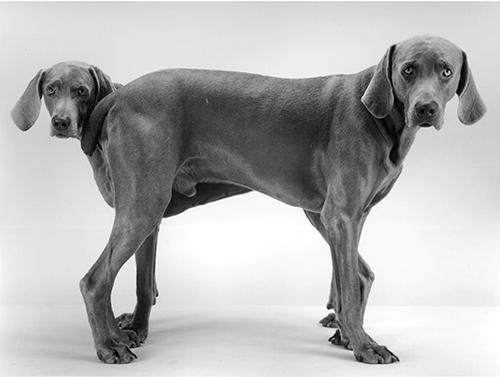 William Wgman, Double Header, 1999. Gelatin silver print photograph. 11 x 14 in. UM 2014.15. Gift of the artist in honor of the University Museum of Contemporary Art's 40th anniversary.
I chose this first photograph because William Wegman is patently humorous (and he was born in Holyoke, Massachusetts.) My choice is also a little homage to the furry, feathery, and scaly friends we spend so much time with these days.

Titled Double Header, the photograph depicts the layering of two dog profiles to create a playful push-me-pull-you dog a la Dr. Doolittle. Wegman loves his dogs. He has been using them as models since the 1970s, when we first became familiar with his beloved Weimaraner "ManRay." This photo was a gift of the artist on the occasion of the UMCA's 40 anniversary and was included in the exhibition 40 Years/40 Artists in 2015. A solo exhibition of the artist's photographs and drawings titled Local Boy Makes Good was presented by the UMCA (then known as the University Gallery) in 1983. Double Header is one of four works in our Collection by William Wegman.

If you have visited the UMass website lately, you will recognize Double Header as one of the home page scrolling images that highlights See Campus Treasures Online: Art and nature from UMass Amherst you can enjoy from the couch . If you dive in you'll discover that the UMCA Collection is part of a rich and diverse set of collections housed on the UMass Amherst campus. Here is where I invite you to take a closer look at the UMCA Collection online. The link will direct you to the Collections Database of the Five College and Historic Deerfield Museum Consortium ― Mead Art Museum, Hampshire College, Historic Deerfield, Mount Holyoke College Art Museum, Smith College Museum of Art and the UMCA ― still more collections to explore. Hint: If you search "Wegman," you will find 10 William Wegman works across the consortiums collections to become acquainted with.
Please enjoy.

Jennifer Lind, Registrar and Collection Manager, UMCA, April 14, 2020