Word and Image: Curitorial Fellowship
May 4 - June 12, 2006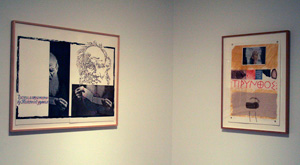 Traditionally, artists and writers have explored the emotive and communicative powers of images and words, separately, but infrequently in combination. But what happens when a picture contains words, or for that matter, if it is words? Word and Image: Selections from the Permanent Collection features works on paper by contemporary artists and explores the various ways in which 20th century artists have incorporated text into their visual art. Some address the formal characteristics of text, others combine text and image to political and didactic ends, and yet others question the authenticity and meaning of language.
The increasing interdependence of word and image is evident in artists' use of text as communicator, as an exploration of sign systems, or as art in itself. This inextricable relationship between text and image fits within the broader context of an increasing crossover between the two in the history of art. Traditionally believed to be separate and unrelated entities until the early 20th century, word and image were each valued for their own distinctive characteristics: rationalism vs. emotionalism, logic vs. illogic, right brain vs. left brain, reading vs. seeing, etc.

Is Word and Image: Selections from the Permanent Collection about words or images? One could argue one way or the other about each work, but integral to this exhibition is the integration of and relationship between the two, to the point where they meld formally and conceptually, essentially resulting in a hybrid genre. This coalescence of previously dichotomous elements has come to virtually define many movements in contemporary art, including Neo-Dadaism, American Pop, and Conceptualism, among others.

Word & Image: Selections from the Permanent Collection is the University Gallery's first graduate student-curated exhibition. The exhibition utilizes the university's significant collection of contemporary works of art on paper and corresponds with a graduate art history seminar on the same theme. The Department of Art History anticipates that this pilot project will be the first in a program of annual spring exhibitions to be organized by M.A. candidates in Art History. This collaboration will increase the university's awareness of the University Gallery's integral role as the only collecting museum on campus and introduce students to the Gallery's important collection through works related to various themes in contemporary art. In addition, the continuation of this program will provide graduate students with exciting, professional opportunities each year. This program was made possible in part by a grant from the UMass Arts Council.
Contact
Open
Tuesday-Friday:
11am to 4:30pm
Saturday & Sunday:
2pm to 5pm
Open until 8 PM every first Thursday of the month
Closed
Mondays
Academic Breaks
State Holidays  
Contact Us
Main Number
(413) 545 3672
 
Connect



Related Media

Introduction

Image

Catalogue