XTCA: Cross Town Contemporary Art
July 1 – November 1, 2018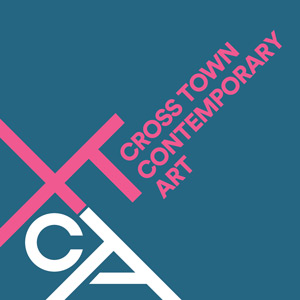 Important Dates
July 1: Exhibition Opens
Sept 21: Exhibition Reception at UMCA
Sept 22: XTCA Symposium 10 a.m. ⎼ 5 p.m.
Nov 1: Exhibition Closes
XTCA: Cross Town Contemporary Art
an outdoor public art exhibition that seeks to reveal our interconnectedness as citizens and to highlight the gateway district between downtown Amherst and the University of Massachusetts. The University Museum of Contemporary Art (UMCA) has partnered with the UMass Architecture Department and the Town of Amherst to build an art and culture bridge — a series of public sculptures — to activate the North Pleasant Street corridor and connect downtown to campus. The exhibition features work by 13 nationally recognized artists, local artists and members of the academic community. The goal of this project is to generate a robust public dialogue about the value of art and culture in building community. Central to the goals of this exhibition is the full-day public symposium and exhibition route parade planned for Saturday Sept 22.  
Artists are: Sarah Braman; Roberley Bell; CLOK (Collective–LOK: Jon Lott, William O'Brien Jr., and Michael Kubo); Naomi Darling; Tom Friedman; Harold Grinspoon; Josephine Halvorson; Benjamin Jones; Joseph Krupczynski; Pamela Matsuda-Dunn; Gary Orlinsky; Rob Swainston; and Erika Zekos.
Symposium
The XTCA Symposium will commence with keynote speaker Jennifer Delos Reyes, an internationally known writer, artist, and cultural critic, who is also Associate Director of the School of Art and Art History at the University of Illinois, Chicago. Delos Reyes will provide an historical context for the exhibition and introduce key contemporary examples of work that successfully intersects art, architecture, and community building. There will be three themed sessions following her lecture, featuring participating artists, faculty from all five colleges, and community leaders. This symposium, which will take place in the new John W Olver Design Building at UMass, offers a rare opportunity for faculty from across the Five Colleges to share their work and participate in a rigorous dialogue about the value of art in the public sphere. Students and staff of the Five Colleges will have the chance to learn from the presenters and share their insights and input.

Parade
Following the symposium, an engaging parade will take attendees on a walking tour of all the outdoor projects. This performative event will be accompanied by musicians, stilt walkers, flag wavers, dancers and more. Performers will respond directly to each sculptural installation, encouraging participation and involvement from all age groups. The parade invites families and young people from the community to join the tour and celebrate art and creative expression in the gateway district. The parade will culminate with a community gathering in the town of Amherst where participants can meet the artists and presenters and celebrate the day.
Acknowedgments
We are grateful to all those who have generously supported XTCA and helped make this project possible:
UMass Creative Economy Fund, Office of the President
Garland Construction Corporation
Berkshire Taconic Community Foundation, Artist's Resource Trust
UMass/5-College Federal Credit Union
Idea Co.
Amherst Business Improvement District
Massachusetts Cultural Council, Town of Amherst
University of Massachusetts Office of External Relations
Amherst Department of Public Works
Wanczyk Nursery
With special thanks to the following individuals for their involvement:
Pam Monn, Assistant Director, Buildings & Grounds
Marty Smith, Assistant Director, Facilities & Campus Services
Lindsay Schnarr, Architect, MArch '11
Paul Bockelman, Manager, Town of Amherst
Alan Snow, Division Director, Trees & Grounds, Town of Amherst
Leann Leake, Graduate Student, Arts Management
Kara Westhoven, B.A. '18, Art History and History
Bibiana Medkova, Graduate Student, Studio Arts