Call for Proposals:
XTCA | Cross Town Contemporary Art
CURATORS
Loretta Yarlow, Director of the University Museum of Contemporary Art (UMCA) and
Adjunct Professor Art History UMass Amherst
Sandy Litchfield, Assistant Professor Department of Architecture, UMass Amherst
Eva Fierst, Curator of Education, University Museum of Contemporary Art (UMCA)  
Leann Leake, artist, graduate student in Arts Management, UMass Amherst
Kara Westhoven, UMCA intern and undergraduate student in History and Art History, UMass Amherst
Project
This project seeks to transform the gateway district between downtown and the University of Massachusetts Amherst. XTCA, an
Open Air Exhibition
scheduled to take place from spring through fall of 2017, will sponsor the creation of unexpected and inspired cultural experiences along the North Pleasant Street corridor, connecting downtown Amherst to the University. The goal of this exhibition is not only to activate the overlooked areas between the town and campus, but to generate a robust public dialogue about the value of art and culture in the community.  
The town of Amherst is now at a crossroads. Recent expansion in the population brings with it a change in demographics along with pressing issues around housing, class, race and public space. While the town's economically and racially diverse population is known for its progressive political bent, it can be quite conservative in its approach to growth and is often dubious of its relationship to UMass. Although the University is a significant force in the town's economy, large-scale student disturbances have been a source of tension in town-gown relations. Over the past two decades, increasing strains in neighborhoods adjacent to UMass have led to a call from residents to house all students on campus. Following that course, students have expressed feeling unwelcome in town and, with the exception of restaurants and bars, there is little reason for them to visit downtown Amherst.  
Furthermore, the area between downtown and the UMass campus represents a historically unpleasant psychological barrier that used to be known as
Frat Row
, a succession of fraternity houses that epitomized immature student behavior. It is now a neutral green area beckoning to become a positive, inviting outdoor environment that connects, rather than divides, Amherst and UMass.  
To address some of these issues, XTCA hopes to create an art and culture
bridge
connecting Amherst residents with UMass students, faculty, and staff. Now is a crucial time for XTCA. Town officials and local residents have been working closely together to plan new housing, infrastructure and commercial development–­ all to accommodate growth and improve living for residents. In October of 2015, the University and Town of Amherst formed a committee to provide council, leadership and ideas that support partnership for future town-gown endeavors. The University-Town of Amherst Collaborative (UTAC) is a joint initiative, comprised of Amherst residents, UMass Amherst town officials, and UMass Amherst Students. XTCA aligns itself with the UTAC mission– to identify and develop mixed-use sites for culture, arts and living. Our pilot project will provide town planners with evidence and incentive for investment in future projects that support the arts as a connector and community builder. Furthermore, we hope to stimulate the business community by attracting visitors through these magnetic cultural attractions.  
Objectives
 XTCA aims to foster a climate of
inclusivity
– to invite participation and collaboration from all community members, particularly those who feel their voice has not been heard. In order to achieve this, XTCA will solicit proposals from all interested members of the community. It will work collaboratively with community leaders and groups to identify under-represented citizens, publicize the event to them with a "call for proposals", and encourage their participation by offering financial stipends for proposals with merit. Those who are selected from this open call would have the opportunity to install and show their work alongside locally and nationally known professional artists and architects. In this way we hope to encourage interaction, collaboration, and dialog between students and professionals, local artists and university professors, under-represented voices and nationally recognized voices. The selected artists from around the country- those who are known both nationally and internationally- will be invited to come and work alongside local artists, professors, and students. As part of the exhibition, XTCA will sponsor public talks and an open panel in which all members can exchange ideas and perspectives not only with each other, but with the larger community audience.  
Another important goal for this project is to promote
sustainability
– to raise awareness about the importance of resilient infrastructure in Amherst's community development plan. Our project will persuade people to walk and use bicycles, particularly on the North Pleasant Street corridor between the campus and downtown. By commissioning artists to make site-specific installations in these locations, we hope to encourage more outdoor activity and pedestrian usage. As viewers follow the route from one outdoor artwork to another, they help mitigate automobile congestion and increase foot traffic. As a long-term goal, we envision a bike path and sidewalk meandering through a beautifully landscaped passageway that integrates permanent and temporary art installations in the gateway region.  
Locations
 The following sites have been identified for XTCA:
1.    
Kendrick Park
– at the intersection of N Pleasant, E Pleasant, and Triangle St.
2.    
"Frat Green"
– the empty space along N Pleasant, across from Phillips St.
3.    
Haigis Mall
– located in front of the Fine Arts Center, between Isenberg and Whitmore buildings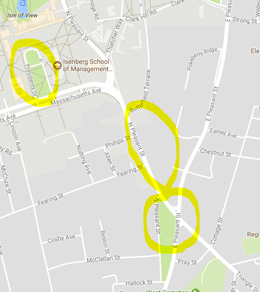 These three under-utilized green spaces lie at the intersection of campus and downtown Amherst. The University Museum of Contemporary Art (UMCA) on the UMass campus will serve as one of the primary locations for distribution of public art project maps, host a website for apps, audio tour guides, and other social media platforms. Interdisciplinary panel discussions about the role and goals of public art will also take place at the UMCA.  
Open Call
 The UMCA invites local artists, artists' collectives, community groups, architects and designers from all disciplines and backgrounds to submit entries that address at least 3 of the following objectives of the project:
Connecting the UMass with Amherst communities
Collaborating with underrepresented members of the community
Encourage outdoor activities
Art work that has a physical presence
Immersive /performative

Submission requirements
To submit your work for selection, please follow the instruction on the work submission form here.
Entries should be sent no later than
November 5st, 2017
. Late entries will not be considered.  
Selected exhibitors will be notified via email of their acceptance on
November 15, 2017
. At that time we will ask each exhibitor for appropriately sized files of your proposal that will be used as your exhibition entry. Exhibitors will receive:  
·         a stipend of $1250
·         the opportunity to install and show their work as part of the XTCA project
·         opportunities to participate in public talks, discussions, and events    
Installation date
:
Late Spring 2018
Selection process
A selection committee will review proposal submissions in a one step process to select the projects to be exhibited. Selected exhibitors will be listed on the exhibition website.
 
For questions, please contact: efierst@art.umass.edu or slitchfi@umass.edu