Artifacts at the End of a Decade
Spring 2021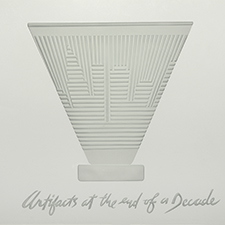 In August of 1979, Steven Watson and Carol Huebner mailed 200 invitations to artists they had never met, asking if they would like to contribute to a project about the previous decade. More than fifty people replied, "Yes," and two years later the project was completed. Artifacts at the End of a Decade is the result — an unbound artists' book whose "pages" consist of 44 unique pieces of photography, ceramics, fiber, print, clothing, painting, and drawing, contributed by artists including Martha Rosler, Fab 5 Freddy, Laurie Anderson, Sol LeWitt, Michelle Stuart, John Ashbery, Robert Wilson, Lucinda Childs, and Robert Kushner, among many others. 
Co-curated from the University Museum's Permanent Collection by
Jessica Scott
(M.F.A. 2021 Studio Arts candidate) and
Jill Hughes
(M.A. 2021 Art History candidate), this is the first time Artifacts at the End of a Decade has been exhibited in its entirety at the UMCA since 1989. Artifacts provides space to consider the past from the vantage point of a collaborative work of cultural reflection and invites the audience to examine the meaning of these works as they look back over 40 years of history.
What about their time did these artists most want to communicate to future audiences? How did they envision imagine us? On the eve of our own new decade, this prescient and multifaceted artists' book models employs a hands-on, approach to understand a socio-political moment, asking, "Have we been here before? How did we survive then? How can we survive now?" 
Now in its thirteenth year, the University Museum of Contemporary Art's annual Curatorial Fellowship Exhibition is the culmination of a yearlong research project conducted by Art History and Studio Art graduate students, resulting in an exhibition of work drawn from the UMCA's permanent art collection.
The UMCA gratefully acknowledge the Eva Fierst Student Curatorial Exhibition Fund for support of this annual project.
We appreciate the generous support of the Massachusetts Cultural Council and the UMass Arts Council.